The Final Frontier: A Mars Mission With No Return
On JournalOfCosmology.com
As the nation attempts to go on a debt diet, the cost of federally funded space missions, like the long-awaited manned mission to Mars, is being questioned. But two scientists are recommending a different approach that could change space exploration forever: leaving the astronauts there.
In their article from the Journal of Cosmology, scientists Dirk Schulze-Makuch of Washington State University and Paul Davies of Arizona State University propose making the mission to Mars a one-way trip.
"The purpose of doing this is to save money, to put it bluntly," Davies tells NPR's Audie Cornish.
"I think we've all had this dream of going to Mars -- it has been something that has, for decades, been proposed -- but it's one of these on-again-off-again projects because it is so phenomenally expensive. But by making the trip one way, you cut the cost dramatically, not just 50 percent, probably about as much as 80 percent. Then it becomes feasible."
Not A Suicide Mission
Davies envisions the astronaut who will travel to Mars to be in his or her 60s, with enough life experience and training to willingly take the journey into space. They would live off of a power source of some kind, ideally a nuclear reactor, and take enough medical and food supplies to sustain themselves through the rest of their life.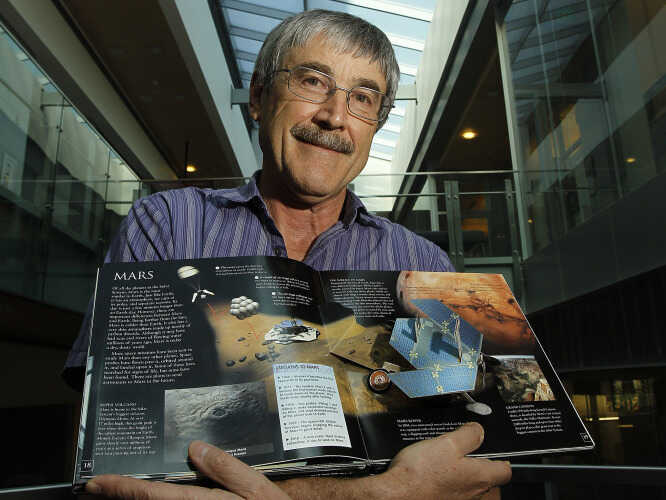 Davies stresses that the journey would not be a suicide mission -- more like the opportunity of a lifetime. "If you send a scientist to Mars, it's like a kid in a candy store," he says. His mailbox is already overflowing with volunteers ready for their final frontier.
"Really, this isn't a joy ride," says Davies. "You have to understand that the motivation for doing this is to not only open up a human presence on another planet, but to provide the opportunity to do some fantastic, groundbreaking science."
The U.S. Can Lead The Way
Legendary astronaut Buzz Aldrin, who was the second person to step on the moon on the 1969 Apollo 11 mission, agrees with Davies, to a certain degree. Aldrin is not one of the many volunteers lining up for the one-way mission to Mars, but he feels that the trip is inevitable -- and it's important for the U.S. to pave the way.
"If we slow down now," Aldrin tells Cornish, "we will lose the opportunity for leadership in an international lunar development corporation."
Earlier this year, President Obama addressed a roomful of astronauts and scientists at the John F. Kennedy Space Center in Florida. He spoke to them about the future of space exploration in the 21st century and affirmed his belief that NASA will be able to send astronauts to Mars and back by the mid-2030s.
But if scientists like Davies have their way, we may actually be living on the red planet by then.
"If Mars is worth going to," Davies says, "it's worth staying on."