Afghan TV Show Aims To Burnish Police Reputation
Afghan TV Show Aims To Burnish Police Reputation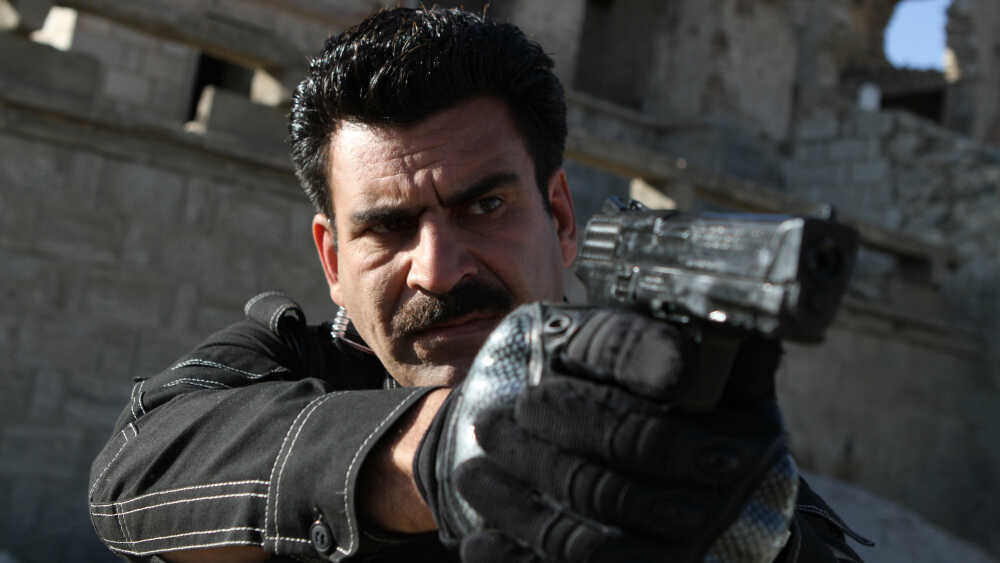 A new television cop show has hit the airwaves in Afghanistan. Called Eagle Four, it tracks the fictional adventures of an elite police unit that chases terrorists, kidnappers and smugglers in the midst of a war zone.
Loosely inspired by American TV thrillers such as 24, the show has plenty of cartoonish action, but the people behind it, including financial support from the U.S. Embassy in Kabul, are hoping it also conveys a message.
The show's cast and crew say Eagle Four is designed to build trust and respect for the police in a country where many people see their police forces as corrupt, brutal and indifferent.
Like many cop thrillers in the United States, Eagle Four is propelled by pulse-racing music, quick cuts from scene to scene, and plenty of chases.
The first episode begins with a scene that may be even more chilling for Afghans than it would be for Americans, because the danger is closer to home.
A terrorist plotter stands at a map, pointing out a target. A wild-haired bomb maker finishes wiring a suicide vest and holds it out to a nervous young man. That vest sets the plot in motion and brings on the main characters.
Setting Convention On Its Head
There's Kamran, the hardened veteran and Baktash, the handsome but impulsive rookie. Ludmilla is the beautiful young officer with the tough exterior, and Summayah wields computer skills that can track seemingly anyone, anywhere.
The concept, like the suspenseful music, may sound trite, but in several ways, it sets Afghan convention on its head, including the fact that two of four Eagles are women.
Female police are few and far between in Afghanistan, and their duties are usually confined to frisking other women at security checkpoints.
By contrast, Ludmilla and Summayah, clad in black like their male counterparts, are decision-makers, working with the Eagles' chief.
Afghans in general aren't used to seeing their police as heroes, despite efforts by U.S. and NATO forces to improve police recruitment and training.
Faram Jan Ebrahim Khalil, the actor who plays Baktash, says the show is trying to overcome people's distrust of the police, by showing police as protectors.
As a rookie, Baktash gets finger-wagging lectures on integrity and duty from his older partner, Kamran, who exhorts him to be a team player and work for the good of the people.
Trudi-Ann Tierney, one of several Australian TV veterans who helped produce the series, says it was important to show proper police procedure. For example, she says, in one episode an officer was reprimanded after using deceptive and brutal interrogation methods.
"We had to be really careful to do that, because the whole purpose was to try and promote the police force, so we had to try and stay within the lines of law and order," she says.
U.S. Helping To Foot The Bill
Tierney says that she and other team members aren't allowed to talk about funding for the program, which is produced by an Afghan company, Tolo Television.
Television drama production is expensive anywhere, but neither the show's Afghan producers nor the U.S. Embassy in Kabul is willing to tell reporters how much the program costs.
U.S. Embassy spokeswoman Caitlin Hayden confirmed that the embassy provides funding for the program.
"We see this as an opportunity not only to help support the Afghan media sector, but hopefully also encourage a dialogue among Afghans about the role of the police in society and their growing capabilities," she said.
Hayden refused to say what it is costing U.S. taxpayers to fund the 13 episodes of this season's program. NPR has filed a Freedom of Information Act request for the information.
Mixed Reception For 'Eagle Four'
It's unclear how anyone can measure whether an action TV series -- however popular -- can have a positive effect on Afghans' attitudes toward their real police.
The question echoes the debate in the United States over whether popular shows such as 24 influence Americans' attitudes about issues such as the use of harsh interrogation methods for terrorism suspects.
According to Wais Amiree, the senior producer, the show has already had a positive influence on some of the security forces themselves. He says that during the shooting, he heard a real policeman saying to an Afghan soldier, "We have to be like Eagle Four."
Not all viewers agree. A Kabul shopkeeper who had seen several episodes recently told The New York Times that he was not impressed. The show, he said, was "about as realistic as 'Tom and Jerry' [cartoons]."
But some viewers surveyed by NPR really seem to want to believe that, somehow and somewhere, Afghan security forces are doing the kind of job that is the Eagle Four routine.
Eagle Four "shows the realities of our police. We are fortunately witnessing the bravery of the Afghanistan security organizations, especially in Kabul," said Mohammad Romal Ghiyasi, 23.
Mohammad Rafi, 20, a bank employee, said, "In my view, Eagle Four is showing about 80 percent of the realities, because such things are going on in Afghanistan right now."
Eagle Four is seen throughout Afghanistan, but without any organized TV rating system, it's difficult to determine how many people are actually watching.
In the first episode, Kamran and Baktash eventually chase down the would-be suicide bomber in a climactic scene that has local extras screaming and running for cover.
It turns out that the bomber was only a decoy, and that a deadlier menace is still stalking the city. And that, of course, is the plot for the next episode of Eagle Four.