Rival Presidents Paralyze Post-Election Ivory Coast
Rival Presidents Paralyze Post-Election Ivory Coast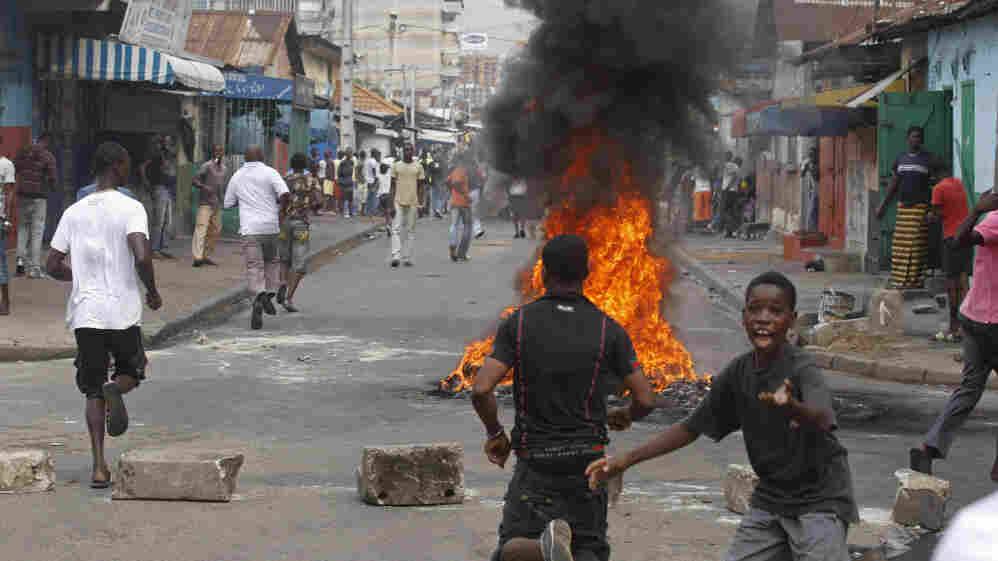 Two rival presidents claim to be in charge of Ivory Coast, in a political standoff analysts fear may reignite violence and a civil war that divided the once-prosperous and stable West African nation.
The Nov. 28 runoff election was meant to heal the West African nation split in two -- north and south -- by a rebellion in 2002.
But the disputed vote has simply deepened the divide. Initial mediation attempts appear to have failed, leaving Ivory Coast with two presidents, two prime ministers, two parallel governments and a major political headache.
Parallel Presidencies
The incumbent president for the past decade, Laurent Gbagbo, faced off in the presidential vote against opposition challenger, Alassane Ouattara, who was declared the winner by the Independent Electoral Commission on Dec. 2.
The U.N. peacekeeping mission in the country endorsed the decision, in line with a 2007 peace deal signed by both Gbagbo and Ouattara. The head of the Electoral Commission, Yousouf Bakayoko, announced Ouattara's victory at a heavily guarded  hotel, protected by United Nations peacekeepers and tanks.
International observers said the commission's announcement of victory for Ouattara represented the will of the people of Ivory Coast during a largely free and fair vote.
The White House, the former colonial power France, the Economic Community of West African States and others endorsed and congratulated Ouattara.
But Gbagbo's camp says the electoral commission's results missed a legal deadline for publishing the outcome of the election, and the dispute went before the country's Constitutional Council.
On Friday, the Constitutional Council reversed Ouattara's victory and proclaimed Gbagbo president. The head of the army and other security forces pledged their allegiance to Gbagbo, who controls the state media and airwaves.
Gbagbo's camp defied international calls for him to concede defeat, and he was hastily sworn in at the presidential palace in downtown Abidjan on Saturday. Gbagbo warned against foreign meddling in Ivory Coast's affairs.
"These last few days, I have noted some serious cases of interference. I hope that people will control themselves, because we didn't ask for anyone to come here and run our country," Gbagbo said.
He said it was up to Ivory Coast to organize and publish the election results and vowed he would never surrender his country's sovereignty to outsiders.
As Gbagbo was being sworn in, Ouattara signed a rival presidential oath of office from the safety of the aging hotel on the other side of town.
More Destabilization For Violence-Wracked Country
The result is a presidential tug of war that sparked some violence in once-stable and prosperous Ivory Coast, which has substantial deposits of oil and gas and is the world's top cocoa exporter.
The country was the economic El Dorado of French-speaking West Africa until a rebellion broke out eight years ago. After that, Ivory Coast was divided into two -- the mainly Christian south, controlled by Gbagbo, and the predominantly Muslim rebel-held north, which is Ouattara's stronghold.
As well, there is saber-rattling from anti-Gbagbo rebels, who have long claimed they are marginalized and treated as outsiders in their own land. The rebels warned of unspecified action unless Gbagbo stepped down.
In making its decision, the Constitutional Council, headed by one of Gbagbo's allies, Paul Yao N'dre, agreed to cancel hundreds of thousands of votes in Ouattara's loyal northern constituencies, alleging vote fraud and voter intimidation by the rebels. They rebels deny the allegations.
The U.N. envoy to Ivory Coast, Young-Jin Choi, told journalists Friday that annulling those votes did not affect the outcome of the vote.
The rebels have a groundswell of popular support in the north. Given their backing for Ouattara, the much-hoped-for reunification of Ivory Coast appears to be a distant prospect, say observers.
They add that the rebels may simply hold onto their territory and maintain their lucrative smuggling and racketeering operations, while Gbagbo continues in charge of the south, where much of Ivory Coast's cocoa and all its oil is produced.
Over the weekend, the African Union dispatched a mediator, former South African President Thabo Mbeki, to Abidjan to seek a settlement to the simmering crisis.
But neither side appeared ready to compromise, and the mediation mission ended without agreement. Mbeki left Ivory Coast on Monday night, after spending two days shuttling between Gbagbo and Ouattara, and other parties involved in the elections.
Mbeki appealed to both leaders to keep the peace.
"The African Union is very, very, very keen that peace in Cote d'Ivoire should be sustained," Mbeki said. Every effort should be made to ensure this transition to democracy succeeds. Cote d'Ivoire needs peace and Cote d'Ivoire needs democracy."
The military has reopened air, land and sea borders and eased a nighttime curfew. Gbagbo says everyone should return to work and to school. But the situation remains tense.
Fighting Is 'A Nightmare, Deja Vu'
Plumes of black smoke billowed in some neighborhoods in Abidjan on Monday, where young men manned barricades of burned tires, demanding Gbagbo's departure.
But the leader of the pro-Gbagbo Young Patriots' Movement, Charles Ble Goude, says Ouattara has violated the constitution and Ivory Coast's laws, and he should go.
"Our laws need to be respected. You cannot declare the results of an election in a hotel," he said.
Anxious Ivorians, like Eric Agneho, want their political leaders to reconcile and an end to the presidential power struggle.
"I feel this is like a nightmare," says Agneho. "People are getting tired now. And we don't know when it's going to end. It's a nightmare ... it's like deja vu."
Leaders from the Economic Community of West African States are holding an emergency meeting Tuesday on the crisis in Ivory Coast in Nigeria's capital, Abuja.
Analysts caution that, without a resolution, there could be a return to hostilities or even civil war in Ivory Coast, with a possible spillover across its borders in an already turbulent West Africa.
Neighbors Liberia and Sierra Leone are emerging from their own crippling civil wars, while Guinea is itself trying to resolve a post-election crisis.