Barbara Newhall Follett, Disappearing Child Genius
Barbara Newhall Follett, Disappearing Child Genius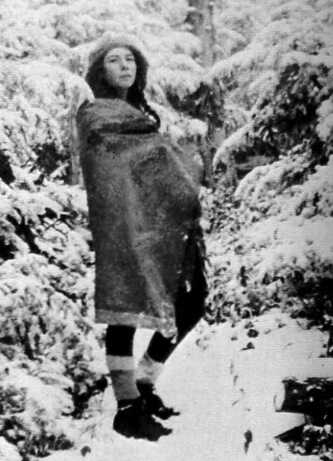 Columbia University Archives
By the age of 16, Barbara Newhall Follett had published two books and written countless poems. Her 1927 debut novel, The House Without Windows, received glowing reviews from The New York Times and words of encouragement from the writer H.L. Mencken.
She was a famous child genius, the daughter of an editor and literary critic, and destined to become the next great American writer.
And then, one autumn evening in 1939, she disappeared.
Weekend Edition's literary detective Paul Collins has been looking into Follett's life and disappearance. He has just published his findings in an article in Lapham's Quarterly. He tells NPR's Scott Simon that one of the most striking things about her story is how quickly her life seems to have unraveled after she published her first book and when her father announced that he was leaving Follett and her mother for a younger woman -- and taking the family's only source of income with him.
"Within about a year, year and a half, Barbara and her mother are in New York City and they're looking for work, and they're looking for work just as the Great Depression has started," Collins says. "So here's Barbara Follett, who had been getting reviewed in The Times 18 months earlier, and on her 16th birthday she's desperately looking for work in Manhattan as a typist."
Collins says the letters she wrote during that time, archived at Columbia University, are heartbreaking. He reads from a letter Follett penned in June 1930:
My dreams are going through their death flurries. I thought they were all safely buried, but sometimes they stir in their grave, making my heartstrings twinge. I mean no particular dream, you understand, but the whole radiant flock of them together -- with their rainbow wings, iridescent, bright, soaring, glorious, sublime. They are dying before the steel javelins and arrows of a world of Time and Money.
On Dec. 7, 1939, a friend reported that a then-married Barbara Follett left her house after quarrelling with her husband. She was 26 years old, and she was never seen again.