5 Songs The Current Couldn't Stop Playing
The Current started its "Chart Show" late last year, a week after Kasey Kasem retired — a coincidence, though it seemed appropriate. A new generation of music fans had started to grow without Kasem's help. They often shunned charts as old-school, or too mainstream, but compulsively made lists of their own.
So we decided to create a chart drawn from the skills of our curatorial staff and the enthusiasm of our audience. Music lovers are always looking for new suggestions, and we hope our weekly list helps keep them aware of the myriad possibilities that exist in the modern musical world.
Considering all the new music out there, it's no surprise that most songs enter, peak and drop off the chart in quick fashion. But some strike a nerve and hang around. We decided we needed to do something to recognize the records our audience loved, so we created a Chart Hall of Fame for songs that lasted 12 or more weeks on the list.
Here are five Hall of Famers. For the complete list, visit The Current's blog.
5 For '10: The Current's Hall Of Fame Inductees
Trampled By Turtles, 'Wait So Long'
On record, it may be termed "bluegrass revival" with a jam-band feel, but live, Trampled by Turtles is a force of nature. It's a style almost reminiscent of speed metal -- fast but precise play, with the guitars and fiddle colluding to weave dizzying patterns of melody. The band has steadily built an audience across the country, inspiring the sort of dedication usually reserved for the likes of Phish, and drew huge crowds for two separate nights at our State Fair.


Dessa, 'Dixon's Girl'
Dessa also played our stage at the State Fair this year to an unusual crowd, many of whom would never otherwise listen to her music or go see her play hip-hop in a nightclub (a more logical setting than the middle of the fairgrounds). She won them over, though, with her lyrical flow and graceful manner. She's part of the Doomtree Collective, but this album transcends hip-hop, thanks in part to her amazing live band, which also graced the stage of the Montreal Jazz Festival.


Jeremy Messersmith, 'Violet!'
from The Reluctant Graveyard
Full disclosure: I'm biased. Messersmith named his last album Silver City after I started calling St. Paul that on my radio show. But he's deservedly being discovered all over the media map this year, having songs featured on TV shows and making smart videos that get the YouTube buzz going. He even opened for President Obama on his recent visit to the Twin Cities. The music breaks no new boundaries -- it's simply built around sharp songwriting and well-conceived arrangements -- but there's a strain of soul here that belies his humble, slacker-geek persona.


Mumford & Sons, 'Winter Winds'
A year ago, none of us at The Current would have predicted that this would be the biggest band of the year for us. Mumford & Sons and The Avett Brothers have the most inducted songs on the Hall of Fame with three apiece. The former's gig a few weeks ago at the famous First Avenue sold out in minutes. It usually takes a band years of returning to town to build that kind of demand. The group emerged from the folk scene of London, where (by its own admission) you have to play with the guile of CSN&Y and the fire of Kings of Leon just to be heard above the din.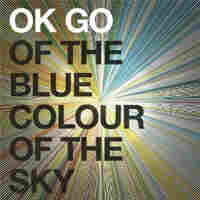 OK Go, 'This Too Shall Pass'
from Of the Blue Colour of the Sky
OK Go always seems to be disqualified for serious consideration because the band's success is credited to its videos. (Speaking of which, that Rube Goldberg machine in "This Too Shall Pass" was a major highlight of the year in videos.) The fact is, OK Go also made a wonderfully tight album filled with enthusiastic modern rock and Prince-inspired soul.