Adios 2010: Alt.Latino Salutes The Albums Of The Year
Adios 2010: Alt.Latino Salutes The Albums Of The Year
This has been a good year for Alt.Latino. We started a weekly program to showcase great new alternative and rock music from across the Latin world, as well as a blog in which we update you on music news and happenings. People sometimes ask us if it's hard to build a show from scratch, and while the answer is a resounding "yes," 2010 has been a great year to do it. It was a year of amazing releases from Argentina to Mexico, and from the Caribbean to Spain.
This was also a year in which we made a lot of good friends, so when we decided to do our "Best of 2010" show, we invited one of them: Ernesto Lechner, co-host of WEXT's The Latin Alternative and author of Rock En Español: The Latin Alternative Rock Explosion. We asked him to pick a handful of his favorite albums of 2010, and together, we chose and discussed our favorites.
The result reflects an eclectic mix of musical tastes. We've got a duo of Puerto Rican rabble-rousers, an Argentine producer whose music is like a voyage across the Americas, a Mexican singer who cast her spell on us all and a Dominican singing bachata in Japan. We didn't all agree on each other's selections, but that made the conversation even more interesting.
To see Alt.Latino's full list of song selections, click here. And, as always, we invite you to offer your own selections. What did we miss? What were your favorite albums of 2010?
Adios 2010: Alt.Latino Salutes The Albums Of The Year
9.6
from Romancero
by La Bien Querida
Coming at you from: Spain
Sounds like: An ethereal European dance song about the day you meet Mr. Wrong, but everything turns out all right.
El Juidero
from El Juidero
by Rita Indiana Y Los Misterios
Sounds like: A techno merengue bomb about dirty politics and diaspora that'll have you breaking into a sweat just from listening.
Coming at you from: Dominican Republic
1977
Sound like: An anthemic autobiographical song with tinges of Kanye West's "Diamonds From Sierra Leone." But comparing Tijoux to anyone is futile: She's in a league of her own.
Coming at you from: Chile
Latinoamérica
from Entren Los Que Quieran
by Calle 13
Sounds like: Calle 13 had originally hoped for Mercedes Sosa to sing the hook for this gorgeous ode to Latin America and Latinos. And, although Sosa died earlier this year, her spirit is present in this chacarera-inspired tune.
Coming at you from: Puerto Rico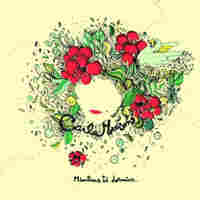 Compartir
from Mientras Tú Dormías
by Carla Morrison
Sounds like: An old-school doo-wop-style ballad about going boy crazy.
Coming at you from: Mexico
How To Get It: Available from Amazon
Radio Borderland
from Bulevar 2000
by Bostich & Fussible
Coming At You From: Mexico
Sounds Like: The combination of ranchera and electronica somehow produced something that sounds like it belongs on the streets of Paris: fun and quirky, yet elegant.
Pintar El Sol (Chancha Via Circuito remix)
Pintar el Sol
from Río Arriba
by Chancha Via Circuito
Coming At You From: Argentina
Sounds Like: A train ride through Latin America, with wonderful mechanized beats chugging through beautiful indigenous songs.
Adios 2010: Alt.Latino Salutes The Albums Of The Year
Nunca Iré
from Avionls
by No lo Soporto
Coming At You From: Argentina
Sounds like: A catchy Britpop-infused ballad featuring Argentine rock icon Gustavo Cerati.
Bachata en Fukuoka
from A Son de Guerra
by Juan Luis Guerra
Coming At You From: Dominican Republic
Sounds Like: El maestro does it again with a beautiful bachata about singing the song you wrote for someone you love when you're far away from that person.