Remembering The Remarkable Lives Lost In 2010
On our fifth annual obituary show, we remember those who may not have made the front pages when they died but whose lives still made an impact. NPR's Neal Conan, Joanne Silberner and Sonari Glinton are among those who share their remembrances.
---
Vonetta McGee, Actress
Remembered by Alicia Montgomery
At a time when Americans were just discovering that black was beautiful, a girl named Lawrence dazzled audiences and critics with her elegance and strength on-screen.
Named after her father, Lawrence Vonetta McGee was born in San Francisco in January 1945.  As an actress, she was known simply as Vonetta McGee.
Her celebrity began in Italy, with films like Faustina and 1968's Il Grande Silenzio (The Great Silence). That led to a string of starring roles in 1970s films like Blacula, Hammer and Shaft In Africa -- movies that many characterize as "blaxploitation." But McGee felt that tag didn't do those films -- or the performers in them -- justice. In a 1979 interview with the Los Angeles Times, McGee said that people dismissed films as blaxploitation "so you don't have to think of the individual elements, just the whole. If you study propaganda, you understand how this works."
McGee famously co-starred with Clint Eastwood in the 1975 film The Eiger Sanction, but on-screen and off, actor Carl Lumbly was her partner. McGee played his wife in the groundbreaking 1980s cop drama Cagney and Lacey.  They married in 1986, and McGee later played Lumbly's wife in the critically acclaimed 1990 independent film To Sleep With Anger.
In a 1972 appearance on the music show Soul Train, McGee joked with host Don Cornelius that she had to go through "pure pain" to become an actress. But she clarified that she meant she spent a lot of time acting in church basements and other free venues to earn her success.
Vonetta McGee died in July of cardiac arrest. She was 65.
---
Frank Frazetta, Artist
Remembered by Neal Conan
Wednesday, a listener e-mailed to ask that we remember Frank Frazetta, an artist who drew a thousand comic books in the 1940s and '50s and went on to provide the covers for dozens of science-fiction and fantasy novels as well as the illustrations for one character in particular.
As a kid, growing up in New York, I haunted the used-book stores that used to occupy shabby storefronts along Fourth Avenue, places where dime mysteries still sold for a dime and a dreamy teenager could search out the immortal works of Doc Smith, Robert Heinlein and Clifford Simak. And every store I went in, every time, I asked if any copies had shown up of books by Robert E. Howard, the pulp writer from Cross Plains, Texas, the king of sword and sorcery and the creator of Conan The Barbarian.
Well, naturally.
Owner after owner shook his head and explained that Skullface and the Conan books were long out of print; they stayed that way until 1966, when Lancer Books published a series of reissues in paperback with fantastic covers by Frank Frazetta that reeked of sex and dripped with gore -- and defined the character forever.
---
Beryl Bainbridge, Novelist
Remembered by Barrie Hardymon
There are the books you love that everyone loves -- War And Peace! Great Expectations! Eat Pray Love! -- and then there are those gems, those small novels that, when you find them, you pass on like a secret. The brilliant novels of British writer Beryl Bainbridge fall into that latter category; dark and funny novels with a heavy dose of deadpan. (Often the pan comes down on some poor character's head.)
You have only to look at her to see a woman of efficiency and wit (and wardrobe!) -- or, even better, read one of her glorious sentences. As a mother-to-be, I giggle whenever I read this one, from 1977's Injury Time: "Being constantly with children was like wearing a pair of shoes that were expensive and too small. She couldn't bear to throw them out, but they gave her blisters."
Bainbridge described writing once as, "talking on paper, and in time, learning what not to say." She was known to chain smoke while she wrote -- her writing has a whiff of cigarettes about it -- stylish, acute, with a strain of the morbid.
Beryl Bainbridge died last summer, at the age of 77. If you haven't read any of her books, a) I'm jealous, and b) get started.
---
Peter Niiler, Oceanographer
Remembered by Marisa Penaloza
Peter Niiler was my father-in-law. He died suddenly from a massive heart attack on Oct. 15 in San Diego. I know my son already misses talking on the phone with him. and he seems to know that we won't see Papa Pete when we visit San Diego next.
Peter was a renowned oceanographer -- a world authority on ocean circulation and a professor at Scripps Institution of Oceanography in La Jolla, Calif. But to my 5-year-old son, Diego, he was simply "Papa Pete." Diego would anxiously count the days before our trips to San Diego. Before Peter's death, it was he and his wife, Nancy, who were preparing to visit us in D.C. for Halloween. But most important, at least to Diego, Papa Pete was coming to build a treehouse for him in our backyard. The back-and-forth conversations about design and dimensions kept us busy for months.
Papa Pete was an amateur architect -- he built several houses during his lifetime. He loved designing and taking precise measurements to build pieces or rooms with his hands. For our wedding in La Jolla, at the last minute we realized we didn't have a stand for our cake. Well, Pete got to work and made a simple, but elegant-looking cake stand.
Since July, when the idea of the treehouse jelled during a trip to San Diego, my husband, Eric, and Diego had made many trips to the library to research treehouses. They bought and sent Papa Pete a couple of their favorite treehouse books. Then, on the phone, Pete and Diego would talk about their favorite parts of the books. Diego would find his favorite treehouse and, while pointing to it, would say "Papa Pete, this is the one I want, can you see that?"
Peter was one of those rare individuals who even though they had a demanding, engaging profession were not defined by it. He had many different talents and navigated different worlds effortlessly. He was a generous man, a green thumb gardener, a great cook, a fantastic host, a good art collector, a keen traveler. But most of all, to Diego he was a terrific grandfather. Papa Pete taught Diego big words about all kinds of subjects -- like how the jets in the Jacuzzi worked and how to put his head down in the water. Diego, on the other hand, taught Papa Pete how to explain things so a 5-year-old would understand.
My son is too little to know what "dying" means and too little to even think about how Papa Pete's death will actually have an impact on his life. It is the things that Papa Pete and Diego won't share that will be missed the most.
---
Paul Miller, Advocate For The Disabled
Remembered by Joanne Silberner
There are plenty of ways to label Paul Miller. He was a highly effective advocate for the disabled. He was one of the longest-serving commissioners of the Equal Employment Opportunities Commission. He was an adviser to both President Clinton and President Obama. He was a devoted father and husband. He was a much lauded law professor at the University of Washington. He had a wicked sense of humor. And he was a dwarf.
After a long battle with cancer that included the removal of one of his arms, Paul Miller died in October at the age of 49. Before he died, he had his own label for himself: "the only one-armed Jewish dwarf in the Obama administration."
If Miller was sitting at a table when you first met him, you wouldn't know he was a dwarf. What you'd know, within seconds, is that he was vitally interested in you, and that he was deeply committed to helping the disabled. A graduate of Harvard Law School, he was rejected by dozens of law firms and was told that he'd scare off the clients. He dedicated his life to helping people with disabilities. His most recent missions were fighting employment discrimination and genetic discrimination -- he was working on genetic discrimination up to a few days before his death.
---
Guru, Rapper
Remembered by Frannie Kelley
The rapper Guru, nee Keith Elam, died this spring at the age of 47. He was one-half of the monumental New York rap group Gang Starr, who released one of the first rap songs to sample a jazz recording in 1989. "Words That I Manifest" opened up a whole new lane for producers. Guru's partner, DJ Premier, would eventually become known as one of the greatest to ever do it.
Guru's laid-back, chesty delivery stands as one of the most recognizable and respected in hip-hop. He often mocked the posturing and cartoonish violence he heard in other early and mid-'90s rap music. He talked about his work ethic. When he insulted other rappers he was matter of fact, not hysterical, so you believed him. He was funny.
My favorite Gang Starr song, "Work," always sounds fresh -- buoyant and classy. The music Guru made with Premier and without him -- on his four Jazzmatazz records he rhymed over the playing of jazz musicians like Donald Byrd and Branford Marsalis -- is never pushy. It's confident but inviting, muscle-bound without sounding harsh. His flow wasn't superspeedy or slowed down; it was conversational, never overexcited or awkwardly emphasized.
On record Guru sounds gruff, like he's doing us a favor by opening his mouth at all. He put thousands of words on wax over the years, but he always sounded like a private man. So when drama between his family and his business partner spilled onto the Internet immediately following his death it was confusing and ugly. "My only crime was that I'm too damn kind," he said on "Moment of Truth." Let him rest in peace.
---
John Lowell Gliedman, Intellectual
Remembered by Margot Adler
I lost my husband this year. John Lowell Gliedman. We were together for 35 years. I "adopted" a bench in Central Park. It reads: "Runner Stargazer Writer. Dreams of space travel. Never a boring thought or conversation." John died at 67, a diagnosis of inoperable stomach cancer coming out of the blue. He had no symptoms until two weeks before diagnosis -- a man who never smoked, ate perfectly, was fit, had no genetic indications, and hoped to live past 100.
He was not famous. He wrote a couple of books, but he never really achieved what he called his Archimedean point. He wrote articles about quantum physics, but it was hard to get a book published because his Ph.D. was in experimental psychology and linguistics. He and a co-author wrote a classic work on disability still used by every policy wonk, but it never got into paperback to help ordinary people who might need its insights. He was funny, smart, a brilliant intellectual, but like so many of us in the world, he never achieved to the level of his abilities. At his memorial service we played a tape of him talking about space. He said contact with an alien life form would be so helpful to human beings, because it was limiting to only look at ourselves in the mirror. It was only when I was watching Avatar that I realized we would never travel the stars, never explore the possible futures together.
---
Sally Menke, Film Editor
Remembered by Zoe Chace
Frederick M. Brown/Getty Images
Sally Menke cut every movie made by Quentin Tarantino since Reservoir Dogs: Kill Bill 1 and 2, Grindhouse, Pulp Fiction and the rest.
Tarantino has such a distinctive style -- does it make you stop in your tracks to know he worked with the same editor on all of his movies? It killed me when I found this out. I had thought of Tarantino as the sole auteur, the mad genius behind the violent tense nuttiness that is Kill Bill.  But it was just as much Menke. Menke was there all along. I didn't know it!  Now I can't get her out of my mind. The invisible editors everywhere, shaping culture through cutting.
Menke described her relationship with Tarantino as "symbiotic. On the same railroad track, going to the same place." Quentin Tarantino said -- unsurprisingly -- the same thing: "I write by myself. But when it comes to the editing, I write with Sally. I don't remember what was her idea or what was my idea. We're just right there. Together." Menke usually wasn't on set. Tarantino sent her the reels. But she was on set in his mind all the time -- in fact, every time an actor flubbed a line, they would say straight into the camera, "Hi Sally"; her presence was that immediate.
Menke told The Guardian newspaper this, in one of the only interviews she ever did:
Watching Scorsese and Schoonmaker's work, I learned how to collapse time in action but still push characters through a scene. It's a trick to give the illusion it's all real; that's become crucial to us because the Tarantino thing is to make the mundane feel very spicy. It's the illusion that time is ticking away. It's all about tension, so you follow the emotional arc of a character through a scene, even if, as in the opening of Inglourious Basterds, they're just pouring a glass of milk or stuffing their pipe. We're very proud of that scene -- it might be the best thing we've ever done.
Think about the split screen in Kill Bill. Think about the camera zooming in on Thurman's chest with a syringe sticking out of it in Pulp Fiction. The card-playing scene at the bar in Inglorious Bastards, where we know the man pretending to be a Nazi is in fact running from them, and yet sitting at the bar matching Nazis shot for shot (whiskey that is, and then bullets). The never-ending car chase scene in Death Proof, waiting for the chick to fly right off the roof of the car. For a showcase of some of Menke's best, click here.
Editors are the quiet heroes of movies, Menke told The Guardian, and I like it that way. I keep Menke in mind now, as I cut tape for the radio. Editing is creating tension. Tension is storytelling. Therefore: Editing is storytelling. Filmmakers and storytellers everywhere miss you dearly.
---
Deborah Howell, Journalist
Remembered by Alicia Shepard
Julia Ewan/The Washington Post
Deborah Howell had a foul mouth. But that was only part of her charm.
She was a tough, blunt, funny, no-nonsense newspaperwoman who crashed through glass ceilings to become one of the first female editors of a large American newspaper, the St. Paul Pioneer Press.
She took no prisoners. Never held back saying what she really felt or thought, earning her the sobriquet, The Dragon Lady.
But her other nickname was Mother Mary Deborah because she had a heart of gold and would do anything for you.
She knew everyone in American journalism, and everyone knew her. If you wanted the latest gossip about who was doing what in newspapers, you called Howell. You called her too if you wanted to know who the Pulitzer finalists were before they were announced.
Few referred to her by her first name; instead she was simply "Howell."
No doubt that was because she spent most of her career fighting her way up the newsroom food chain to obtain the jobs and better pay handed to men. She used to joke that she had become another "white male editor," a role she felt she had to play to be accepted into a fraternity that was happy to have feisty female reporters but not as top bosses.
Anyone who knew her well knew that her tough-talking, hard veneer was just that, a veneer. What she was, was a good friend, always willing to make time to listen, help or advise. She loved everything about journalism and cared passionately about the news business. I counted on her wisdom as Washington Post ombudsman when I embarked in 2007 as NPR's ombudsman.
Howell, 68, died on Jan. 2 in New Zealand where she and her husband were on a bucket-list trip. She was getting out of a car to take a photograph in a country where cars travel on the "wrong" side of the road. An oncoming car hit her.
But in life, Deborah Howell was never on the wrong side.
---
Jaime Escalante, Teacher
Remembered by Luis Clemens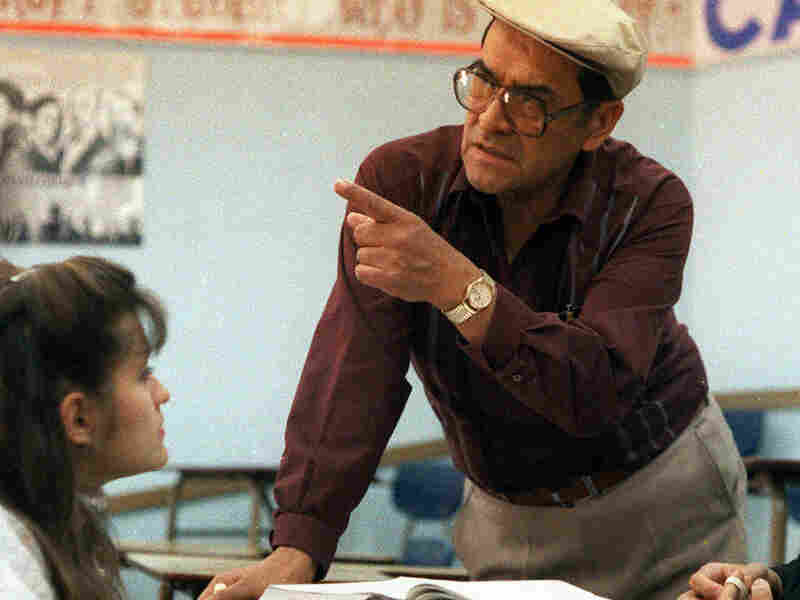 In 1987, a single school in East Los Angeles accounted for one-fourth of all the Mexican-American students nationwide who passed the AP Calculus exam. Jaime Escalante was the math teacher responsible for that monumental accomplishment. His success was profiled in a book by Washington Post columnist Jay Mathews, Jaime Escalante: The Best Teacher in America.
More than 20 years have passed since Mathews wrote that book, but he still speaks about Escalante with awe and unabashed enthusiasm. Mathews sums up Escalante's attitude toward the students at James A. Garfield High School like this: "Their problem wasn't being poor. Like all American teenagers they were lazy. ... They weren't dumb Mexicans. They were as bright as the kids in Beverly Hills."
Mathews says actor Edward James Olmos, who played Escalante in the movie Stand And Deliver, beautifully portrayed the teacher's driven nature and use of language.
There's a moment in the film when Edward James Olmos says, "There will be no free rides, no excuses. ... You're going to work harder here than you've ever worked anywhere else. And the only thing I ask from you is ganas. Desire."
Mix the ganas of students with encouragement from a teacher, plus long hours of preparation, and that equals success.
"As a culture, we assume that poor kids can't learn very much," Mathews says. "Jaime [Escalante] destroyed the basis of that assumption."
---
Meinhardt Raabe, Actor
Remembered by Theo Balcomb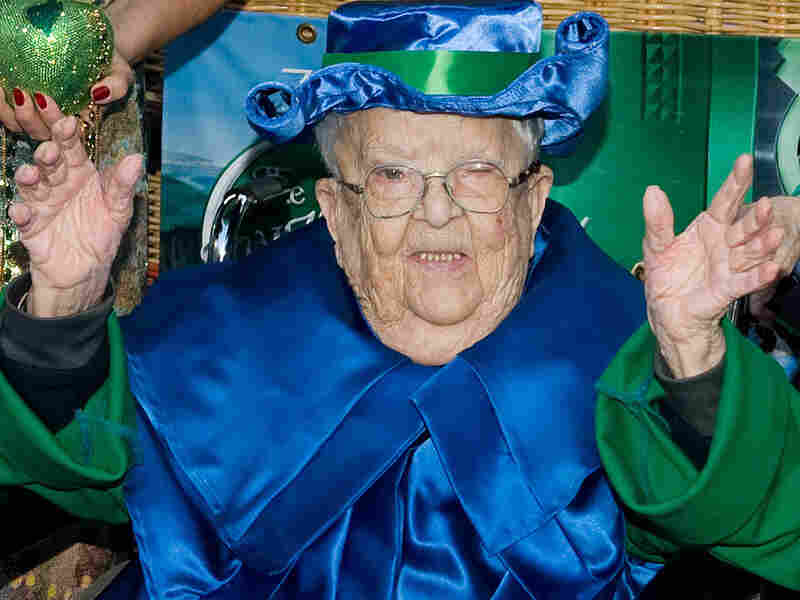 As the little girl who dressed up as Dorothy year after year for Halloween, I was thrilled to call up one of the last remaining Munchkins from The Wizard Of Oz.
Meinhardt Raabe was the man. And I called him to set up an interview with Scott Simon in September 2009.
Raabe agreed to take the long drive from his retirement home to a member station in Florida. When he arrived there, I wasn't sure if he'd be up for the interview.  But, boy, was he.
He talked about making The Wizard Of Oz -- "Every day was a new experience," he said. He remembered just how much he and the other "actors who played Munchkins" adored Judy Garland. He reported on his life now -- "I am living now in a retirement community with a lot of, shall we say, senior citizens who are avid fans of The Wizard Of Oz because it reminds them of their early years."
He heralded his big moment in Munchkinland when he was chosen to be the coroner.  That meant a big speech.  A speech he recited perfectly then and would continue to recite so many years later. He'd pronounce it loudly for all who'd ask:
As coroner, I must aver
I thoroughly examined her.
And she's not only merely dead,
She's really most sincerely dead.
But it wasn't the only oft-repeated, much beloved rhyme that Raabe perfected. He was also an Oscar Mayer salesman who traveled around the country in the Oscar Mayer Wienermobile.
And he was an aviator, serving in the Civil Air Patrol during World War II. He died in April at 94. Over all those years, he brought joy with every speech and every interview to every little girl who dreams of one day making it to Oz.
---
Brian Howard, Apple Engineer
Remembered by Selena Simmons-Duffin
Courtesy Of Andy Hertzfeld
Brian Howard was the 32nd employee of Apple Computer, and one of the original four members of the Macintosh Project team. Early Apple employees describe how Brian's personality -- calm, full of warmth and self-effacing humor -- was instrumental in making the original Macintosh come to fruition. Jef Raskin was the Mac's visionary, but he and Steve Jobs couldn't stand each other. Brian acted as a go-between, and without him there would be no Mac. He worked there for 30 years and was Apple's longest continuous employee (longer than Steve Wozniak or Jobs).

Although I was always in awe of Brian's role in computer history, his loss is also very deep for those of us who knew him otherwise. Besides being an engineer, he was also deeply creative. He sang in choirs and played early music instruments like the cornetto and the recorder. That's how he entered my life: He met my parents in an early music ensemble at Stanford and ended up as a close friend, even acting as a best man at their wedding. As a family friend, he was a fixture in my  life, and even when I was the littlest kid he talked to me like I mattered, like I had something to say.

Brian died of cancer on Feb. 1. He was 65. Even in his last days, when he came home from the hospital after many years of cancer treatments, he still had a sense of humor. When asked if he needed anything he replied, "I could use some hair." He is missed for all these things: the sweetness, the humor, the music and the historic role he played in making the machines that are now so instrumental to our lives, including the very laptop on which I write this remembrance.

---
Carlos Hernandez Gomez
Remembered by Sonari Glinton
Carlos Hernandez Gomez was a former colleague. It almost seems gratuitous to pick a former public radio reporter to commemorate here. I guess because Carlos never cared about any one medium, it's OK. Carlos was a Chicago television political reporter and to really get him you needed to see him, mustache, fedora, horn-rimmed glasses and all. And boy did he cover Chicago. His big scoop was the indictment of former Gov. George Ryan. The man who's now president was on Carlos' radar a decade ago. And there are a few Chicago politicians who are resting a little easier because they're not on Carlos' radar anymore.
Carlos was a throwback to another era of journalism, but he had a casual style that presaged the current Daily Show. He never said "jail" when "pokey" would do. He was a man of deep faith, a devout Roman Catholic who swore with abandon. For the people who pay close attention to Chicago politics, Carlos was the real deal. He was completely fearless. I saw him stand toe to toe with congressmen, senators, presidents, even mobsters. In the end, he faced cancer with the same fearlessness. As the Rod Blagojevich trial played itself out, or when Richard Daley decided not to run, or when Rahm Emanuel decided to run, I thought of Carlos. So many people in so many media organizations would call him to ask, "What's really going on?"