Intern Uprising: The Songs Of 2010 Our Bosses Missed
Intern Uprising: The Songs Of 2010 Our Bosses Missed
Most see the end of the year as a cause for celebration, but not NPR Music's interns. Our time here has come to an end. We'll miss the perks -- the in-office concerts and the occasional free vegan cupcake, to name a few. We'll miss the people, too -- these are some of the sharpest minds in online media. They've made us better writers and given us a pretty good idea of where music journalism is headed, and not once have we been called on to pick up the coffee. When it comes to overseers, none are as benevolent as these people.
So naturally, we were pretty stoked when we were invited to take part in the making of NPR Music's year-end list of 50 Favorite Albums. And when the time came for the team to battle it out on behalf of the bands we love, we were ready. With a fearlessness that could only be described as cute, we put forth our favorite music of the year.
What followed was nothing short of an onslaught. One by one, they dissected and disposed of our suggestions without pity. Granted, they tried to be polite about it, but that was a wasted effort. These were not just albums that were being brushed aside -- these were our favorites. Our tastes and sensibilities were being called into question. We were left with nothing but our rejected records to console us.
Our tear stains have dried, but our egos remain damaged. To effectively repair them, we've taken a cue from the spring interns and created a list of songs from the year that the staff somehow missed. We even asked interns from earlier this year to toss in their picks. This isn't just another year-end list -- this is the redemption of our musical tastes. As you'll hear, we think we've earned it.
Intern Uprising: Songs Our Bosses Missed
Intern Uprising: The Songs Of 2010 Our Bosses Missed
In The Waiting Room
from Distracted
by Terry Malts
Sarah Ventre, All Songs Considered Intern, Fall

Every album I fought for in the war room to decide NPR's 50 Favorites was given the ax -- sometimes quickly. I then realized that being from the Southwest desert means that my aesthetic can be quite different from those of my new bosses at NPR in Washington, D.C. One of the reasons I love the California garage-rock trio Terry Malts is the marriage between the confident, edgy big talk of the East Coast and the reverb-laden, sun-drenched sounds of the West. The music is lo-fi and gritty, but still light and catchy. Layers of angsty distortion are coupled with endearingly odd lyrics. It makes me feel like the Ramones came over to play in my basement after a day on the beach.

For more information on this album, visit the artist's website.
Intern Uprising: The Songs Of 2010 Our Bosses Missed
Black Coffee
from 12 Step Program
by Panacea
Andre Barnes, General Music Intern, Fall


I've occasionally overheard my bosses complain about how dull 2010 has been for hip-hop. I'll admit that there have been many soporific hip-hop releases this year, but the music of Panacea is refreshing. The dynamic D.C.-based duo revels in the tradition of the MC/DJ pairing while taking it a step further with a progressive sound; think Eric B. & Rakim meets Gang Starr meets A Tribe Called Quest in the "space age." The combination of K-Murdock's soulful sample loops and ethereal, layered backdrops with Raw Poetic's smart and conscious lyrics in "Black Coffee" is, sonically, a retro look into the future.
The album is available from Panacea's bandcamp page.
Intern Uprising: The Songs Of 2010 Our Bosses Missed
I Was Thinking
from I Was Thinking
by Gauntlet Hair
Erik Myers, General Music Intern, Fall

My home state of Colorado is finally gaining traction with the Internet's taste-making elite. NPR Music hasn't overlooked what's going on there, but it somehow missed one of its best new bands, Gauntlet Hair. Reverb is pretty popular these days, but most bands pour it on without adding much to the music. This catchy number, on the other hand, is wise with it. Clattering percussion and huge, booming vocals create a sense of arresting vastness, similar to the feeling you get the first time you lay eyes on the Rocky Mountains.

For more information on this album, visit the artist's website.
Intern Uprising: The Songs Of 2010 Our Bosses Missed
Living In America
from Sun Bronzed Greek Gods
by Dom
Lindsay Sanchez, All Songs Considered Intern, Summer

When three pasty young guys from Worcester, Mass., name their debut EP Sun Bronzed Greek Gods, that's the first tip-off not to take it too seriously. "Living in America" is fuzzy surf-rock, heavy on the catchy melodies. And, with their backhanded lyrics, they seem like a couple of goofball slackers who can write a pop hook without thinking about it. In an interview, the band's lead singer (also called Dom) mentioned intentionally making "a 'YMCA'-type track that I would be best known for but forever hate myself for writing."

For more information on this album, visit the artist's website.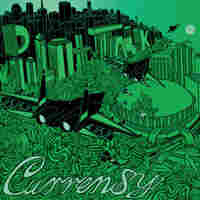 Intern Uprising: The Songs Of 2010 Our Bosses Missed
Audio Dope II [Explicit]
from Pilot Talk
by Curren$y
Alex Spoto, General Music Intern, Summer

Over the past few years, we've heard a new strain of hip, hazy and accessible hip-hop bubble up in albums by Wiz Khalifa, Kid Cudi and others. This new school's approach has conjured fresh appeal with college kids and indie fans, but often these rappers' experimentation can come off as smug and immature. Curren$y stands above the rest. He has all the unconcerned rhymes, sing-song flow and spaced-out swagger indicative of this emergent style. Nevertheless, he's more clever than "conscious," and too reflective to make music that appeals only to stoned frat boys. "Audio Dope II" showcases the rapper's fun, unpretentious style in an undeniable groove. The track, from his debut, Pilot Talk, is built on a catchy steel-drum sample and a barrage of the rapper's mumbly "yeah-uhs." The smooth beats and cushy production by Ski Beatz give the song a slick, cool aesthetic. "Audio Dope II" is striking and rich, but nothing sounds overdone.
Rap Song Ft. Rick Ross
Robert Akins, General Music Intern, Summer
It's hard for me to pick a song that wasn't covered by NPR yet stuck out as a favorite. But if I have to choose, I'm going with T-Pain's "Rap Song ft. Rick Ross." For starters, it has a great beat that will surely get you on the dance floor, but I also like the fact T-Pain references fellow rappers Lil Wayne, 50 Cent and Soulja Boy. When you put together a great beat, creative references and a solid verse from Rick Ross, you get my favorite rap song of the year -- at least among those that weren't covered by NPR.
Intern Uprising: The Songs Of 2010 Our Bosses Missed
Bass Head
from Timestretch
by Bassnectar
Adam Tanaka, Digital Arts And Life Desk Intern, Summer

Looking back, 2010 will be remembered by many dance-music fans as the year electronic music broke into the mainstream. From David Guetta rubbing shoulders with Flo Rida to Deadmau5 DJing the VMAs, the boundaries between pop and dance became increasingly blurred -- and the Internet went crazy, with enthusiasts heralding a renaissance and purists fuming at the sellouts. The biggest surprise for me, though, was the massive popularity of dubstep, an abrasive, bass-heavy genre of electronic music that can often seem paradoxical: It's dance music that's impossible to dance to. (Just check out the burgeoning genre of "How to Dance to Dubstep" videos on YouTube.) Bassnectar -- a scruffy, long-haired Californian legendary for his live shows -- delivered the dubstep anthem of the year with "Bass Head," a headache-inducing track that undoubtedly blew out subwoofers across the country.

For more information on this album, visit the artist's website.
Intern Uprising: The Songs Of 2010 Our Bosses Missed
Concerto For Bandoneon & Orchestra: 2. Moderato
from Piazzolla: Sinfonia Buenos Aires
by Daniel Binelli
Sarah Scanlon, Classical Music Intern, Spring

A few notes were all it took for Daniel Binelli to pull me into the luxurious, seductive world of Astor Piazzolla's nuevo tango (a marriage of tango, jazz and classical). Like much of the Argentine composer's works, the penetrating sonorities of Piazzolla's Concerto for Bandoneon and Orchestra (in the second movement in particular) possess the transcendent ability to break your heart while simultaneously mending it, and both Binelli and the Nashville Symphony passionately and sensitively communicate this striking quality. If you're not familiar with Piazzolla or the tango nuevo style, give it a listen -- in the process, you may discover that you've found a part of yourself that you didn't even know was missing.
Intern Uprising: The Songs Of 2010 Our Bosses Missed
Madness And The Damage Done
from Blackjazz
by Shining
Eamonn Fetherston, General Music Intern, Spring

Before this year, I had little to no interest in black metal. Within the past few months, however, Norway's Shining (along with San Francisco's Ludicra) have given me cause to reconsider my initial dismissal. "Madness and the Damage Done" balances Shining's caustic and wildly experimental approach with a relentless and surprisingly catchy groove. If other bands out there are better at making guitars sound like they're full of dying circuit boards and battery acid, I haven't found them yet.
Intern Uprising: The Songs Of 2010 Our Bosses Missed
New Coat
from Last Day Of Summer
by White Denim
Will Butler, All Songs Considered Intern, Spring

White Denim's summer break was probably more productive than yours. The band took a vacation from recording its next official LP to cook up something different: material that had been "bouncing around" since the group's formation in 2006. But Last Day of Summer is hardly an incidental bunch of B-sides. Each song stands on its own, heaping on genres in a generous fusion of blues-rock, jazz and soul with an effortless and lighthearted air. And, though the album is a stylistic departure, it's certainly well-rehearsed: White Denim is an expert, guitar-driven group brimming with great ideas -- all of which come through on this stunning record.

For more information on this album, visit the artist's website.