Love In The Limelight, Fitfully Illuminated
Country Strong
Director: Shana Feste
Genre: Music Drama
Running Time: 112 minutes
Rated PG-13 for sex and alcohol abuse
With: Gwyneth Paltrow, Tim McGraw, Garrett Hedlund, Leighton Meester
Watch Clips
'Oh, I Have Some Advice'
'Oh, I Have Some Advice'
'I Won't Steal Your Invisible Career'
'I Won't Steal Your Invisible Career'
'Country Strong'
'Country Strong'
If you were to draw a Venn diagram expressing the overlap between country music fans and the likely audience for a Gwyneth Paltrow vehicle, it would look like this: Circle A on the left, Circle B on the right and the Grand Canyon in between. Though a fine and multitalented actress -- and more or less credible as a troubled chanteuse in Country Strong -- Paltrow has an aristocratic bearing as unmistakable as Katharine Hepburn's, despite her occasional efforts to play against type. And while it's true that the contemporary country-music scene is not without its poseurs and its glamour-pusses, there's nothing about Paltrow that sells the myth of salt-of-the-earth provinciality.
Then again, Paltrow's casting is only the most conspicuous of several curious elements at the heart of Country Strong, an earnest but misguided drama about the treacherous intersection of love and fame. Here's another one: Of the four lead actors -- Paltrow, Garrett Hedlund, Leighton Meester and Tim McGraw -- the one who's a bona fide, arena-filling country music superstar (McGraw) is the only one who doesn't get to sing, at least not until a duet over the closing credits. The others acquit themselves well enough onstage, but writer-director Shana Feste doesn't show much of an interest in getting the details of the country world right, and the inauthenticity leaves her cliches exposed.
As her guest turn on Glee attested, Paltrow has a passable voice and an infectious enthusiasm for performing, but as Kelly Canter, a country star battling alcoholism, she's onstage about as rarely as her character is on the wagon. Her psyche and her reputation are in tatters in the wake of a Dallas show where she stumbled drunkenly over the footlights and lost the baby she was carrying. Eager for a career-salvaging redemption tour, her husband/manager James (McGraw) pulls her out of rehab early, with predictable consequences.
Along for the ride are two young up-and-comers: Kelly's "sponsor" (read: lover) Beau Hutton (Hedlund), a humble crooner who's likened (without merit) to Townes Van Zandt; and former beauty queen Chiles Stanton (Meester), who's likened (likewise) to Carrie Underwood.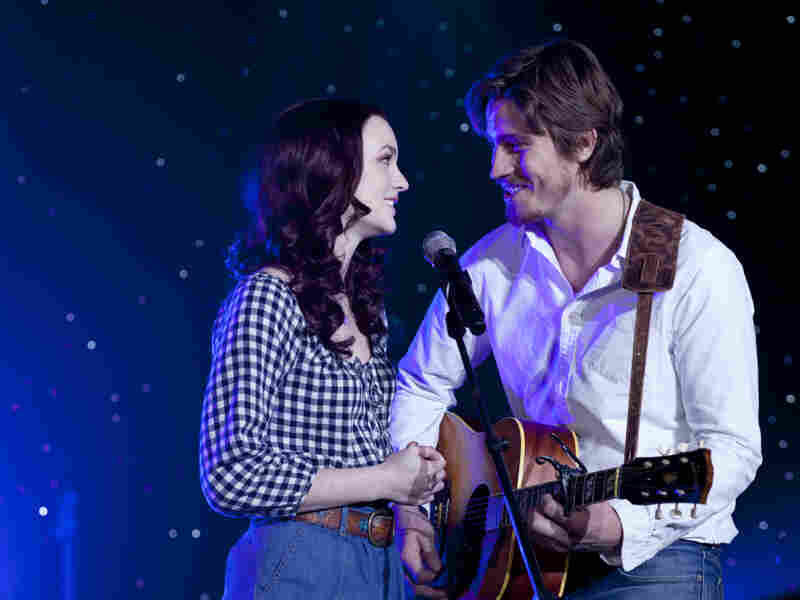 Scott Garfield/Sony Pictures
Feste sets up an All About Eve dynamic between the fading veteran and the ambitious ingenue who claims to idolize her, but Country Strong seems to gain and lose interest in the conflict from scene to scene. It's hard to get a handle on any of the characters, for that matter: Is James the cruel, unfeeling opportunist his all-black wardrobe would suggest, or a fundamentally decent man picking up the pieces of his broken marriage? Do Beau's hot-and-cold relationships with Kelly and Chiles reflect a tortured effort to show sensitivity to both, or just to go wherever the screenplay dictates?
Much of Country Strong's unsteadiness was also evident in Feste's 2009 debut feature, The Greatest -- another melodrama that marinates in grief -- and they share a few strengths, too, particularly her ability to write juicy parts at the top of an ensemble. All four leads give rangy performances, and the film occasionally hits on some good insight into the ways fame can confuse, or even out-and-out hijack, a loving relationship. The industry is full of husband-manager types like James, and the job description pulls him in two directions at once: Salvaging Kelly's career risks dire consequences for their marriage and vice-versa.
Country Strong doesn't lack for dramatic situations like these, but clarity is another matter. Feste means to show how relationships intensify (and sometimes burn out) under the spotlight, but the theme is so arbitrarily applied that it's rarely apparent who feels what about whom. Only the career trajectories of the three singers make sense, because they've been recycled from a dozen other hoary showbiz movies. And that, when you think about it, is about as authentically country as an Outback Steakhouse.