Ich Bin Ein Cheesehead: A Photo Guide To Caring That The Packers Won
Doug Pensinger/Getty Images
I know that many of you are not football fans. Many of you don't care that the Packers (and the Steelers, but: whatever) won the right last night to go to the Super Bowl in two weeks.
I want to help you enjoy it a little. Perhaps invest. Perhaps feel some of the joy of caring about the story of a football game, without the effort, time commitment, or beer consumption involved in actually watching football. So I thought I would share with you what a game like this looks like if you actually do care about it, which ... surprisingly enough, as it turns out, I do.
Despite having spent years in the Twin Cities and therefore having a Batman-upon-Joker level of theoretical disdain for the Green Bay Packers, I have been brainwashed by enough Packer-liking associates that this is apparently the team I root for now. So now: How The Packers Made It To The Super Bowl, Because Apparently I Care About This Now.
The first thing you should know about this game was that it was very, very cold (see above).
The second thing you should know about this game is that this guy was there. Because you cannot have a Packer game without this guy. That is the law.
This is Aaron Rodgers, the Packers quarterback. His motto is, "I enjoy winning, and not so much being asked questions about how big Brett Favre's shoes are. I acknowledge that they are large shoes. Let's move on."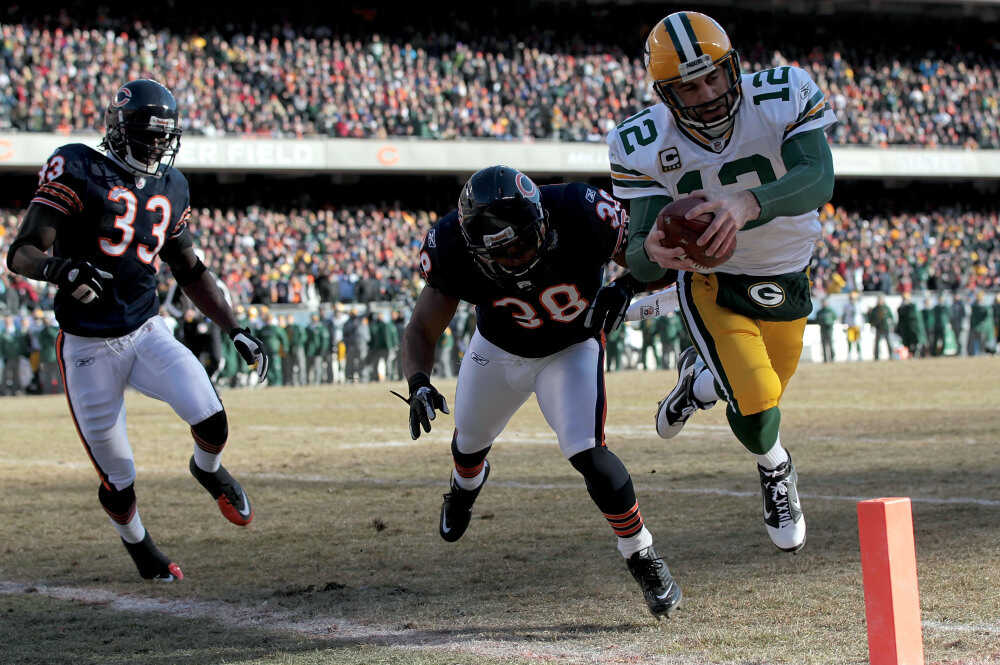 Jamie Squire/Getty Images
His other motto is, "Sometimes when you want something done right, you have to do it yourself." Here, he has nobody to throw the ball to, so he just runs it in for the touchdown himself. Self-reliance! Just like Ralph Waldo Emerson, and also Steve Young.
Jonathan Daniel/Getty Images
This is Jay Cutler, the quarterback for the Bears. Even many Bears fans do not particularly care for Jay Cutler. He left the game in the third quarter, citing a knee injury, leaving the game to the second- and third-string QBs. Nobody except a man and his doctor knows whether he was right to leave the game, but it is safe to say that it would be better for Cutler if he were not spotted playing golf or skiing any time soon. But what really makes this photo, taken after he was out of the game? Even his hat is sad. Jay Cutler's hat already knows that the Bears are going to lose. The hat has packed it in already.
Doug Pensinger/Getty Images
What made this play amazing — and what makes it a great photo — is that this captures a wonderful moment during which Sam Shields already had the ball, and Johnny Knox still thought it was coming. He's waiting! His arms outstretched! "Come to me, ball!" says Johnny Knox. "I am busy," says the ball. "I am hanging out with Sam Shields."
This is B.J. Raji, who is, among other things, turning into the latest giant dude the Packers can put in when they are going for short yardage. Meaning, effectively, he is Wall Man: The Man Who Acts As A Wall. What was more surprising was seeing him intercept a pass and run it back to the end zone before executing a little dance. It's the little B.J. Raji dance that I like to call "Look, I Am A Giant Hot Dog."
Here, after the win, Donald Driver jumps on the back of Ryan Pickett, screaming the following: "WHY DID WE LET BRETT FAVRE GO? WHY, WHY, WHY? WE ARE LOST WITHOUT THE GUNSLINGER! HE WAS LIKE A KID OUT THERE! LEFT IT ALL ON THE FIELD! WHERE DID WE GO WRONG? AARON RODGERS WILL AMOUNT TO NOTHING! " Okay, he probably was not saying that at all.