What's Next For Iran Nuclear Talks?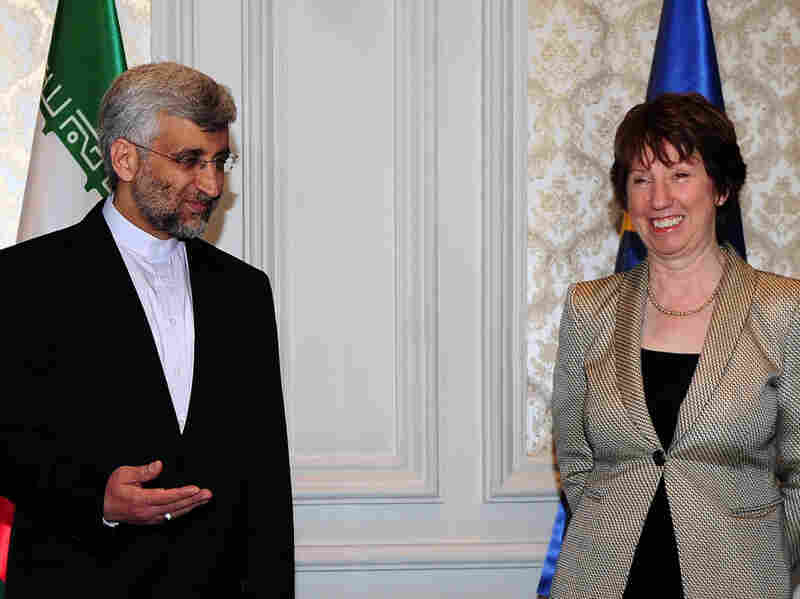 Nuclear talks between six world powers and Iran ended in Istanbul on Saturday with no more meetings planned, leaving the question, where does diplomacy go from here? Nuclear experts say there are many proposals that could move things forward, but all require a certain amount of trust between the two sides.
The proposals brought by the international side — the U.S., Britain, France, Russia, China and Germany — fell into two categories: transparency measures, ways in which Iran could help inspectors from the International Atomic Energy Agency, the U.N. nuclear watchdog, resolve outstanding questions about Iran's nuclear activities; and what's become known as the "Tehran research reactor fuel swap."
Officials say both proposals met Iranian insistence that sanctions be lifted and the world recognize Tehran's right to enrich uranium. But nuclear experts say that doesn't mean those ideas — and others — shouldn't be discussed.
Nuclear Swap Options
Iran agreed in principle in 2009 to ship out most of its enriched uranium in exchange for receiving processed fuel enriched to nearly 20 percent for its medical research reactor in Tehran. That fuel is enriched more highly than would be needed for generating electricity but is for an accepted civilian use: to create isotopes that help in medical diagnoses. Weapons-grade fuel is enriched to 90 percent.
Former IAEA inspector Olli Heinonen says much of the discussion of the research reactor in the year and a half since the original fuel swap fell through has missed one important point: the age and condition of the Tehran reactor.
"It's old and it's running out of fuel, and I think that they were a little bit also worried about the safety and security, because as you know the reactor is today practically in the middle of the town," he said.
Why Not Build A New Reactor?
Heinonen, now at Harvard's Kennedy School of Government, says if negotiators succeeded in striking a new, bigger fuel-swap deal — bigger to account for Iran's growing stockpile of enriched uranium — they would be extending the life of the aging, urban reactor by some 10 years.
So, he says, why not go for a bigger and ultimately safer proposal: build a new research reactor, possibly at Arak, the site of a still-unfinished heavy water reactor?
"What about building a modern research reactor? Put it to Arak, to this building which is not fully completed," Heinonen says. "It will take two to three years at least to design and build. And then after that process, you know, they have a brand-new, good research reactor which can produce, in a safe and secure manner, radioisotopes for all Iran without any trouble."
Big Ideas, Big Problems
There are other "big idea" proposals in circulation. In 2009, physicist Geoffrey Forden wrote on the website ArmsControlWonk.com that the international community, instead of worrying about secret uranium enrichment plants in Iran, should build what he called a "multinational enrichment facility" there. That, he argued, would allow Western nuclear experts to be on the ground constantly, making it that much harder for Iran to develop a clandestine nuclear weapons program out of sight of the IAEA.
Such proposals would break the current stalemate, analysts say, but would raise questions of their own. Bruno Tertrais with the Paris-based Foundation for Strategic Research says building Iran a new research reactor is a fascinating idea, but he wonders what the international side would want in return.
"This is where it gets interesting," Tertrais says. "On paper, the idea of proposing Iran, to build for them a new reactor devoted to the production of medical isotopes is a great idea. But I would expect that the P5+1 would demand a very big concession from the Iranians in return."
P5+1 refers to the five permanent members of the U.N. Security Council — Britain, China, France, Russia and the United States — and Germany.
Others point out that none of these proposals has much of a chance in the current atmosphere of mutual distrust. Improving that atmosphere was one objective of the Istanbul talks. Officials say it remains to be seen whether diplomats will get another chance to create a climate in which these or other proposals can get a sincere hearing.