Recipe: No-Bake Granola Bars
These are the granola bars my sister was crazy about. They are super easy to make and can be stored in the refrigerator for up to two weeks, or individually frozen. The ingredients are flexible, so you can use what you have around the house: any nut butter, any puffed grain. This recipe was inspired by Mark Bittman's Almond-Apricot Granola Bars recipe in The New York Times, Sept. 17, 2010.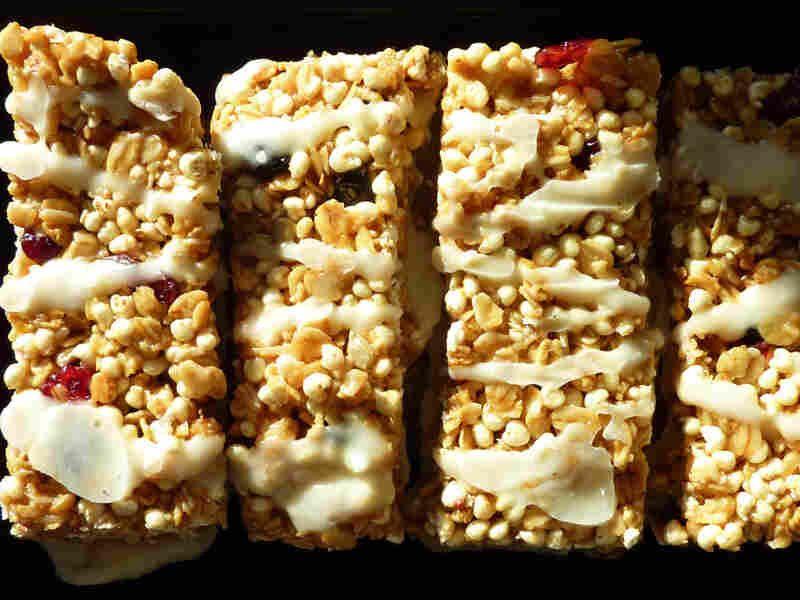 Makes 10 to 12 bars
1 cup puffed millet*
2 cups homemade granola
1/2 cup honey
3 tablespoons peanut butter (or any other nut butter)
1/2 teaspoon vanilla extract, divided
3/4 cup white chocolate chips
2 tablespoons almond milk
*Any puffed grain will do: rice, millet, wheat.
Combine puffed millet and granola in a bowl.
Combine honey, peanut butter and 1/4 teaspoon vanilla extract in a saucepan over medium heat. Bring to a simmer.
Pour honey mixture over dry ingredients and mix to thoroughly combine.
Place plastic wrap or parchment paper at the bottom of an 8-by-8-inch pan. Fill pan with mixture, pressing down to flatten and create a smooth surface.
Place pan in refrigerator for at least an hour.
Slice into bars.
Create a double boiler. (Bring water to a boil in a saucepan and add a bowl on top. Be sure that the bottom of the bowl does not hit the water, as you do not want the chocolate to burn.) Add the remaining ingredients to the bowl and stir constantly until combined.
When thoroughly melted, dip bottom of bars into the melted chocolate and place on either parchment paper or plastic wrap.
Once all bars are dipped, take remaining chocolate and drizzle on top of granola bars.
Place bars back in refrigerator for at least 30 minutes to cool.