Electronic Edition: Exclusive Premieres From Blondes, Factory Floor, More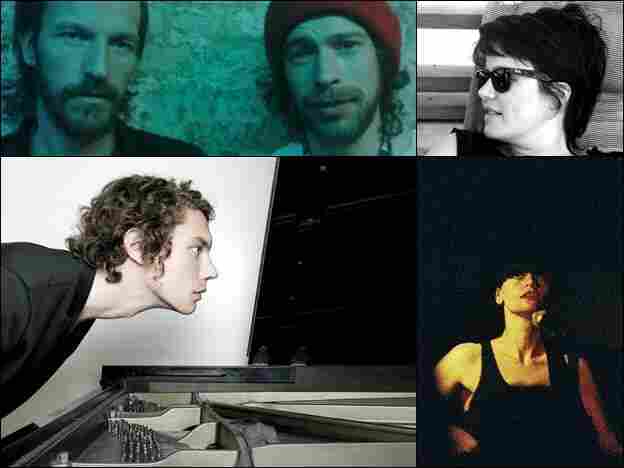 NPR Music producers Sami Yenigun and Otis Hart join host Bob Boilen once again to douse listeners with another Electronic Music Edition of All Songs Considered. A lot of the names dropped in this week's program might not sound new to the show's European audience: As Yenigun notes, Brown University student and sample-manipulating whiz Nicolas Jaar continues to pack Berlin venues, yet remains relatively unknown in the U.S. Maxmillion Dunbar, a veteran of the D.C. electronic scene, is also bigger abroad.
The Brooklyn-based duo Blondes, however, is an exception on this episode. The group is rapidly gaining recognition here thanks in part to a recent nod from The New York Times' style section. On this edition of All Songs Considered, we introduce the duo's cover of German artist Harald Grosskopf's song "Synthesist." We've also got exclusive premieres from Factory Floor and Maxmillion Dunbar.
Keep up with NPR's electronic connoisseurs, Sami Yenigun and Otis Hart, on Twitter for a daily fix of non-organic jams.
Electronic Edition II: Blondes, Steffi, Rocketnumbernine
Polo
from Max Trax For World Peace
by Maxmillion Dunbar
Synthesist
from Re-Synthesist
by Blondes
Keep Me There
from Space Is Only Noise
by Nicolas Jaar
Yours
from Yours & Mine
by Steffi
Nobody Else
from Humming Bird EP
by Maya Jane Coles
Matthew and Toby
from Matthew and Toby
by Rocketnumbernine
Idiosynkrasia
from Idiosynkrasia
by Francesco Tristano
Real Love (Optimo Remix)
from Real Love
by Factory Floor