Recipe: Fried Wontons
Chinese takeout is as popular in Trinidad as it is in the U.S. — but, of course, it has a Trinidadian twist. This popular snack is livened up with the addition of hot pepper. You can make it with ground shrimp, chicken breast or lean pork. This recipe is adapted from my book Sweet Hands: Island Cooking from Trinidad & Tobago (Hippocrene 2010).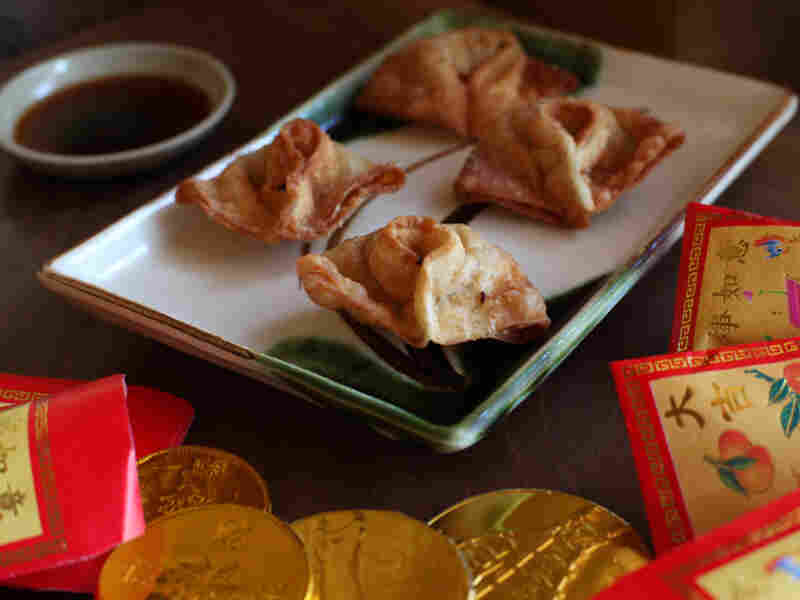 Jean Paul Vellotti for NPR
Makes 24
1/2 pound shrimp, chicken or pork, coarsely ground in a food processor or meat grinder
1 scallion, trimmed and finely chopped (both white and green parts)
2 cloves garlic, minced
1/2 fresh hot red chili pepper, minced
1 teaspoon soy sauce
24 wonton skins
1 cup canola oil, for deep-frying
1/2 cup sweet soy sauce (available in Asian markets)
1/4 cup rice wine vinegar
Combine the ground shrimp, chicken or pork with the scallion, garlic, hot pepper and soy sauce and set aside.
Have a small bowl of cold water ready. Place a wonton skin flat on a work surface and put 1/2 teaspoon of the meat mixture into the middle of the square skin. Dip a finger in the cold water and run it along the edges of the wonton skin. (This will help the skin stick together when folded.)
Fold the skin in half over the meat to form a rectangle. Fold the rectangle in half again lengthwise. The meat will be squeezed flat inside the wrapper. Bring the ends of the wrapper together so they meet each other, like a horseshoe, joining the inside edges together but leaving the outer edges free. Use a little water to pinch the dough closed. The wonton will resemble a little nurse's hat. Repeat until all the skins are filled or all the filling is used.
Heat the oil in a saucepan until hot. Test by dropping a little flour into the pot. If it sizzles vigorously, the oil is ready. Add the wontons a few at a time, so they are not crowded in the pan. Fry until golden brown, then drain on paper towels. Whisk together the sweet soy sauce and vinegar and serve as a dipping sauce.