Egyptian Americans Rally In Support Of Countrymen
Egyptian Americans Rally In Support Of Countrymen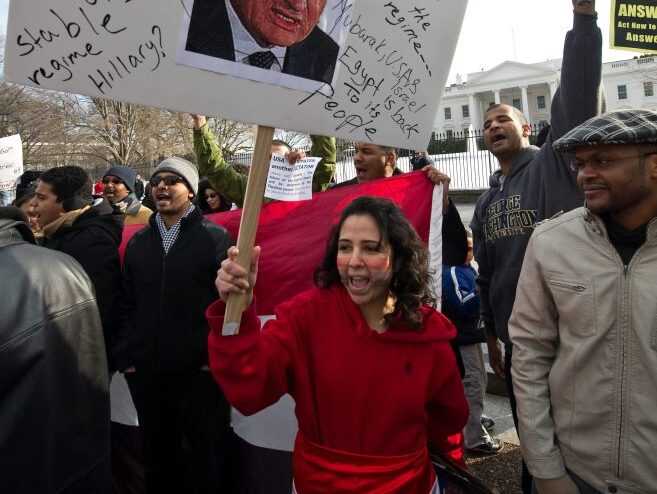 Nicholas Kamm/Getty Images
Waving Egyptian flags, chanting slogans and holding signs saying "Out to President Hosni Mubarak," about two-dozen protesters gathered in the cold recently at the back lawn of the White House. In the crowd of mostly young demonstrators was 60-year-old Egyptian-American Hossam Mohammed, who said he never thought he'd live to see the revolution.
"Never, never," he said. "Today, I have the time of my life. Today, I feel proud of my country, of myself. Time to get rid of this dictator."
He had been on the phone with his sister in the coastal city of Alexandria, Egypt. She took her husband in his wheelchair to demonstrations there in spite of threats of violence from Egypt's security forces. Like them, Mohammed says, he wants to tell the world not to fear this uprising.
"Egypt is not Iran," he says. "Egypt is not Muslim Brotherhood. We Egyptians love life. Egyptians, they want to live like everybody else."
Anxious For Relatives, But Eager For Change
Sahar Aziz, a civil rights lawyer who worked at the Department of Homeland Security, says she has been "glued to the TV, glued to Facebook."
Landlines are the only way she's been able to reach relatives in Cairo because the Internet was cut off and cell service has been spotty. She is connecting with others outside Egypt to keep track of the news.
"The Egyptian-American community, the Arab community, all types of Americans, and actually people from all over the world have been actively posting new videos and pictures and new information about Egypt," she says.
At least 200,000 people of Egyptian descent live in the United States. In New York, they held watching parties. In Chicago, Seattle, San Francisco and Boston, they gathered to cheer on their countrymen. They are anxious for their relatives and nervous about change but say it's time for the regime to go.
Aziz says this uprising is about the young people. Most Egyptians live in poverty or immigrate because economic opportunity doesn't exist except for those who are rich and connected.
"I have cousins who are in their late 20s and have not been able to find a job for 10 years, and they're literally living with their parents and extremely frustrated, and it's not for lack of will. It's not for lack of intent," she says.
In the excitement, Aziz took her grade-school-age boys to a recent protest in Washington to show them it's possible to demonstrate freely in the U.S.
'A Warm Peace'
Another Egyptian American keeping close tabs on the news is Nadine Wahab.
She is constantly on her computer, sending e-mails to everyone she knows, and scanning Facebook and Twitter. She doesn't have much contact inside Egypt, but she knows that one of her uncles is pulling guard duty in his neighborhood in Cairo to keep it safe from looters. Finally, she says, Egyptians are not afraid to stand up for themselves.
"I can hide behind my American passport and say, 'These are my freedoms,' " she says. "To be able to share that with my brothers and sisters in Egypt, with my cousins, with my uncles, and know that they now are beginning to know what that actually feels like, is absolutely amazing."
At the protest at the White House, Hossam Mohammed said he's excited about Egypt's future as a real democracy.
"After democracy, we're going to have a warm peace," he said, holding onto his protest sign through thick gloves. "Trust me, young lady — I'm a 60-year-old man, and we're going to have the American interest in Egypt or the Middle East and will be safe in a democracy."
He said he'll be out demonstrating every day until President Mubarak is gone for good.