Religious Groups Tackle An X-Rated Secret
Religious Groups Tackle An X-Rated Secret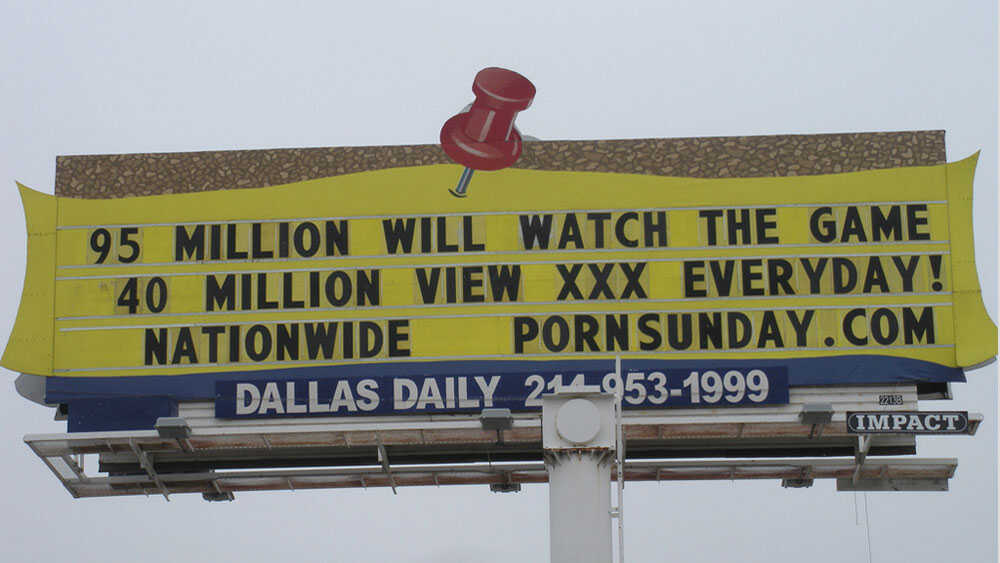 This Super Bowl Sunday, church may be as jarring as a quarterback sack for some worshippers who, after settling into their pews, discover that the subject of the morning's sermon is pornography.
More than 300 churches are expected to celebrate National Porn Sunday on Feb. 6. The members will watch a video sermon featuring current and former NFL players talking about their struggles with pornography.
"No one knew my problem was this bad," former New York Jets wide receiver Eric Boles says in the video.
"I would go home, and I would sit there, and the laptop and I would have a conversation," says Josh McCown, who played quarterback for several NFL teams, most recently the Carolina Panthers. "And I would battle with not even wanting to open it, not even wanting to check e-mails because I knew where it might lead me."
"I mean, you go to MSN or CNN or MSNBC," adds quarterback Jon Kitna of the Dallas Cowboys, "and you see this, and it leads to a link to this, and pretty soon I'm into a world that I never knew existed."
Elephant In The Pews
Presence Church in Addison, Texas, will be one of the churches playing the video on Sunday. Steven Kirlin, the church's pastor, hopes that seeing football stars talk about pornography will break a taboo.
"I think that opens up others to say, 'Well, I'm not only going to give this a listen, but I might actually feel a little more free to talk about this because these guys are willing to talk about it,'" Kirlin says.
Pornography is the elephant in the pews, says Craig Gross, who produced the video and whose sermon is featured in it.
"The statistics say that 48 percent of Christian families are dealing with the issue of pornography in their home," Gross says. "I would say the other 52 percent are just unaware of it being an issue in their house."
Gross is the founder of XXXChurch.com, a Christian ministry that tries to help people resist pornography. He says Christians know there's a problem: His website has as many as 300,000 visitors a week. But churches are squeamish.
"The reality is most churches are scared to talk about this, I believe, because pastors themselves are struggling with this," Gross says.
According to a survey by Pastor Rick Warren's website, Pastors.com, 54 percent of pastors have looked at pornography in the past year. Gross says evangelicals have plenty to say about sexual morality — as well as infidelity, sex before marriage and homosexuality — but when it comes to pornography, they need to do more than lob arguments.
"Instead of the church boycotting or picketing or legislating against pornography, if the church would just stop consuming porn, we'd put a big dent in the porn industry," Gross says. That's what Gross is trying to do, with online forums and workshops. Gross says a million people have downloaded free software that monitors where you go online and sends a report to an accountability partner, such as a friend or spouse.
'Living A Double Life'
The evangelical church is not alone, says Michael Gardner, who oversees the pornography addiction program for the Church of Jesus Christ of Latter-day Saints. He says that about a decade ago, the Mormon church leadership started hearing stories about the effect of pornography on families. Gardner estimates about 1 in 3 Mormon couples who seek marriage counseling have a pornography problem.
"They may come in because they claim they're just having marital problems," says Gardner, who is a clinical psychologist. "But as we dig a little bit deeper, we find there may have been some pornography use, and the spouse found out, and that created a betrayal of trust, which compounded other problems they were having."
Gardner believes the problem is declining because church members are getting help. The church's new website is aimed at combating pornography, offers guidance to families, spiritual inspiration and counseling programs. The church hosts more than 250 12-step meetings each week, focused exclusively on pornography.
Even some Orthodox Jews now struggle with porn. The most traditional used to shun the Internet, says Yaakov Gold, who runs a website for Jews struggling with pornography. But now 80 percent have Internet access, he says, and that has opened up whole new opportunities.
"Never in history have we had such a situation where everyone basically has a whorehouse in their home, in the privacy of their office when no one's around," Gold says.
Gold founded the website GuardYourEyes.org three years ago. The site has anonymous forums, tips from therapists, religious inspiration, and it offers 12-step programs on the phone three times a day. He says rabbis, teachers and ordinary observant Jews write in, desperate about their obsession.
"These people dress outwardly religious, they keep all God's commandments, but inside they feel they're living this double life. They can't stop these behaviors," Gold says.
But because of that religious guilt, says Gold, believers ask for help at a much earlier stage.
"They're more ready to reach out for help," Gold says. "When they find our website, and they find there are literally hundreds of people just like them in this situation, and they find a whole network of support, they jump right in. They grab it."
Correction
Feb. 4, 2011
The audio and a previous Web version of this story incorrectly referred to the Church of Latter-day Saints. The correct name is the Church of Jesus Christ of Latter-day Saints.