Master Percussionist Plays To The Human Heartbeat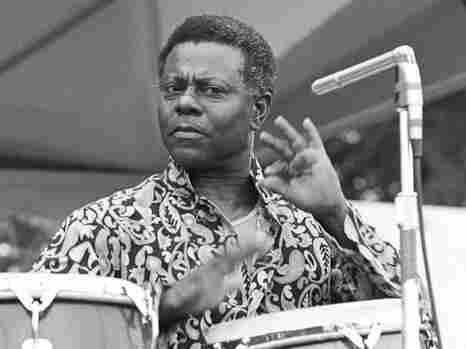 Black History Month is February and Tell Me More is observing the month with a series of short vignettes. In this installment, NPR's Felix Contreras shares his black history hero.
My Black History hero is percussionist Armando Peraza.
He was born in Havana in 1924 and came to the U.S. in 1949 as part of a wave of black Cubans who brought some of the first authentic Afro-Cuban drumming to the U-.S.
Armando Peraza made a name for himself as a sideman playing congas and bongos. Charlie Parker, George Shearing and Cal Tjader were just a few of the musicians he either recorded or performed with during the 1950's and 60's.
Then in 1972, at age 48, Peraza joined Santana just as the guitarist was adding jazz to his fusion of rock and Afro Cuban rhythms. I used to like to watch Armando Peraza walk off stage after he performed an extended solo during a Santana show.
He never looked tired or worn down, even after a display of physical endurance that would leave most conquerors panting from exhaustion. In fact it was just the opposite. He walked with a deliberate stride, back straight, head held high.
It was in that regal bearing that I felt a strong sense of the Africa, of his ancestors, and of powerful, endless rhythms that are almost as old as the human heart beat.
Armando Peraza will celebrate his 87th birthday in May.