Andrew Cedermark: Comfortable In Hiding
'Moon Deluxe' by Andrew Cedermark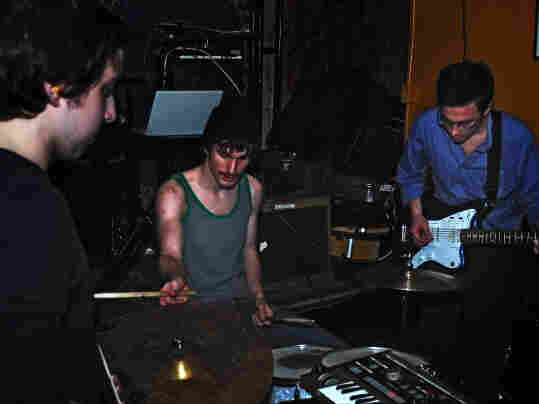 Sam German/Courtesy of the artist
Thursday's Pick
Song: "Moon Deluxe"
Artist: Andrew Cedermark
CD: Moon Deluxe
Genre: Rock
A former member of the stalwart history-punk band Titus Andronicus, Andrew Cedermark is well-versed in employing bombast and noisy theatrics to powerful effect. Since his departure from that group, though, he's drifted away from hot-blooded sing-along anthems and found a way to use his punk roots as a sort of shield for his introverted, even desolate lyrics. Cedermark's voice often gets lost amid the squalls of noise he creates, but even when his words are obscured, he sounds comfortable in hiding. Every so often, though, he breaks into an anguished wail that rises up with the tidal wave of sound he coaxes from his amplifiers.
After a string of seven-inch and cassette releases, Cedermark released his debut album, Moon Deluxe, in 2010. He leans heavily on his folk side throughout the record, although he makes even the simplest songs arranged for acoustic guitar and voice sound utterly cavernous by enshrouding them in swirling, murky reverb.
The title track perfectly demonstrates Cedermark's knack for layering sonic textures around a simple chord progression, as a brief acoustic-guitar intro is swept up by crashing cymbals and bent electric-guitar strings. There's a slight disconnect here between the pounding instrumentation and the hushed vocals, as Cedermark quietly sings that "my loneliness was pure until someone noticed it." But the dissonance complements his lyrics, which sound like the inner monologue of an isolated man as he struggles to deal with the intrusion of the outside world. The song ends with the same chords from the beginning played over and over, fading into looped bell sounds. "Moon Deluxe" might have sounded repetitive, but in Cedermark's hands, the song is utterly hypnotic.
Related NPR Stories
Web Resources