Love Songs From The Mediterranean
Love Songs From The Mediterranean
Andrea Boccalini/Courtesy of ECM
Whether you love or loathe the holiday, Valentine's Day is never complete without a soundtrack. Betto Arcos hosts a program called Global Village on the Los Angeles station KPFK, which showcases music from around the world. He recently sat down with Weekend All Things Considered host Guy Raz to share his Valentine's Day picks — a special playlist of exclusively Mediterranean artists.
Love Songs from The Mediterranean
Ô Houria
Singer, songwriter and guitarist Souad Massi was born in Algeria, but her career really took off in France, where she's currently based. "Ô Houria," a kind of love song to liberty, is the title track of her fourth album, released last fall. Singing in both Arabic and French, she brings to mind a Middle Eastern Joni Mitchell or Tracy Chapman.
Da Tè À Mè
from Mistico Mediterraneo
by Paolo Fresu
"Da Tè à Mè" is a collaboration involving three different artists: Sardinian trumpet player Paolo Fresu, Italian bandoneonist Daniele Di Bonaventura and Corsican all-male choral group A Filetta, who joined forces for the upcoming album Mistico Mediterraneo. In this song, A Filetta is the star of the show: The group's seven members kick off the track, singing lyrics adapted from a Corsican poem in tight harmony.
Reader's Digest
from Guia
by Antonio Zambujo
"Reader's Digest" is an eye-catching title, especially since it comes from a Portuguese artist. António Zambujo is a singer steeped in the fado tradition; his latest album Guia is packed top to bottom with love songs. "Reader's Digest" finds him compiling a wish list for a mate.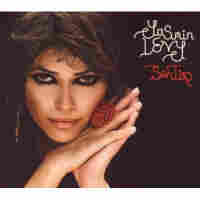 Mi Korason
from Sentir
by Yasmin Levy
The words to "Mi Korason" may sound like Spanish at first, but it's actually sung in Ladino — the little-known tongue of Spain's Sephardic Jews. Yasmin Levy's father was a scholar of the language; this song comes from her fifth album, Sentir, and translates to "My Heart."