Cartoonist Pokes Fun At Planning His Own Wedding
Cartoonist Pokes Fun At Planning His Own Wedding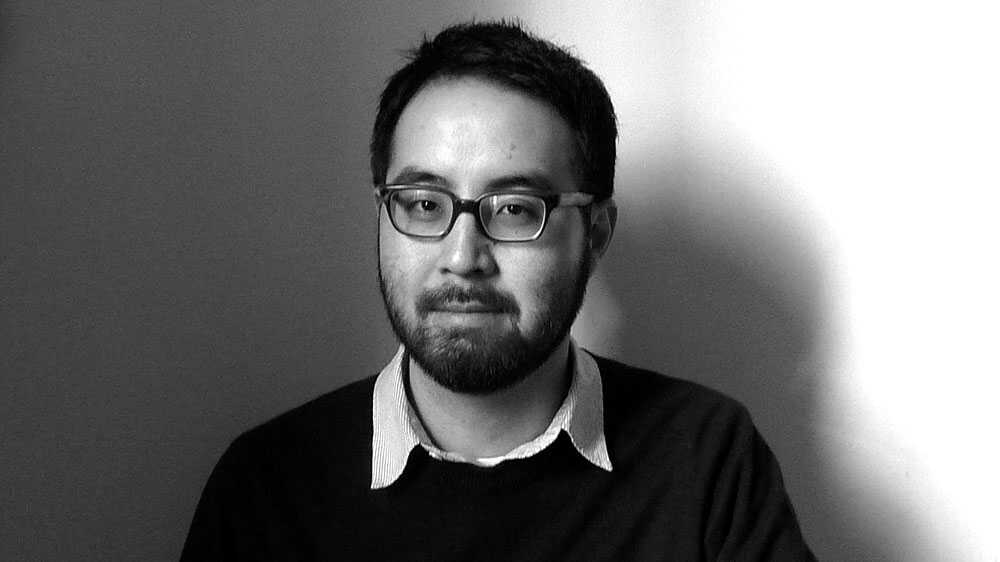 Courtesy of Sarah Brennan
When Adrian Tomine and Sarah Brennan started planning their wedding, they puzzled over what to give their guests as favors: a customized chocolate bar? A personalized mug?
Then Brennan had an idea. Tomine is a cartoonist and the author of comics, a graphic novel, and illustrations for The New Yorker magazine. So Brennan thought he could draw a little comic book for their guests — short strips about getting ready for their wedding. And so, he did.
Now, those cartoons — simple pen and ink drawings — are published in the tiny book Scenes from an Impending Marriage: a Prenuptial Memoir.
Among those scenes, a theme emerges: "This nonsense stops the minute we're married."
As Tomine and Brennan tell NPR's Melissa Block, included in the nonsense are jogging, dance lessons and the plucking of Adrian's eyebrows.
With a laugh, Tomine says the "eyebrow-plucking" cartoon seems to be the one he gets asked about the most.
"People ask, 'Did you really let her pluck your eyebrows?' " he says. "And the answer is, 'Yes.' "
Tomine admits that it happened more than once: "It was a bit of process, I think," he says. But then he says, "That nonsense all ended once the wedding occurred."
Brennan adds: "We haven't danced since. Or plucked. Or run for that matter."
Old Time Rock 'N' Roll
In one of the sections of the book, Tomine illustrates how difficult it is to find a DJ. Tomine was not happy with one of her suggestions.
"I guess she looked over some of the suggestions we had for songs and since some of them were from the '60s or '50s, she made a mental leap and decided she wanted to play the Bob Seger song 'Old Time Rock & Roll,' " Tomine says. "And, with a little bit too much vehemence, [we] explained to her we like old time rock 'n' roll, but we don't like bombastic songs from the '80s about old time rock 'n' roll."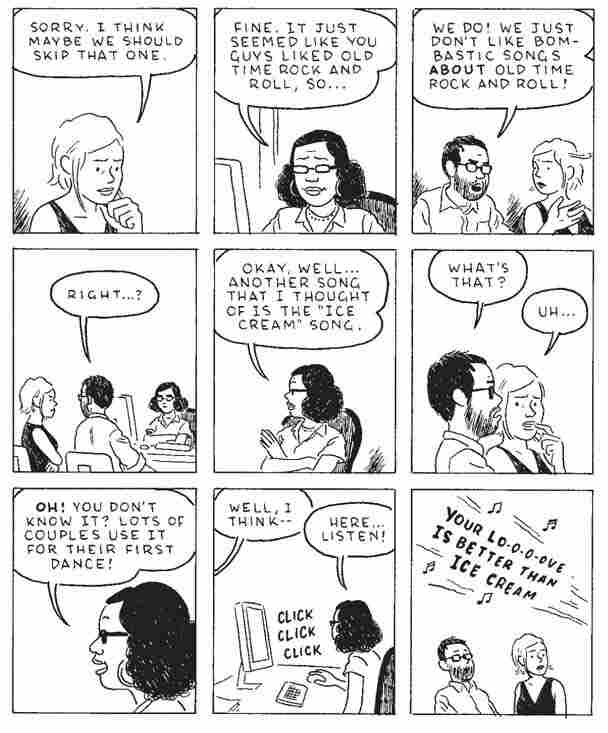 "He felt really strongly about the songs that he absolutely didn't want played at the wedding," Brennan says. "In my recollection, when she did go off script and she played the song, I do remember you storming off the dance floor to go have a talk with her."
"But I was restrained," Tomine pipes in.
"The thing is, everybody got out on the dance floor and went crazy because a lot of people really love that song," Brennan says. "And so I said, 'Look, people are having fun, it's no big deal.' And I think he softened and let it go."
True-To-Life Depictions?
Brennan says that she likes the way that Tomine illustrates her.
"I think physically he always sort of looks at me with eyes of love," she says. "I think he makes me more physically attractive than I am in real life. I notice he draws me the way I looked when we first met, you know seven or eight years ago. And I sort of have stayed the same way in his mind the whole time."
Tomine says that he also has an easy time drawing himself.
"It helps that I have some fairly typical comic book shorthand qualities like big glasses and a beard and a funny posture," he says. "Even if the technical likeness isn't there, if you throw in some of those things, it's enough to communicate who it's supposed to be."
"You're also frequently crabby like a lot of cartoonists," Brennan says.
The (Happy) Ending
The book ends with Tomine foraging for food at 4 a.m. when Tomine and Brennan were back at their New York hotel for their honeymoon.
"The options were pretty limited," Tomine says. "The only thing that I could find was one of those New York all-night places that sells hamburgers and pizza and pasta and French fries. I was almost like, 'I'll take one of everything,' and return to our very posh hotel with a handful of bags that were about to rip through from the grease."
It was their first meal as a married couple.
"I did try and mention that to the guy behind the counter at the restaurant," Tomine says. "I thought it would be one of those Hollywood moments where he'd say, 'It's on me!' Or, 'Hey everybody, this guy just got married!' and everybody would raise a toast to me, but he just stared at me with great contempt and wanted me to hurry up and finish my order."
"He wasn't basking in our love?" Brennan says. "Wow, that's so surprising."
Related NPR Stories