Imitators Of Egyptian Protesters May Be Disappointed
Adam Jan/AFP/Getty Images
Right now, Arab regimes resemble the old children's toy Weebles. Many are wobbling, but it's hard to predict that any are going to fall down.
Already, Friday's ouster of Egyptian President Hosni Mubarak has had substantial reverberations throughout the region, triggering new rounds of protest from Algeria to Iran. And the Muslim world had been on uncertain new ground following last month's decision by Tunisian President Zine El Abidine Ben Ali to flee his country.
Now everyone from dictators and democracy activists to White House aides is trying to figure out what might happen next.
Will Muslim countries see more of what they've already been seeing for weeks, rounds of protest met either with violent crackdowns or with promises of economic and political concessions? Or will some country or countries see Egyptian-style levels of sustained unrest that leads to regime change?
"We are all reading the tea leaves," says Marina Ottaway, director of the Middle East Program at the Carnegie Endowment for International Peace.
Spreading Quickly
When revolutionary fever spreads, it can spread quickly. That was the case in 1989, when one communist dictatorship after another toppled in Eastern Europe. And it was the case back in 1848, when revolutions took place across most of Europe.
"Once it was shown you could resist authority, people decided to try and push the boundaries," says Jack Goldstone, director of the Center for Global Policy at George Mason University and an expert on revolutions. "They generally didn't wait for years to go by to make those attempts."
The Arab World
In the current environment, protests are having what political scientists call a demonstration effect beyond the Arab world. Opposition candidates in Wednesday's presidential election in Uganda have warned that electoral fraud could trigger protests there.
It's far from certain that the threat of mass protest will turn into a real weapon in the opposition's arsenal in every country ripe for change. It may remain just that — a threat. But it's possible that one of this year's unusually high number of elections in Africa, in particular, may trigger unrest.
John Campbell, a former U.S. ambassador to Nigeria who is now a senior fellow at the Council on Foreign Relations, says it's "unlikely" that regime-toppling protests will spread to sub-Saharan Africa.
Still, Campbell says, "If the stealing of the election is particularly egregious, I suppose something might happen in the aftermath of one of these 17 elections."
The Picture In The Gulf
Goldstone compares speculation about what will happen next in the Muslim world to predictions about where a ball might land. If a physicist knows the velocity of the ball you throw into the air and its arc, she can say exactly where it will land. The same goes for two balls that collide in midtoss.
"But once you throw 10 balls in the air, even a physicist can't tell you exactly what all the different collisions will produce," he says.
The same holds true in the Middle East and North Africa. Protests have already taken root as part of life in several countries this year. But their ultimate effect remains unpredictable.
Many analysts are guessing that the Persian Gulf states will not experience major upheavals, thanks to their oil wealth.
"Freedom is very powerful, but the desire is mitigated if you're having a good life economically," says Adeed Dawisha, a political scientist at Miami University of Ohio. "If there is convulsion, you might lose all these privileges — your country doesn't tax you and provides free health care and free education."
The exception may be Bahrain. The government there has offered each family $2,600 to ease dissent and ameliorate the pinch of rising food prices. Nonetheless, protesters took over the country's main square, Pearl Square in Manama, on Tuesday.
The monarchy is in a fragile position in large part because Bahrain is run by Sunni Muslims but has a Shiite majority. There is a great disparity in standards of living between the two groups.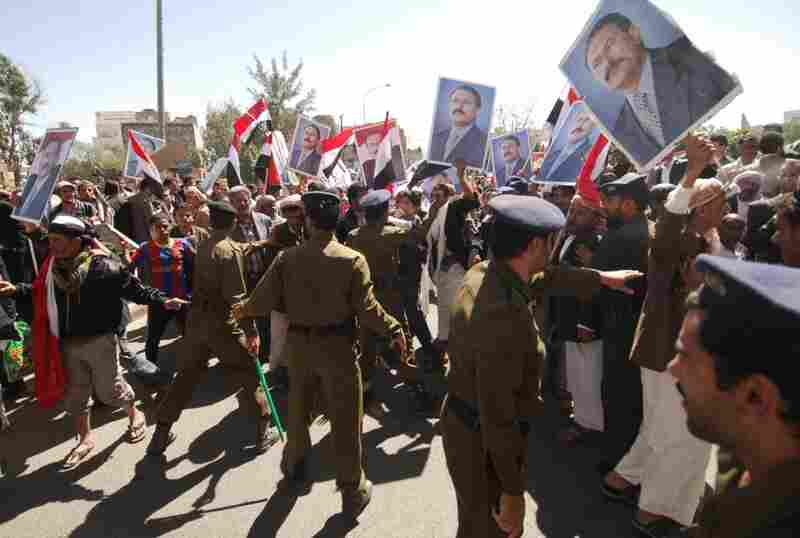 Mohammed Huwais/AFP/Getty Images)
Yemen's Shaky State
In the poor state of Yemen, a different dynamic is taking shape.
President Ali Abdullah Saleh has already pledged not to seek another term in 2013. The youth involved in the latest demonstrations and clashes have called for Saleh to step down. But opposition parties thus far have been careful not to demand his immediate resignation, knowing political convulsions would only exacerbate the country's economic troubles.
Still, Saleh is struggling to hold together a country that includes secessionists, rival tribes and an active branch of al-Qaida.
"Yemen is vulnerable not because the protests have been so big so far, but because that's a country that was barely hanging together before any protests had started," says Ottaway, the Carnegie Endowment analyst. "If there's any escalation, this is a government that does not have many resources at this point."
The Bigger They Are
Perhaps the primary reason protest is spreading throughout the Middle East and North Africa is that most countries there, for all their differences, share some similar problems.
In many cases, their leaders have held unquestioned power for a long time, often decades. Successful revolutions require large coalitions of groups to come together around a common goal, Goldstone says, and one of the easiest ways to achieve unity is to have a leader whom everyone has learned to despise.
"You can say the same in just about every Arab country," Ottaway says. "Pretty much across the Arab world, people revile the leaders who have been there too long."
Ben Ali and Mubarak proved vulnerable in part because they and their families were seen as having grabbed too much of the national wealth for themselves. That bred resentment in countries with widespread, though not universal, poverty.
"In the Arab world, people have felt for a very long time that their countries are falling behind, with the working class becoming more organized and a number of college students and white-collar workers unhappy about low wages and poor job prospects," Goldstone says. "Given the similarities, it's not surprising we're seeing a similar wave of protests everywhere from Jordan, Algeria and Yemen to Syria."
Is The Shift Irreversible?
Still, Ken Gude, managing director for national security and international policy at the Center for American Progress, says he's "less optimistic" that many entrenched Arab regimes are about to tumble.
Egypt's rapid revolution, he says, was not an 18-day event sparked by Tunisia, but instead the culmination of years and decades of opposition.
"What we see on the streets of Bahrain and Yemen now is a nascent opposition movement that is far less organized or sophisticated than anything in Cairo or Alexandria," Gude says. "The opposition is more organized in Algeria and Iran, but those regimes are more capable and more willing to use violence to suppress protests than Egypt was."
Even if Arab leaders are not about to start falling like so many dominoes, Gude stresses, that part of the world has been irreversibly changed by recent events. "In some countries, a shock could produce rapid change," he says. "In others, a longer process will lead to a different allocation of power between the generations."