Totally Tubers: Rugged Winter Veggies Take Root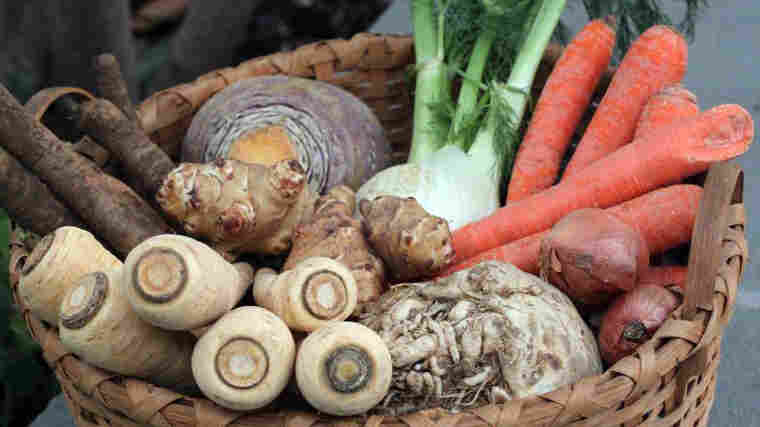 The young man at the supermarket checkout counter looked puzzled. "You have a lot of obscure things in here," he said, nodding at my basket. He didn't know any of the codes for such ambiguous items as salsify, Jerusalem artichoke, rutabaga or jicama.
Even inexperienced cooks know what a carrot or potato looks like. More "obscure" root vegetables are not so easy to recognize, though, and some of them look a lot alike — you know, all those unlabeled brown tubers and knobby spheres in a separate case in the middle of the produce section.
About The Author
Bonny Wolf is Kitchen Window's contributing editor, a commentator on NPR's Weekend Edition Sunday and a regular contributor to the Washington Post food section. She is the author of Talking with My Mouth Full: Crab Cakes, Bundt Cakes and Other Kitchen Stories (St. Martins 2006) and is working on a book about the foods of Maryland's Eastern Shore. More information is available at bonnywolf.com.
If we're going to try to eat locally, however, root vegetables are about it for the winter harvest. There won't be much growing aboveground until spring.
What lies beneath the surface is an underappreciated bounty. Beets, carrots, turnips, parsnips and radishes are at least vaguely familiar. Until the second half of the 20th century, salsify, Jerusalem artichokes and their obscure fellows were common, too.
Before refrigerated trucks, airplanes and greenhouses, there was no baby bok choy in the winter in most parts of the country. People stored roots to eat until the first shoots of spring.
For centuries, Native Americans ate wild roots and tubers through the cold weather. They ate the nutritious roots of the aquatic arrowhead plant, baked and ground dandelion roots into a powder to brew like coffee, made flour out of cattail roots. They used day lily tubers like corn and cooked with the peppery taproots of the evening primrose. Most of these still exist only in the wild.
The colonists were so taken with some of the roots they saw the Indians eat that they began to plant them in gardens. They liked Jerusalem artichokes so much they took them to Europe, one of the few North American native plants to be taken to the Old World. The crunchy, water chestnut-like tuber with the mild flavor was very trendy in France in the 1600s. It has been in and out of fashion in both old and new worlds ever since.
Jerusalem artichokes are tubers that grow from the roots of a sunflower, and are connected neither to Jerusalem nor the artichoke. One common explanation is that "Jerusalem" is a corruption of girasole, the Italian word for sunflower. Somewhere in its travels, its flavor was compared to that of an artichoke. Native Americans called them sun roots — much less confusing.
I read about salsify years ago but was never able to find it — until this year. It, too, seems to be making a tiny comeback. Salsify, which food writer Elizabeth Schneider has described as looking like "a petrified carrot," was once common in American gardens and kitchens. Thomas Jefferson planted loads of salsify, and old American cookbooks often contain salsify recipes.
Remember, beauty is only skin deep. Beneath their homely exteriors, root vegetables have a lot to offer. Served on their own or mixed with more common sweet potatoes, beets, parsnips and carrots, newly fashionable root vegetables add flavor, color and texture to the winter pot.
New waves of immigration have brought jicama from Mexico, yucca from Central America and the Caribbean and daikon radishes from Asia. No doubt, we'll dig up even more. There may even come a time when these and other roots and tubers no longer seem obscure at the supermarket.
---
Obscure Root Vegetables
Celery Root. Also called celeriac or knob celery. Celery root has a milder, sweeter flavor than its cousin, cultivated celery. The gnarled root is ugly, dirty and a pain to peel. It is, however, worth the effort. Celery root can be grated raw in salads, julienned and tossed with mayonnaise for the common French celeri en remoulade, served as a puree, roasted or used in soups (I always use it — and a lot of other root vegetables — when making chicken soup). It has an earthy, slightly sweet celery flavor and is available from fall to early spring
Jerusalem Artichokes. Also called sun chokes, these tubers look a little like ginger. They have been bred to be less knobby and more smooth-skinned then their wild relatives. They don't have to be peeled and can be eaten raw in salads, parboiled and pickled, roasted, baked, creamed or fried — anything you can do with a potato. They have the crunch of a water chestnut and a mild flavor. They are sweetest from fall through winter.
Jicama. This Mexican tuber has become more common in the U.S. in recent years and is now grown in parts of the country. The round, flat ball can be eaten raw or cooked in both savory and sweet foods. It has the wonderful crunch of the water chestnut for which it is sometimes substituted.
Rutabaga. Called Swedes by the English, rutabagas are closely related to turnips. They are round and waxy, and their sweet yellow flesh turns orange after cooking. They probably originated in central Europe and reached the U.S. in the beginning of the 19th century. The word rutabaga is a corruption of the Swedish dialect for a bulbous shape.
Salsify. This root looks like a slim, blackened carrot or parsnip. It has traditionally been hard to find in the U.S. but was seen in cookbooks through the mid-1940s. It has long been popular in France, where it is sometimes called oyster plant for a purported oysterlike flavor. Under the barklike skin is mild white flesh that must be plunged into water and lemon juice after peeling to avoid discoloration. Salsify can be steamed and covered with a light bechamel or cheese sauce, dressed in a vinaigrette, pureed as a soup or added to other soups and stews. Fall and winter are the height of its season.
Recipes With This Story
Roasted Root Vegetables
Nothing could be simpler or more satisfying. Vary the vegetables with whatever you have in the larder or whatever you find at the market. Amounts can easily be varied, too. Try to get vegetables as fresh as you can.
Makes 8 to 10 servings
3 medium carrots, peeled (or not), cut into 1/2-inch slices
3 medium parsnips, peeled and cut into 1/2-inch slices
1 medium rutabaga peeled and cut into 1-inch chunks
3/4 pound Jerusalem artichokes, scrubbed and cut into 1-inch chunks
3/4 pound small red potatoes, scrubbed and cut in half
1 celery root, peeled and cut into 1-inch chunks
8 shallots, peeled and left whole
5 salsify stalks (if you can find them), peeled and put into acidulated water
Olive oil
Coarse salt and freshly ground pepper, to taste
A few springs of herbs such as rosemary, parsley, thyme (or a combination)
Preheat oven to 350 degrees.
Mix all of the vegetables in a large roasting pan. Drizzle with enough olive oil to lightly coat vegetables and toss. Season to taste with salt and pepper. Lay herbs on top.
Cover pan tightly with aluminum foil and cook for 30 minutes.
Uncover vegetables, remove herbs and continue cooking, stirring occasionally, until they are lightly browned and fork tender, another 45 minutes to an hour.
Serve hot.
Stewed Lentils With Celery Root And Walnut Oil
Celery root is in season the same time of year many people cook lentils, and they go well together. Pressed in the fall, even walnut oil is somewhat seasonal. This recipe is adapted from The Savory Way by Deborah Madison (Bantam Books 1990).
Makes 6 to 8 servings
2 1/2 cups lentils
2 tablespoons olive oil
1/2 cup finely diced onion
2/3 cup finely diced carrot
1/2 cup finely diced celery
2 bay leaves
2 garlic cloves, minced
4 tablespoons chopped parsley, divided
1 medium celery root, peeled and cut into small cubes*
Salt, to taste
6 cups low-sodium chicken stock
2 tablespoons walnut oil, or more to taste
2 teaspoons red wine vinegar or sherry vinegar
Freshly ground black pepper
Rinse the lentils, drain and set aside.
Heat the olive oil in a soup pot and add the onion, half of the carrots, celery, bay leaves and garlic. Fry lightly over medium heat, being careful not to brown the garlic, for 4 to 5 minutes. Add the drained lentils, 2 tablespoons parsley and celery root. Season with salt. Add stock and bring to boil, then simmer until lentils are tender, about 35 minutes. Add the rest of the carrots during the last 10 minutes of cooking.
If there is a lot of liquid left, drain it (and save to use in soup or sauce). Return lentils to heat and add walnut oil, remaining 2 tablespoons parsley and vinegar. Check seasonings and finish with plenty of coarsely ground pepper.
*The gnarled, dirt-encrusted surface of the celery root looks daunting but is actually easy to peel. Rinse it off, slice down the sides to just under the skin. Slice into strips then cut the strips into cubes. Celery root will turn brown if exposed to the air for more than 10 minutes, so if it's to be longer than that, squeeze some lemon juice into a bowl of water and put the celery root in the acidulated water.
Roasted Jerusalem Artichokes In Tomato-Olive Sauce
This dish, adapted from Barbara Kafka's Vegetable Love (Artisan 2005), shows off the earthy taste of Jerusalem artichokes. Use firm, briny green olives with their pits. If that's intolerable, use small pitted green Spanish olives. Try to bake the dish in a pan that will set off the beautiful browned vegetables. This can be served hot or at room temperature as a first course or a main dish, maybe with some ham or prosciutto.
Makes 6 to 8 side-dish servings
2 pounds Jerusalem artichokes, scrubbed and cut into 1-inch wedges
2 tablespoons olive oil
1 1/2 pounds medium shallots, peeled and trimmed
3/4 cup chicken stock
1 1/2 pounds tomatoes, cored and chopped into large pieces (about 3 cups)*
1/2 drained medium green olives (about 3/4 cup), preferably Picholine
1 tablespoon coarse salt
Freshly ground black pepper to taste
*Yes, winter tomatoes are usually a bad idea. You could use canned, but I find the bright red so pretty with the green olives and earth tones of the vegetables. Roma tomatoes or those grown hydroponically at least have a little flavor.
Place a rack in the center of the oven. Preheat oven to 500 degrees.
Place the Jerusalem artichokes in a 17 1/2-by-12-inch roasting pan. Slick with olive oil, then arrange them in a single layer. Roast for 5 minutes. Turn them over and rotate the pan. Roast for another 5 minutes.
Turn the artichokes again, add the shallots in a single layer and rotate the pan. Add the chicken stock and tomatoes. Roast for 10 minutes. Stir in the olives and roast for 20 minutes, or until vegetables are nicely browned.
Season with salt and pepper and serve.
Avocado, Jicama And Orange Salad
This is a pretty, refreshing first course before a heavy winter meal. The flavors complement each other nicely. The recipe is adapted from Vegetarian Cooking for Everyone by Deborah Madison (Broadway Books 1997).

Makes 4 to 6 servings
8 ounces jicama
1 large or 2 small avocados
2 navel oranges
4 large radishes
About 25 small spinach leaves
Juice of 2 limes
Salt, to taste
1 jalapeno chili, seeded and finely diced, or ground red chili
Handful of sunflower sprouts
Peel the jicama and thinly slice it into rounds, then slice again into narrow strips. Peel and slice the avocado. Cut the oranges into round slices or into sections. Thinly slice the radishes, then cut into narrow strips.
Line a platter with spinach leaves. Lightly scatter the jicama over the spinach and intersperse with the avocado, oranges and radishes. Squeeze lime juice over all. Season with salt, sprinkle with chili and garnish with sunflower sprouts.