Analysis of NASA Database Finds Lapses In Air Safety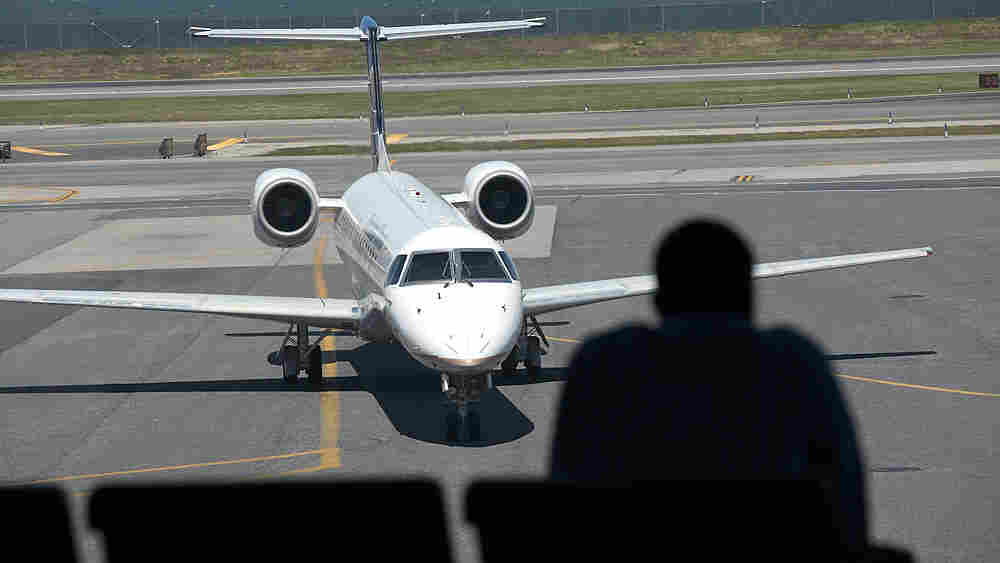 A commercial airline pilot en route to San Diego International Airport looks out a window at 10,800 feet and sees a Lockheed S-3 Viking Navy jet coming right at him.
"The captain quickly pulled up on the control column to avoid hitting the S3," the co-pilot wrote in a report filed with federal officials. "He turned his head to the right, which made me look out of my window on the right. And the window was full of the S3."
The two planes passed within about 100 feet of each other.
This is just one of thousands of examples of near-misses, bad communications, equipment failures, wildlife hits and sometimes just silly but dangerous errors contained in an aviation safety database collected and analyzed by NASA.
A six-month examination of more than 150,000 reports filed by pilots and others in the aviation industry over the past 20 years reveals surprising and sometimes shocking safety breaches and close calls at local, regional and major airports throughout the country.
A consortium of journalists working at six nonprofit investigative centers across the U.S. reviewed the records with Investigative News Network, of which they are members, and NPR. To put the reports into context, the journalists conducted scores of interviews with pilots, air traffic controllers and aviation safety experts and did extensive data analysis of the reports.
This review of the little-explored NASA records shows that the wide variety of problems translates into more than 130 near-mishaps and lapses reported on an average day.
That's just what's publicly revealed. The actual number of reports is about five times as much, but budget constraints limit what NASA can explore in depth, and some of the reports are not considered substantial enough to include. NASA maintains and analyzes the database on behalf of the Federal Aviation Administration.
Nearly two-thirds of the reports list "human factors" as the root cause, according to an analysis by one of the nonprofit journalism centers, The Watchdog Institute in San Diego.
FAA officials last year told congressional investigators that they would not otherwise know about 95 percent of the incidents revealed through NASA and a related system run by the airlines that feeds into NASA's database.
NASA's database is public, but is little-known and seldom explored by journalists. Some aviation experts and critics say the FAA itself, which contracted with NASA to create the database, does not pay enough attention to the results.
Because the reports are voluntary and vary in number from state to state, experts say no statistical analysis can be done of the database. But the reports are a key part of running an aviation safety system.
The picture that emerges would cause any layman to ask: Is our air-transportation system as safe as we've been led to believe?
"Is it basically safe? Yes," said Terry von Thaden, a Ph.D. air-safety researcher and private consultant at the University of Illinois Urbana-Champaign, who created a special system to measure the safety culture of aviation organizations.
But she adds: "Does stuff happen every day that you don't want to know about? Yes. The fact that it works always amazes me."
The state centers' investigations, which examined records as far back as 1988, found:
- In Colorado, reports by air traffic controllers of major safety lapses have surged in the last year, even as the Government Accountability Office and Department of Transportation inspector general warned that FAA efforts to train a new generation of controllers to deal with record retirement levels is lagging, especially in Denver.
- In the New York City region, consistent problems were reported at smaller Connecticut airports because controllers at the regional level were late in "handing off" control of incoming airplanes to the local airports.
- In Massachusetts, the period from 1990 to 2010 saw about 500 cases in which aircraft were either damaged or pilots had to take evasive or emergency action to prevent accidents or damage to objects on the ground.
- In Wisconsin, as well as many other states, authorities are contending with an unusual problem: Deer, turkeys, coyotes and other wild animals are turning up on runways right in the path of planes.
- In San Diego, there were at least 45 accounts since 2000 by pilots who said they had to bank, dive or climb – sometimes violently – to avoid colliding with aircraft or terrain that in some cases came as close as 30 feet.
- And in the state of Washington, safety breaches were recorded more than two times a week on average, including an air-taxi pilot operating on three hours' sleep who nearly flew into a plane leaving SeaTac International Airport near Seattle.