Q&A: In Libya, From 'Divide And Rule' To Crackdown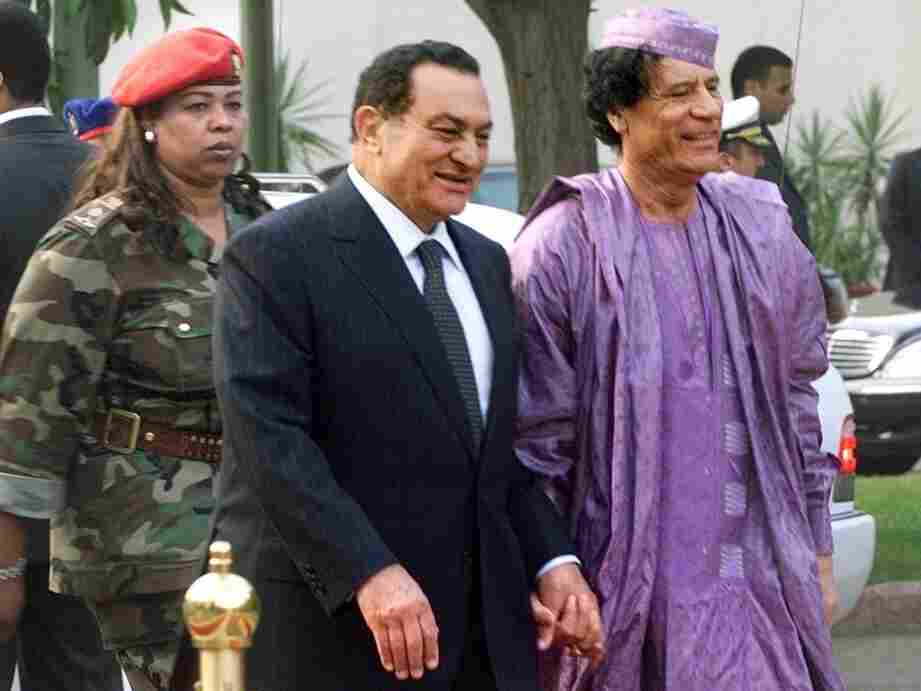 Clashes in Libya between security forces and demonstrators during Thursday's "day of rage" left at least 20 protesters dead, according to news reports.
The harsh reaction to protests in recent days suggests that Moammar Gadhafi, who has ruled Libya since 1969, has no intention of surrendering power anytime soon.
"Personally, I don't think the chances of the protesters succeeding at this point are terribly high," says Dirk J. Vandewalle, a professor of government at Dartmouth College.
NPR spoke with Vandewalle to gain perspective about the country and how events there are likely to play out. He is the author or editor of several books about Libya and North Africa, including A Modern History of Libya.
Has Gadhafi ruled in ways that leave him vulnerable in the current situation?
Vandewalle: The possibility of success for any political opposition looks very different than it did in Tunisia and Egypt.
Gadhafi has relied on a divide-and-rule policy for 40 years. There's no opposition allowed in the country, and the security services are really entrenched down to the local level in Libyan society.
One of the key issues is that in Tunisia and Egypt, you had a professional military that emerged as the key arbiter of how things would be resolved. In Libya, the army is divided along tribal lines to ensure that it could never emerge as a real force.
Muslim governments have relied in recent weeks on a combination of crackdowns and concessions. What had been Gadhafi's strategy prior to the protests this week?
Vandewalle: The regime has promised to raise salaries, which had been frozen for some time. This is a leadership that has used patronage, driven by large flows of money from oil revenues, very successfully to keep its population quiet.
The regime has used all kinds of mechanisms — cultural, symbolic — to maintain its legitimacy. For all that we in the West say about Gadhafi, this is a regime that retains a grudging admiration among its citizens. There's not the hatred that there was with [Egyptian President Hosni] Mubarak and [Tunisian President Zine El Abidine] Ben Ali.
But doesn't Gadhafi fit a similar profile, of an autocratic leader who has held power for decades?
Vandewalle: I wouldn't want to exaggerate that grudging admiration that I spoke of, but there are really not the stories about wealth and kleptocracy, as with Mubarak and Ben Ali. Gadhafi has never been tarred with that himself, and by Middle Eastern standards it's a remarkably clean regime.
One of the WikiLeaks cables reiterated this, that for all the money the regime has, it's remarkably austere.
Libya lies between Tunisia and Egypt. Does it have cultural or economic ties to those countries that make it easier for revolutionary fever to spread across those borders?
Vandewalle: Libya has deliberately tried to isolate itself both from Egypt and Tunisia. It has resisted any attempt that the North African countries have made at unification, so there's very little influence coming from the western side, from Tunisia.
Once it was clear that [former Egyptian President Anwar] Sadat had no interest in the attempt of Gadhafi to emerge as the leader of the Arabs, that ended the friendship that had existed between Egypt and Libya under [Egypt's Gamal Abdel] Nasser.
So there isn't much spillover.
What about social media? The government controls most of Libya's traditional media.
Vandewalle: One of the big problems for demonstrators is that social media in Libya is not what it is in Tunisia and Egypt. It's very well and tightly controlled by the regime.
On the other hand, Libya is a tribal society, so news travels very fast outside electronic outlets. But the demonstrators won't be able to use social media as an organizing tool, so I don't think they'll be able to organize as well as in the neighboring countries.
Assuming Gadhafi survives the current upheaval, what are Libya's prospects over the longer term? He's been in power for more than 40 years — what would succession look like?
Vandewalle: The succession to Gadhafi has been talked about for a decade now. There's been talk in the West about a succession scenario involving his son, Sayf al Islam. He is a reformer who wants to be part of the West.
I never really believed that. Gadhafi, again, has used a perfect divide-and-rule strategy among his sons and not privileged one over the other. He has said on a number of occasions that he doesn't believe in that kind of succession.
If that's the case, you have all these different tribes and the divided army and there truly is a vacuum of power. The repercussions of change for Libya could be far greater than in Egypt and Tunisia.
There could be an amount of chaos that is larger than in any of the countries we have seen so far.