Women Journalists Dodge Bullets, Sexual Assault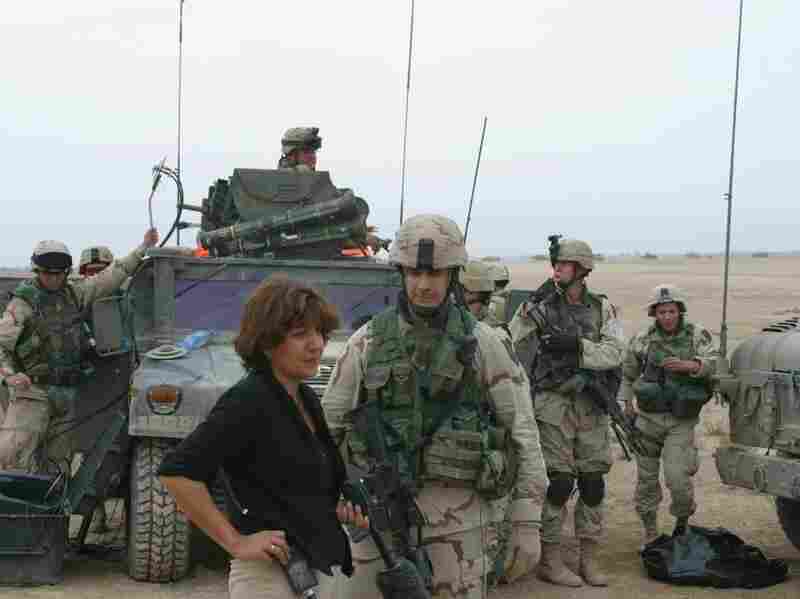 Courtesy of David Johnson
Jane Arraf has covered Iraq and the Middle East since 1991, mostly for CNN and Reuters.
Out here, there's a sisterhood of female journalists. Even if you'd never be best friends at home, there's a mutual respect among women who live with danger and discomfort to do their jobs. The attack on Lara Logan, a veteran of the world's war zones, was not just chilling but deeply, deeply sad.
We all know we're not immune from the violence that we cover. If we didn't know it at the beginning, the friends we've lost to bombs and bullets are constant reminders. Anyone who's been out here a few years has witnessed so much tragedy, it makes you wonder how happiness continues to survive. The women I know, like Lara, are passionate about journalism and deeply committed to telling people's stories. Most of us would choose no other life. We and the female reporters who paved the way worked hard to be given the chance to take the same risks as our male colleagues.
The bravery we're often given credit for in putting our lives on the line doesn't seem to a lot of us so much like bravery but a job requirement. It's far braver I think to be open about a sexual assault. In the West, having been raped is still a stigma. In the Middle East, it's often a death sentence.
In a region where women and family honor are both commodities, girls who have been raped are blamed for it, often thrown out of their house and at risk of being killed by relatives to restore the family honor. It's perpetuated by silence.
We live here and work here, and we do it well, but this is a man's world. Whether we're covering politics or security, we're often the only women in the room.
In Iraq, I mourn not just the people I knew but that sense of promise that existed even in the toughest times in the 1990s that women could have an equal place in this society. There are no women in senior Cabinet positions in the latest Iraqi government. For a while they didn't even have a woman as Women's Affairs minister. Even more heartbreaking are the talented young women I meet here all the time who dream of being lawyers or doctors but can't because those are professions that would put them in contact with men.
As we try to figure out what kind of country is emerging here, reports from the U.N. and other agencies about rising gender-based violence keep landing, along with the mind-boggling statistic that 80 percent of women have been attacked.
One of the leading causes of girls here dropping out of school is that their teachers hit them. It's a cycle of violence against the most vulnerable members of society. For all the protests sweeping the region, how many have been about basic rights for women?
There's an acquiescence that says how a woman or a girl dresses and what she looks like is a matter for society to decide and the most important thing about her. It's taken to the extreme here, but it's not so different in the West.
One of the first pieces of television advice I ever got — from a remarkably talented older journalist who phased herself out of the business — was don't ever let anyone film you in bright sunlight if you're over the age of 20.
Television of course has its own dynamic. Viewers feel as if they know us, and when something happens to a TV correspondent, it's hugely magnified. If there's ever anything good to be salvaged from such a horrifying attack, it's the awareness that women here are forced to suffer attacks in silence every day.