Objectively Speaking, It's All About The Prop Master
Objectively Speaking, It's All About The Prop Master
All photos by Katie Falkenberg for NPR/Katie Falkenberg for NPR

Katie Falkenberg for NPR

Katie Falkenberg for NPR

Katie Falkenberg for NPR

Katie Falkenberg for NPR

Katie Falkenberg for NPR

Katie Falkenberg for NPR

Katie Falkenberg for NPR

Katie Falkenberg for NPR

Katie Falkenberg for NPR

Katie Falkenberg for NPR

Katie Falkenberg for NPR

Katie Falkenberg for NPR

Katie Falkenberg for NPR

Katie Falkenberg for NPR

Katie Falkenberg for NPR

Katie Falkenberg for NPR

Katie Falkenberg for NPR
A wooden sled. A weapon to vanquish a villain. Indiana Jones' whip, the Maltese Falcon — even Babe the pig. In the movies, if an actor touches it, it's a prop. And if it's a prop, a property master arranged for it to be there.
On the set of Disney's upcoming reboot The Muppets — a Muppet, by the way, is not a prop — it's prop master Trish Gallaher Glenn who provided the telephone for Kermit the Frog. But not the very old typewriter on Kermit's desk.
About 'Hollywood Jobs'
Each year, NPR's Susan Stamberg profiles behind-the-scenes pros who help make the movies happen. This is the first of two stories for 2011.
"The set decorator does all of the furnishings, all of the draperies, the hardware, the paintings," she explains. "The prop master does the things the actor picks up and touches."
Of course, in a Muppet movie, propping has certain challenges.
"Everything the Muppets touch has to be specialized — either made very lightweight, or sometimes they're 'rodded,' " Gallaher Glenn says. "They'll attach a rod to it so that a puppeteer can actually move the object, because Muppets can't grab hold or lift anything."
There's the Swedish Chef's rolling pin, which had to be made of rubber. And instruments for the Muppet orchestra.
"We have a cello that we're using as a stand-up bass," Gallaher Glenn says. "Because Muppets are small."
Altogether, Gallaher Glenn assembled more than a thousand props for the movie.
'Every Detail,' From Dorm Computers To Bar Codes
More than ever, perhaps, property masters have their work cut out for them these days.
"The camera goes in very close," Gallaher Glenn says. "So it's much more detailed. In [live] theater, everything is very wide and open, and the audience can't see up close."
And in these days of high-definition TVs and Blu-ray discs, "every detail can be read — even a barcode on a book," Gallaher Glenn says.
The more contemporary the movie is, the more viewers will know if you've made a mistake. Gallaher Glenn was property master for The Social Network, the founding-of-Facebook tale that's up for eight Academy Awards at this week's ceremony.
"These were all real people," she notes. "We tried to be absolutely accurate." Working from photos of the protagonist's Harvard dorm room, "we found the exact model of the computer that Mark Zuckerberg blogged on. ... We bought 60 period computers. Finding all those matching pairs of working computers was a huge challenge."
But her toughest assignment, Gallaher Glenn says, was for Charlie Wilson's War, with Tom Hanks as a congressman lobbying for various covert CIA capers. One scene called for Wilson to be seen reading The Washington Post on the morning the Twin Towers were attacked. But finding a copy of an early edition was a challenge.
"No one had the pre-crash paper from Sept. 11, 2001," Gallaher Glenn says. She ended up having to go to the source.
"As it turned out, one of the women who worked in [Wilson's] congressional office — her husband was a writer for the Post, and happened to have a story on the front page of the paper that day. And he loaned it to us."
Because it's movieland, though — and because in Hollywood "making the day" means meeting deadlines and budgets — the newspaper scene was eventually cut from the film.
In A Giant Warehouse, History You Can Hire
There are a handful of major shops in Los Angeles where many property masters do their prop hunting. Jim Elyea and his wife, Pam, own one of them, called History for Hire.
Jim's mother ran an antiques shop when he was growing up, "so I was around old things, and we would always critique the props in films." He and his wife are constantly collecting new material: You never know when you'll need an item.
More 'Hollywood Jobs'
Other crafts essential to movie magic, celebrated in Susan Stamberg's pre-Oscars stories over the years:
"We had a show that was going to be about the television coverage of the 1952 presidential conventions," Jim Elyea says. "We got started. ... The show got canceled."
They kept working anyway, betting that they'd find a use for what they'd rounded up.
"And sure enough, just as we were almost done, the Edward R. Murrow film — Good Night And Good Luck — came in," he says.
The producers of that picture were scouting things out, wondering if it would be feasible to make the movie on a limited budget. A lot was dependent on the cost of re-creating a CBS TV set from the 1950s. History for Hire already had all the elements: knobs, switches, monitors and microphones. For the filmmakers, renting them was a lot cheaper than building replicas from scratch.
Elyea keeps a book that lists all of his props in alphabetical order, from ambulance gurneys and ashtrays to buggies and baby dummies to vending machines and vampire stakes.
"This is where things go to go on to the next life," says Elyea, surveying his warehouse. "After they stop being useful for what they really do, they go here, and then they play themselves in movies."
One of the Elyeas' clients is Hope Parrish, who is working on the film Water for Elephants and wants to know where she can find diaper pins from the 1940s. (Down an aisle, second shelf, lower left.)
She also wants a toy bear, but Elyea explains that the one she's looking at isn't what she needs.
"That's the '50s snout," he tells her.
It's not simple geekery that drives Elyea's attention to detail.
"Most people learn their history from movies and TV, without debating whether that's a good or bad idea," he says. "So we feel it's our obligation that we portray the physical world as accurately as possible."
Parrish, diaper pins chosen, leaves her order at History for Hire and hurries off to find other props elsewhere. It's all for additional shooting on Water for Elephants; principal photography wrapped last summer.
Which raises a question: What if Elyea has rented out something that Parrish used in that first shoot?
"My brown hair goes gray," she says, "and I'm up 24/7 to figure out how to fix it."
All In The Hollywood Props Family
For Parrish, like Jim Elyea, the passion for precision comes from a personal place. She's a third-generation property master: Her grandfather James Parrish was lured to Hollywood by actor Clark Gable, who, according to family lore, once lived in a boarding house Parrish's mother ran in Akron, Ohio, in the 1920s. Gable left for California and later called Parrish to come out, too. James Parrish started as an actor but ended up in a studio prop department.
Parrish family collection
His son Dennis, Hope's dad, eventually went into the business, too. (Like his own father, he tried another career first — as a California highway patrolman.) Dennis Parrish propped for Hello Dolly, Patton, Rambo, Casino; he and Hope worked together on The Aviator and Backdraft.
Dennis Parrish started his own prop house, The Hand Prop Room, in the 1970s. He stocked it chock full of props, as well as a library full of research books: encyclopedias, histories of the Civil War and World War II, and the property masters' bible — the Sears and Roebuck Catalog.
"If you open the Sears catalog in 1925 to the eyeglasses," Dennis says, "those were the eyeglasses people were buying."
Hope Parrish did major research for The Curious Case of Benjamin Button using those catalogs. The film spanned almost a hundred years — from 1911 to 2005 — which meant "finding nine eras of props for the house, the cars, the license plates on the cars."
"Every year that we changed, 30 to 40 cars had to have plates changed," Parrish says. "I think I spent $50,000 to $70,000 in license plates."
You can walk through the ages in a prop house. Hope Parrish practically toddled her way through history, growing up on movies, which may have given her a leg up: Female prop masters were rare when she started propping.
Her dad did give her some fatherly advice: He suggested that Hope not call him "Daddy" when they worked together. The camera crews would tease.
"You know, I'm No. 1 Son, but I'm a girl," she laughs.
More seriously, "My father always told me, 'Don't ever, ever let anybody tell you you can't do it. Tell 'em "Hire me, and if I don't do my job, you can fire me." ' "
Getting Crabs (And Making Them Move)
Another three-generation prop family started with the late Vic Petrotta, who worked for Universal, MGM and Paramount studios — a lot of Dean Martin movies, that guy had under his belt. He urged his son Bill not to go into the business.
Bill did, of course. He propped for The Perfect Storm, Edward Scissorhands, The Thin Red Line.
And he schlepped his own son, Drew, around on weekends, hunting for the right stuff. Drew remembers an early-'80s excursion, with a cousin in tow, in search of — ahem -- paraphernalia for a Cheech and Chong movie.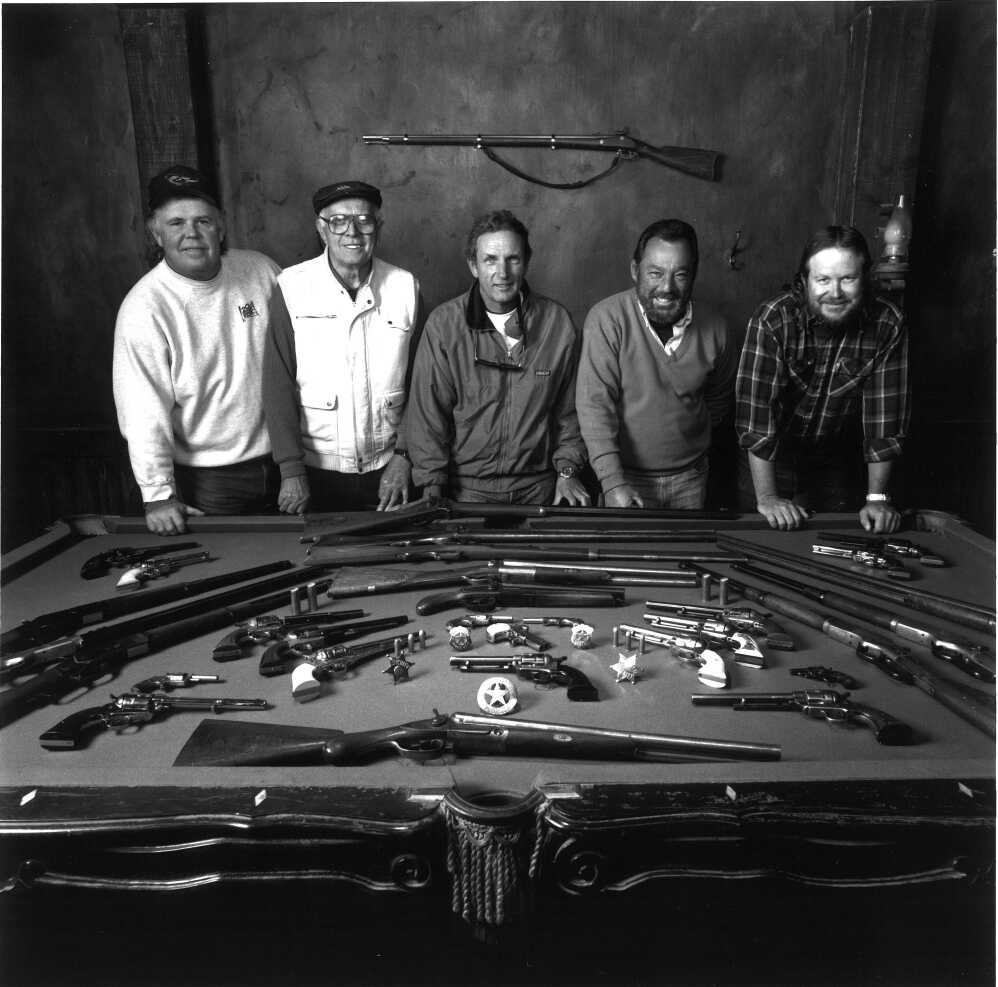 Ben Glass/Warner Bros. via ISS Prophouse
"Saturday night, I was about 12 years old," Drew says, "going to a head shop up on Santa Monica Boulevard."
They're going, 'What are we doin' in here?' " says his dad, remembering the kids' reaction.
Drew Petrotta always wanted to be like his father.
"But you also saw the hard side of it — all the times they're out of town for months and months and months," he says. "I actually tried a lot of other avenues before ending up back here. It's something you kind of get in your blood, that you know how to do. And it's always different, always changing — an action movie, to a sports movie, to a science-fiction movie."
Drew Petrotta worked on the new Green Lantern film, the two Transformer movies, plus Leatherheads, Jarhead and more. Right now he's propping on The Avengers.
Bill Petrotta, who's 67, only works as an assistant now. It's too stressful otherwise.
"You never know what's gonna come up," he says. "The directors go to sleep and they dream all night long, and in the morning they wake up and they go, 'You know, it would be nice if we could have a girl coming out of a cake.' "
"Then they look at you," he says, "and you run like hell."
Bill Petrotta did Jaws with Steven Spielberg — you know, that little 1975 movie about the mean fish that made mincemeat out of its victims. Spielberg was young, brilliant and demanding.
" 'Tomorrow when we do the arm, I want some crabs,' " says Petrotta, channeling the director. " 'Crabs, crawling from the seaweed onto this arm.' "
So Petrotta got the crabs.
"This is April in Martha's Vineyard and colder than you-know-what," he points out. "Steve's going, 'They're just standing there,' and I said, 'What do you want them to do?' "
Movement, Spielberg said. " 'I want some movement.' "
"I said fine; I walked over and got a cup of coffee, and I said, 'Your camera ready, sir?' And I threw the coffee on 'em, hot coffee. These crabs were running. He said 'Cut — that's good.' "
A script might just say, "He goes fishing." On set, a big percentage of the rest is up to a property master. Get the pole, the boat, the bait, the crabs.
Get the crabs to dance.
Whatever it takes to make the day, the movie, the magic.