From The Vault: Latin Rock From The '60s And '70s
The doors to this hell will close, and perhaps I will want to leave.
That's a line from the 1973 song "Confesiones de invierno" ("Winter confessions") by Argentine band Sui Generis. At first listen, it's a song about heartbreak — specifically a guy who gets dumped by his girlfriend for not having a job. But buried in that mundane story a storm is brewing. A few lines later, the singer laments having drowned his sorrows in alcohol, and gotten a beating by the police.
That's because the '60s and '70s were a time of political turmoil in Latin America. By the 1970s most Latin American nations were ruled by brutal dictatorships. The ominous line from Sui Generis' "Confesiones" had become a reality. Much of Latin America turned into a true hell for those unable to leave.
Music can reflect tectonic shifts in society. Despite efforts by government censors in Latin America, rock and roll music was increasingly seeping into the mainstream, challenging everything from cultural values to sexual norms and the political status quo. In many cases, it was nothing short of heroic: After a concert in 1969, the police tortured members of the Guatemalan rock band S.O.S. they considered subversive. A year later, Brazilian musician Chico Buarque had to leave Brazil after threats from that country's military dictatorship.
On Alt.Latino this week we pay tribute to some of our favorite artists of the '60s and '70s — the pioneers of Latin rock who paved the way for artists we love today. The psychedelia of bands like Kaleidoscope and La Revolucion de Emiliano Zapata was indeed revolutionary.
We're joined by Franklin & Marshall College Associate Professor of History Eric Zolov, author of the books Rockin' Las Americas and Refried Elvis: The Rise of the Mexican Counterculture. Prof. Zolov also writes a bimonthly column on our Alt.Latino blog called "From The Vault," in which he explores Latin rock's history.
And for those of you who like me are of a younger generation, take my advice and tune into this week's show. It's not only about reminiscing. It's also about discovering an amazing musical past.
We want to hear from you: What are your favorite bands from this era? What was it like discovering this music for the first time? Share your stories with us!
From The Vault: Latin Rock From The 60's and 70's
Colours
from Kaleidoscope
by Kaleidoscope
Sounds like: Austin Powers fights space zombies. Credence Clearwater Revival is playing in the background.
Year: 1967
Coming At You From: Dominican Republic, Puerto Rico, Spain.
Hanky Panky
from Impactos No. 1: Amarillo A-Go-Go
by Los Dug Dugs
Sounds like: Tommy James and the Shondells, in Spanish, a little faster and rougher. Which is how we like our hanky panky.
Year: 1966
Coming At You From: Mexico
Aunque No Este de Moda
from Al Final De Este Viaje
by Silvio Rodriguez
Sounds like: A bitingly sarcastic commentary on censorship.
Year: 1968
Coming At You From: Cuba
Batmacumba
from Tropicalia: Ou Panis Et Circencis
by Various Artists
Sounds like: How funky do you like your samba? If you answered very, listen to this.
Year: 1969
Coming at you from: Brazil
Nasty Sex
from Revolucion De Emiliano Zapata
by La Revolucion de Emiliano Zapata
Sounds like: Three Dog Night Doing "Mama Told Me Not To Come"
Year: 1971
Coming at you from: Mexico
Voy Hacia El Sol
Sounds like: We're pretty sure Fat Boy Slim's "Praise You" is buried in there somewhere.
Year: 1971
Coming At You From: Chile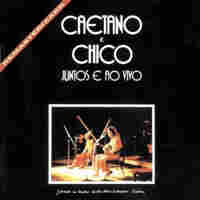 Você Não Entende Nada/Cotidiano
from Caetano e Chico: Ao Vivo na Bahia
by Caetano Veloso e Chico Buarque
Confesiones de Invierno
from Confesiones de Invierno
by Sui Generis
Sounds like: A melancholy love song, with ominous political undertones buried in the lead.
Year: 1973
Coming at you from: Argentina