Gulf Spill Investigated As Cause Of Dolphin Deaths
Gulf Spill Investigated As Cause Of Dolphin Deaths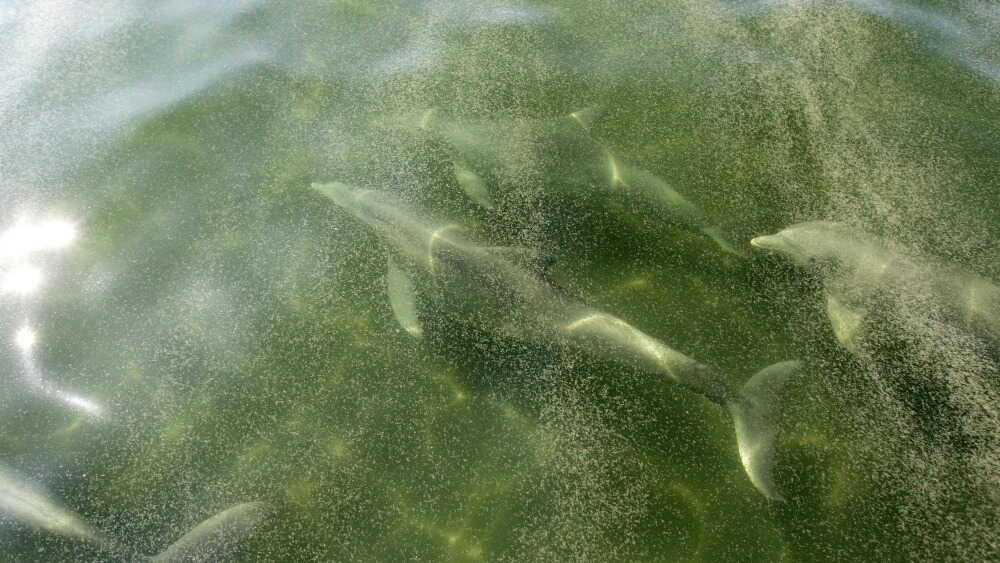 Scientists are trying to determine whether there's a link between last year's Gulf of Mexico oil spill and a spike in dolphin deaths along the Gulf Coast. Sixty-seven bottlenose dolphins have washed up on Gulf beaches over the past few weeks. More than half — 35 — are babies.
Researchers are looking at other possible causes, including infectious disease or the abnormally cold winter, but the large numbers of dead calves are particularly unusual and alarming, researchers say.
Dolphins have an 11- or 12-month gestation period. These dead baby dolphins were conceived just before the Deepwater Horizon offshore drilling rig leased by BP blew up April 20, triggering a massive oil spill.
"So, these animals were undergoing development during the height of the oil spill," says Teri Rowles, the top marine mammal scientist at the National Oceanic and Atmospheric Administration.
She says it's very worrisome to see such a large number of marine mammals die. "The oil spill is definitely on our list of potential causes, but we're certainly not ruling in or out any causes at this point," Rowles says.
At least two of the dead calves found over the past few days had what looked like oil on their faces.
Mandy Tumlin, the marine mammal coordinator for the Louisiana Department of Wildlife and Fisheries, says those calves were discovered by cleanup crews surveying the beach of Grand Terre Island in southeast Louisiana.
"We're concerned but we really can't speculate. There's a lot of factors that could play a role in an animal's death," she says.
Tumlin doesn't expect to be able to confirm any cause of death until all the samples from the animals come back from labs. Most of the dead dolphin calves were found on the beaches of Alabama and Mississippi. Staff from the Institute for Marine Mammal Studies in Gulfport, Miss., collected them.
"It is very, very strange," says Moby Solangi, the institute's director. "Usually we see one or two calves, but this year it's just a very, very large number."
He says some of the calves were stillborn, some were premature and some died shortly after birth. His staff took samples from the decomposed carcasses and is doing autopsies on the dead dolphins that were still intact.
"We're doing a forensic study and we're trying to put all the pieces of the puzzle together," Solangi says.
One of Solangi's working theories is that these dolphins' mothers ate fish contaminated with oil from the BP spill, and those contaminants passed through the mothers' bloodstreams to the fetuses.
But there are other possibilities. Researchers are looking for signs of an infectious disease. They'll also investigate whether the unusually cold winter played a role. A toxic algal bloom is another suspect.
Even if the oil spill did not directly cause these deaths, it still could be a factor.
Veterinary pathologist Greg Bossart, a dolphin expert at the Georgia Aquarium, says researchers are still trying to determine all the ways BP oil affected the Gulf's ecosystem.
"When those interactions become unbalanced from the oil, then you're prone to seeing new diseases emerge, predator-prey relationships change, temperatures change, [and] chemistry of the ocean change. All those indirectly affect the health of organisms," Bossart says.
Experts say since dolphins are at the top of the food chain, they reflect what has happened to their environment.
"What we do know is that dolphins can be very good sentinels for what's happening in our oceans and even what's happening in our bodies," Bossart adds.
Dead dolphins keep washing up day after day. Scientists say they'll investigate every animal they find.