U.N. Security Council Votes To Sanction Gadhafi
Marco Longari/Getty Images

Dominique Faget/Getty Images

Marco Longari/Getty Images

Marco Longari/Getty Images

Ben Curtis/AP

Nasser Nasser/AP

Gianluigi Guercia/Getty Images

Marco Longari/Getty Images

Roberto Schmidt/Getty Images

Mahmud Turkia/Getty Images

Abdelhak Senna/Getty Images

Marco Longari/Getty Images

Marco Longari/Getty Images

Gianluigi Guercia/Getty Images

Joel Saget/Getty Images

Spencer Platt/Getty Images

Jim Watson/Getty Images

Marco Longari/Getty Images

Joel Saget/Getty Images

Ben Curtis/AP

Tara Todras-Whitehill/AP

Hussein Malla/AP

Marco Longari/AFP/Getty Images

John Moore/Getty Images

Kevin Frayer/AP

John Moore/Getty Images
The U.N. Security Council voted unanimously Saturday to impose sanctions on Moammar Gadhafi's regime, following days of bloodshed in Libya.
Voting after a day of discussions — interrupted at times for consultations with home capitals — council members agreed to freeze the assets of Gadhafi, his four sons and one daughter, and to ban travel by the whole family plus 10 close associates.
The day was consumed mainly with haggling behind closed doors over language to refer Libya's violent crackdown on protesters to the International Criminal Court for investigation of possible crimes against humanity.
All 15 nations on the council ultimately approved referring the case to the permanent war crimes tribunal.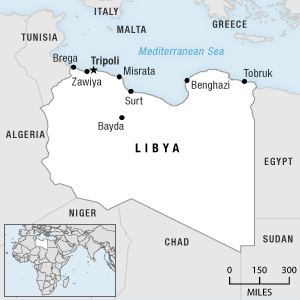 Earlier in the day, President Barack Obama said Gadhafi has lost his legitimacy to rule and urged the Libyan leader to leave power immediately. It was the first time Obama has called for Gadhafi to step down. Gadhafi has vowed to fight to the end to maintain his four-decade grip on power in the North African country.
"When a leader's only means of staying in power is to use mass violence against his own people, he has lost the legitimacy to rule and needs to do what is right for his country by leaving now,'' the White House said in a statement, summarizing Obama's telephone conversation with German Chancellor Angela Merkel.
Until now, U.S. officials have held back from such a pronouncement, insisting it is for the Libyan people to determine who their leader should be.
On Friday, the administration froze all Libyan assets in the U.S. that belong to Gadhafi, his government and four of his children. The U.S. also closed its embassy in Libya and suspended the limited defense trade between the countries.
Secretary of State Hillary Clinton announced further sanctions Saturday, revoking visas for senior Libyan officials and their immediate family members. She said future applications from those blacklisted for travel to the United States would be rejected.
Gadhafi "should go without further bloodshed and violence,'' Clinton said in a separate statement.
Obama has been holding a series of discussions with world leaders about the unrest in Libya. The administration is hoping that the world speaks with a single voice against Gadhafi's violent crackdown on protesters, and the president is sending Clinton to Geneva on Sunday to coordinate with foreign policy chiefs from several countries.
The U.S. tone shifted sharply on Friday after Americans in Libya were evacuated from the country by ferry and a chartered airplane.
Shortly after, Obama signed an executive order outlining financial penalties designed to pressure Gadhafi's government into halting the violence.
Gadhafi Supporters Armed
Supporters of Gadhafi have imposed a virtual reign of terror over the capital, Tripoli, taking up arms and vowing to quash dissent even as the regime's authority appeared to be crumbling across much of the country.
Residents contacted by telephone on Saturday reported trucks of pro-regime civilians patrolling the streets. They spoke on condition of anonymity for fear of retribution.
From talking to residents in Tripoli, "the sense we have of things is that it's extremely chaotic," NPR's Lourdes Garcia-Navarro said, reporting from eastern Libya, where rebels have seized total control from the regime and set up a shadow state.
Pro-Gadhafi forces opened fire Friday during demonstrations. Witnesses reported multiple deaths from gunmen on rooftops and in the streets shooting at crowds with automatic and anti-aircraft weapons. After Muslim prayers, Gadhafi — in a surprise appearance at Green Square in the heart of the capital — told supporters he would "open the arms depot so all Libyans and tribes become armed."
Since then, there have been "repeated stories of security forces, irregular troops allied to Gadhafi firing on demonstrators in many neighborhoods," Garcia-Navarro said. "We heard the militias were using ambulances to get around and that people were afraid to have their wounded treated."
The Arab World
Also Friday evening, troops loyal to Gadhafi attacked Misurata Air Base east of Tripoli, which had fallen into rebel hands. The troops succeeded in retaking part of it in battles with residents and army units that had joined the anti-Gadhafi uprising, said a doctor and one resident. Misurata is Libya's third-largest city, about 120 miles from the capital.
The opposition captured two fighters, including a senior officer, and still held part of the large base, they said.
Gadhafi's son, Seif al-Islam, told foreign journalists invited by the government to Tripoli that there were no casualties in Tripoli and that the capital was "calm ... everything is peaceful. Peace is coming back to our country." He dismissed the apparent sound of gunfire as "just fireworks."
He said the regime wants negotiations with the opposition and said there were "two minor problems" in Misurata and Zawiya, another city near the capital held by the opposition.
Freedom In The East
In the eastern city of Benghazi, what rebels have described as the capital of "Free Libya," anti-government forces — including army units that defected to the opposition — have been training volunteers in the use of heavy weapons to ready them for a march on the capital, rebel leaders told NPR.
Farther east in Tobruk, residents referred to the Libyan revolution in the past tense, NPR's Jason Beaubien reported. Protests began Feb. 17 and within two days, Gadhafi's security forces had either fled or joined the opposition.
The main square on Saturday was surrounded on all sides by evidence of Gadhafi's downfall: the police station was burned out; a concrete monument to Gadhafi's political and social philosophy — his Green Book — had been smashed; and the red, black and green flag of the Libyan King Idris, whom Gadhafi overthrew in a coup in 1969, flew from the minaret of the mosque.
"I think that after Gadhafi, Libya will be very, very, very, very good," said Abdul Rahman, who was whipping a mural of the strongman with a plastic pipe.
Young men in the square gave a hero's welcome to an old revolutionary who had just returned from exile. Omar Hariri, who came to the square to express solidarity with residents, fled Libya after a failed coup attempt in 1975. Several military officers in Army fatigues, who now back the revolution, fired their AK-47s into the air to welcome him.
"A young people's revolution cannot be stopped in Libya or in Egypt or Tunisia," Hariri said.
International Sanctions
NPR's Peter Kenyon, reporting from Cairo, said it was unclear if sanctions would have the desired affect on the regime.
"The Gadhafi family is quite used to being isolated and shunned and their defiant tone indicates that economic sanctions will have little effect," Kenyon told Weekend Edition Saturday.
So far, Gadhafi has shown the same tenacity that has kept him in power since the coup he led in 1969 toppled the country's monarchy. On Friday evening, the embattled leader appeared before a crowd of more than 1,000 supporters in Green Square and called on them to fight back and "defend the nation.''
"Retaliate against them, retaliate against them," Gadhafi said, speaking by microphone from the ramparts of the Red Castle, a Crusader fort overlooking the square. Wearing a fur cap, he shook his fist, telling the crowd: "Dance, sing and prepare. Prepare to defend Libya, to defend the oil, dignity and independence."
The crowd waved pictures of Gadhafi and green flags as he said, "I am in the middle of the people in the Green Square. ... This is the people that loves Moammar Gadhafi. If the people of Libya and the Arabs and Africans don't love Moammar Gadhafi then Moammar Gadhafi does not deserve to live."
Tripoli, home to about a third of Libya's population of 6 million, is the center of the eroding territory that Gadhafi still controls. The opposition holds a long sweep of about half of Libya's 1,000-mile Mediterranean coastline where most of the population lives.
Even in the Gadhafi-held pocket of northwestern Libya around Tripoli, several cities have also fallen to the rebellion. Militiamen and pro-Gadhafi troops were repelled Thursday when they launched attacks trying to take back opposition-held territory in Zawiya and Misurata in fighting that killed at least 30 people.
Mass Exodus
NPR's Tom Gjelten, reporting from the border with Tunisia, where an estimated 30,000 people — mostly foreign workers in Libya — have crossed over in recent days, says the camp set up to receive the refugees has been stretched to capacity.
"The situation is almost out of control," he said, despite the best efforts of the Tunisian military.
He said the refugees are made up almost entirely of men, many who worked in Libya's oil and construction industries. Before the unrest, there were an estimated 30,000 Chinese, another 30,000 Tunisians and up to a million Egyptians living and working in Libya, which relies heavily on foreign workers to sustain its economy.
"We already know that Libya's oil production has come to a halt," Gjelten said. "We know that the skilled jobs in the oil industry are mainly held by foreigners."
Gjelten said those crossing report that "most areas of the country are not under Gadhafi's control."
Western nationals also have scrambled to get out of Libya as the level of chaos continues to rise. In a daring rescue Saturday, British military planes entered Libyan air space to collect 150 people, Defense Secretary Liam Fox said. The C-130 Hercules planes, carrying Britons and other nationals, safely landed in Malta after picking up the civilians south of the eastern Libyan port of Benghazi, he said.
Judith Drotar, director of the American School of Tripoli, waited for two days on a catamaran ferry that was stuck in Libya due to rough weather in the Mediterranean Sea.
When the vessel finally departed "it was the ride of our lives," she told NPR.
"It was extraordinarily bumpy," she said. "I would say that probably close to 50 percent of the people on the ferry were sick the whole nine hours."
Drotar said the American School is in the suburbs of Tripoli and "it wasn't until the last two days that we started hearing gunfire."
"We saw some protests," she said.
"We have some very dear Libyan staff members who in the last few days were not able to help us get out of there because [where they lived] ... snipers were on their roofs and they could not move," she said.
A Power Vacuum
Support for Gadhafi continued to fray within a regime where he long commanded unquestioned loyalty, with Libyan diplomats at the United Nations in Geneva and the Arab League mission publicly abandoning the regime on Friday. They joined several other Libyan ambassadors serving abroad who have quit in recent days.
In an apparent bid to win public favor, Parliament speaker Mohammed Abul-Qassim al-Zwai announced that the government would increase salaries and offer the unemployed a monthly salary. State TV reported the unemployed would get the equivalent of $117 a month and salaries would be raised 50 to 150 percent.
Earlier this week in a televised speech, Gadhafi blamed the unrest on al-Qaida, which he said was supplying Libya's youth with hallucinogenic drugs in an effort to destabilize the regime.
While the accusation seemed bizarre and desperate to many, the influence of the terrorist network run by Osama bin Laden has long been noted by experts in the West. After a failed assassination attempt against Gadhafi 20 years ago, a group of Islamist conspirators fled to locations abroad, where they linked up with al-Qaida and other terrorist networks.
Ties strengthened over the years, with Libyans playing key roles in al-Qaida, both as rank-and-file fighters and in the top echelons of the group.
Juan Zarate, a former Bush administration National Security adviser, says leaving a power vaccum that could be exploited by bin Laden's organization is one of the reasons why counterterrorism officials are concerned about the situation in Libya.
Meanwhile, the upheaval in the OPEC nation has already taken most of Libya's oil production of 1.6 million barrels a day off the market. Oil prices hovered above $98 per barrel Friday in Asia, backing away from a spike to $103 the day before amid signs the crisis in Libya may have cut crude supplies less than previously estimated.
With reporting from NPR's Lourdes Garcia-Navarro and Jason Beaubien in eastern Libya, Tom Gjelten at the Libya-Tunisia border and Scott Horsley from Washington. This report also contains material from The Associated Press.