Free Music Lessons Build A Priceless Community
Free Music Lessons Build A Priceless Community
Patrick Barry /State of the Re:Union
State Of The Re:Union
Al Letson is the host of the NPR and Public Radio Exchange program, "State of the Re: Union," which travels the nation telling the stories of communities — what pulls them apart and brings them together.
The sounds emanating from the classrooms at the Highlands United Methodist Church in Birmingham, Ala., run the gamut from sweet to, well, not so sweet.
Throughout the day, more than 120 kids, some traveling more than an hour to get there, will walk through the halls of the church. Many of them are holding instruments you'd find in an orchestra, and they're here to get free music lessons.
Through Birmingham's Scrollworks program, children get music lessons and instruments to practice on, free of charge. It's one of many programs in the city seeking to heal lingering wounds by crossing racial and economic barriers.
At the church, a roomful of kids of various ages look up at instructor Cindy Orchet. Among the kids is 8-year-old Mandy Dickerson. It's her first day, and parents Theresa and James are looking on with expectation. For them, music lessons would not be possible without Scrollworks.
"It's pretty expensive," Theresa Dickerson says. "We wouldn't be able to afford it, because she's in school and different things that we are already paying for."
The program includes children from ages 8 to 19 years old. Not only does it help these kids learn how to play music, but it also tries to inspire by taking them to see and hear classical performances. Theresa Dickerson says her daughter got to watch renowned violinist Joshua Bell this week.
"She was really inspired by that," she says. "It's opportunities that we're getting that we certainly wouldn't ever have done a lot of."
Opportunities Through Music
Sam Herman is the drum instructor at Scrollworks. He also gives private lessons to kids in a well-to-do suburb. He says the kids he teaches there — children with more resources — see their music lessons as just another activity.
"The kids here tend to be much more interested in actually learning something that they're not exposed to all the time and even outside of being here, it gives them something to go home and work on, getting better at," he says. "I think that excites a lot of them."
Christy Tucker's twin girls, Heather and Hope, are in their third year playing with Scrollworks. "They have enjoyed it immensely, and so have I," she says. "I always have lots of entertainment at home now."
"It really has helped them with their schoolwork — and pretty much all around," she adds. "Twelve is a moody age for little girls, and if they are sad, happy, glad, whatever, music seems to help them with whatever they're facing."
Not all the parents at Scrollworks are low-income. Tucker is middle-class, but she says her family would have to eat soup for every meal if she had to pay for lessons for both her girls. She credits Scrollworks founder Jeane Goforth as the person who has made this opportunity possible for all the kids here.
"She's done a miraculous job," Tucker says. "There are so many children who would probably be doing things they shouldn't be doing, but instead they are here learning music, so she had done a great thing. She really has."
Dedicating Her Life
Goforth has made Scrollworks her life's work. "One of the reasons why I started the orchestra was to try to make it a fun place for kids from all over the city, all different socieconomic levels and everything, to be together and learn about each other," she says. "And make friends — and maybe change their thinking a bit."
Bruno, a stocky pit bull, is wagging his sturdy tail against the side of his cage in Goforth's house. Like many of the pets in her menagerie, Bruno is a rescue. To me, these animals say a lot about Goforth. You see it's in her DNA; she can't help but to help. If you saw her on the street, nothing would really stand out. She dresses plainly and looks like an average American. She isn't wealthy, doesn't have a trust fund, and yet, she's taken her entire retirement savings and poured it into Scrollworks.
Patrick Barry /State of the Re:Union
Even her name is inspirational: Goforth. Go forth and make music! Anyway, about a year ago Goforth — who's divorced, with two grown kids — moved from her home in an affluent suburb to this struggling neighborhood. She says she wanted to be closer to where many of her students come from.
But not every parent is receptive. The neighborhood where she lives is predominately black, and Goforth, a white woman, has at times been unable to make a connection with a few of the moms and dads. She tells us about a young tuba player and a promising second-grade drummer whose parents never got on board and forced their children to drop out. Then, almost on cue, her neighbor's 12-year-old, Neamiah, appeared at the door.
Goforth says Neamiah's mother has been resistant to her attempts to get him into drum lessons. Sometimes, in these situations, it's just the hassle of getting the kids to practice. Sometimes, Goforth says, there's almost a resentment for creating expectations that parents feel can't be fulfilled.
Still, she was at least able to take the young man to the Joshua Bell concert the night before. Neamiah didn't have anything appropriate to wear, so he took his jacket plastered with decals and turned it inside out for the performance.
"Tell 'em about Joshua Bell last night," Goforth prompts. "It was good," Neamiah replies.
Scrollworks relies on grants, donations and about 10 instructors who work for little or no money. Goforth proudly tells us that in December she got her first paycheck in the three years the program has operated — for $250. Money clearly is not her focus. She lives simply, and lately, she's been paring down her life even more.
"I would like to leave this world with nothing," she says. "I would like the last thing I sell or give away, and then I can die."
But that's likely a ways off. In the meantime, there is work to be done and music to be made.
"I wanted to have a positive impact on the world. I don't care about being famous," she says. "When I go, I don't even care if people remember me, but I want to know that I did something to lift humanity up somehow."
Like helping to inspire a valiant effort at a music performance.
"I can hardly stand to be at the recital because it makes me cry," she says. "Seeing those kids get up there. This one little guy got up there with a tie that was about down to his knees, trying to play the violin."
Bridging The Divide
Goforth's greatest success story might be Matthew Belser, a young African-American virtuoso of sorts, who is now enrolled in the prestigious Alabama School for the Performing Arts. Helping him get into that school was important to Goforth, but just as important is the relationship she has developed with Matthew's mom, Leslie. Toward the end of a long rehearsal day, they sit side-by-side on the couch.
In some ways, the emergence of their friendship is exactly what Goforth set out to do with this program. Finding ways to cross the divide — not just between the kids, but their parents as well. Birmingham is still living in the shadows of the civil rights movement.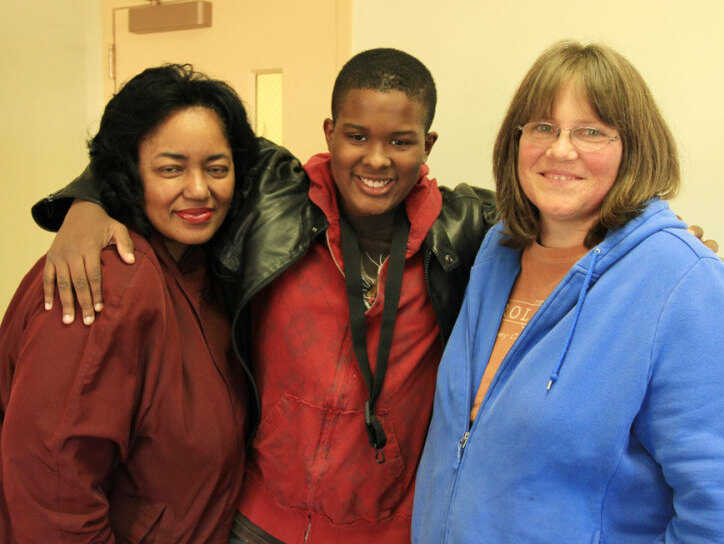 Patrick Barry /State of the Re:Union
For Goforth and Belser, their partnership was cemented one day on a visit to an old plantation. Goforth's first impression was how beautiful the fields were. Belser had a different reaction.
"My first thought was, 'Slaves used to be out here,' and in my mind, I could picture it, I could picture backs bent and babies on their backs, I pictured the whole thing," she says.
"And so we started an honest conversation about those things," she continues. "The good and the bad sort of things, and I think that's why we're close. It's because we're able to talk honestly, have honest dialogue."
Therein lies the power of Scrollworks. The free music lessons are the gravitational force that brings parents and children of different backgrounds together, and as the kids get to know each other, over time the parents begin to talk, and suddenly people are connecting; becoming friends with someone very different and yet very similar to themselves.
As Goforth and Besler finish up, Matthew — who hopes to major in medicine and music in college — shows up. We ask him just how many instruments he plays.
"Clarinet, tenor saxophone, alto saxophone, flute, oboe, guitar, keyboard, drums, tuba, trombone. That's it," he says.
And then Matthew — the pride and joy of his mother, Goforth and the whole Scrollworks program — pulls out his tenor sax and begins to play.
_______
Radio story produced by Peter Breslow.