Know Your 'Tiger' Books: A Primer With Stripes On
Hi, reader. What book do you have there? Tiger, Tiger? Or wait, is it The Tiger's Wife? I thought I saw a giant cat on the cover. Tell me! Tell me now! Okay, sorry, I don't mean to pressure you; I am being such a "tiger mother" right now. You know, from that book that everyone is talking about? Which book? What tiger? Siegfried and Roy?
Don't worry, we're confused too.
As of this week, three major books with "Tiger" in the title are buzzing in bookstores and zooming to Kindles, and we have found ourselves around these parts confusing them more than just a bit. So to clarify things — and to help your book club pick the right one (we know how jarring it would be to think you are reading a parenting guide and find out that it is actually a harrowing memoir of child abuse) — here is a short guide to tiger books, present and past.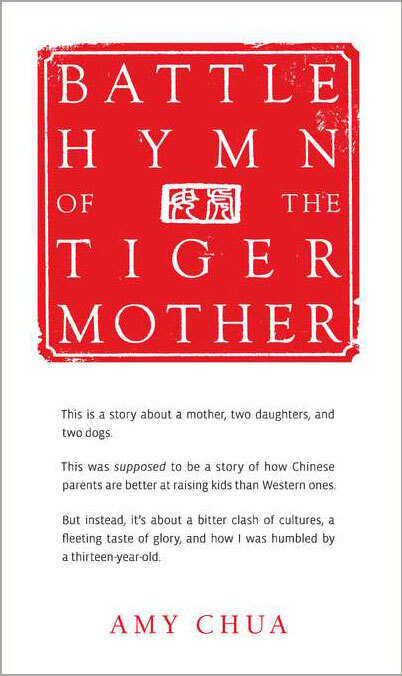 1) Battle Hymn of the Tiger Mother by Amy Chua
This tall, thin manifesto for helicopter parenting came out in January and immediately caused a momblog fervor. Chua, a Yale law professor, tells the tale of her two daughters, whom she attempted to raise in the strictest manner possible — in what she described as the traditional Chinese "tiger mother" fashion. She warns parents "not to raise a soft, entitled child," and to push children to exceed expectations and work diligently to excel at all things. The antithesis of the "let your child run free and get muddy and quit things they hate!" camp, Chua's philosophy sent many parents ranting and raving about the types of adults her method might produce. When Fresh Air ran an interview, the story racked up over 500 comments on NPR.org, and remains our most-commented book story so far this year. The book is a conversation piece, to be sure, and brings up more than a few questions about how to raise your young to be sucessful — and what the very nature of "success" is when it comes to child-rearing.
2) Tiger, Tiger by Margaux Fragoso
Tiger, Tiger is also a memoir about parenting, except in Margaux Fragoso's case, the parenting she received was so negligent as to allow her to fall into a fifteen-year period of horrific child abuse. Fragoso was seven years old when a 51-year-old man named Peter Curran began sexually abusing her, a relationship that continued until his suicide when she was 22. Fragoso went on to get an MFA in fiction and to be a beautiful writer, skills which she turns on herself as she remembers her fractured childhood and the ways in which her tormentor coerced and entrapped her. The book is meant to be a rally-cry against pedophilia, exposing the inner-workings of a sex offender's mind so that parents can learn from it, but at times, Fragoso's once-tender feelings for Curran are in danger of being read as forgiveness. The authenticity of the book is also somewhat dubious — and raises the same questions as any harrowing memoir written from the perspective of a young child — but Fragoso's writing is deft and worthy. Prepare to weep and rage and possibly engage in group therapy should you choose to read this in a crowd. Our review is here.
3) The Tiger's Wife by Tea Obreht
Obreht, only 25 years old, is already considered one of the country's best young writers. Jealous yet? Just wait — she was named to The New Yorker's 20 Under 40 list at only 24, and published her story, "The Laugh" in The Atlantic's Fiction Issue when she was a mere 23. And yet many agree that her greatest achievement yet is her debut novel, The Tiger's Wife, which hits shelves on March 8. The book tells the story of Natalia Stefanovi, a doctor living in a nameless Eastern European country, whose grandfather told her a tall tale about a tiger that escaped from a nearby zoo in 1941 and enchanted a deaf-mute woman. As Natalia attempts to unravel this and the rest of her grandfather's urban legends, she learns about the power of myth and memory. Obreht's writing is amazingly self-assured for someone so young, and she is destined to be named to several "Best Of" lists. Read it! Also, tune into Weekend Edition on Sunday — Lynn Neary is interviewing Obreht about her work.
4) A Tiger in the Kitchen: A Memoir of Food and Family by Cheryl Lu-Lien Tan
This just-published food memoir recalls Tan's Singaporean upbringing and her desire to cook her native food stateside. Though she talks a lot about her own, vaguely "tiger-mother-ish" childhood, Tan's cat references are mostly isolated to making fried rice and flaky pineapple tarts. I, for one, am tempted to make some prawn rolls whenever this book is within ten feet of me. NPR interviewed Tan and features two of her recipes, here.
5) The Tiger: A True Story of Vengeance and Survival by John Vailiant
Vailiant's book was a big nonfiction hit last year — and is currently being converted into a big studio film. The Tiger is an expertly reported story about an epic battle between a man and a tiger in a rural Russian village in the 1990s. This is a blow-by-blow narrative of poaching gone wrong, proving that the brutal intensity of the animal kingdom is really no match for mankind. A manly book, if ever there was one. And probably better for your brain than watching When Animals Attack 4 on cable.
6) The White Tiger by Aravind Adiga
Winner of the 2009 Booker Prize, Adiga's debut follows the chaotic life of a bigoted, murderous chauffeur in modern day India. Publisher's Weekly writes that "Balram Halwai is from the Darkness, born where India's downtrodden and unlucky are destined to rot. Balram manages to escape his village and move to Delhi after being hired as a driver for a rich landlord. Telling his story in retrospect, the novel is a piecemeal correspondence from Balram to the premier of China, who is expected to visit India and whom Balram believes could learn a lesson or two about India's entrepreneurial underbelly." The book is seedy, dense and full of crackling tension. Many have posited that Adiga is next in line for the Salman Rushdie throne.
7) Tiger Eyes by Judy Blume
One of the great young adult reads of the Blume-boom, Tiger Eyes follows a teen girl, Davey Wexler, as she struggles with her family's move to New Mexico after her father's murder. Fortunately, she meets a mysterious man named Wolf in the Los Alamos canyon who can read her "sad eyes" and helps her transition into womanhood. No, this isn't Tiger, Tiger all over again. It's chaste, and lovely — and definitely safe for kids.
8) Tiger: The Real Story by Steve Helling
Tiger Woods had a bad year in 2009, remember? Someone had to get to the heart of it. And that "someone" was People magazine staffer Steve Helling.