Wile Or Wine: 10 Soca Songs For Carnival Season
Sean Drakes/CON/LatinContent Editorial/Getty Images
Soca music is not for the faint at heart. The Trinidadian genre is calypso's faster, raunchier, studio-driven wayward child; the word comes from "soul of calypso," and the genre was inaugurated in the 1970s by calypsonian Lord Shorty, who merged calypso with East Indian tones. It's also the soundtrack to the multicultural island's grand Carnival, which erupts on the streets of Port of Spain every year in late February.
As such, soca is crafted to generate what Trinidadians call bacchanal: the irrepressible urge to dance, jump, sweat, wave hands in the air and, to use hip-hop speak, generally wile out. It's party music with feverish directives. Pace and lyrics generally tell you whether to bubble (rotate hips casually), wine (gyrate waist intently) or jump and wave (usually with a flag, preferably a Trinidadian one, flung up and down to the music, which can approach 170 beats per minute).
New soca is released in Trinidad at a frenzied pace in the two months or so leading up to Carnival, as artists compete to have the most popular songs on the big day and at dozens of fetes leading up to it. After Carnival in Trinidad, the music packs up and emigrates, enlivening carnivals across the globe: Toronto in August, New York in September, Miami in October and so on.
Below is a sample of some of this season's hottest new songs for Carnival and beyond.
Wile Or Wine: 12 Soca Songs For Carnival
Advantage
from Advantage
by Machel Montano
Last year Machel Montano took a leave of absence from Carnival and it was a national affair: The country all but declared a week of mourning. He is, after all, a soca icon. Famous since age 9, at 36, he is still the most dazzling performer in a genre glutted with vigorous virtuosos (warning to all concert attendees: Montano's waistline can do very scandalous things). His return to the scene this year means an upcoming album and a Caribbean-wide sigh of relief.
Hold A Burn
from Hold A Burn
by Bunji Garlin
Garlin spices up his soca with a heavy dose of Jamaican dance hall, specializing in rapid-fire, baritone delivery that's more chat than song. Here, he charges zealously across a hyperactive rhythm.
Confidence
from Confidence
by Super Jigga TC And Nebula 686
The newest radio-personality-turned-soca-artist serves up the perfect club song, built for bubbling.
Dance & Dingolay
from Dance & Dingolay
by Denise Belfon
In Trini-speak, there's no difference between dancing and "dingolay"-ing, but Belfon urgently wants us to do both. One listen to that brawny voice and you'll clear the way for her.
Whole Day
from Whole Day
by Shal Marshall
Calypso is feted for its double entendres, and soca does its best to carry on that tradition. So here is a singsong track about a woman who wants to ride not a bus or a car but a motorbike, all day long. Get it?
Trini
No one can make Trinidadian vernacular sing like Benjai, which is why he's found two hits this season. They're playfully folksy, this one an homage to all things Trini — is there any higher praise than "we make good company"? His "Wine to the Side" is a dancing song doused in comedy.
Wotless
from Wotless
by Kes The Band
Being wotless can be a full-time job during Carnival season: It means acting worthlessly naughty and hedonistic. This eclectic Trinidadian band — they record everything from rock to dance to reggae — celebrates all things wotless in one of the season's most popular anthems.
Town Ting
Cassi sounds as if he drank half a bottle of Johnny Walker before recording this track, and that's the point: It's Trinidad's version of a drinking song, an ode to ladies from the big city — "town tings" — whose dance goes down even sweeter when preceded by plenty of rum.
Middle Ah D Road
from Middle Ah D Road
by Destra
Two very different styles merge seamlessly on this vigorous track: Destra's full-bodied R&B vocals and newcomer Swappi's Jamaican-sounding chat.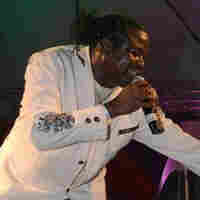 Tanti Woi
This is soca's version of the consummate marching song. Feverish drumming is set off nicely by Blaxx's ecstatic chants, both designed to keep revelers charging down the road on Carnival Tuesday and at the ultimate pre-Carnival bacchanal that is J'Ouvert: a dawn-till-morning street parade during which revelers cover themselves in everything from oil to paint to chocolate.