As Deficit Looms, 'Gang Of Six' Seeks Compromise
As Deficit Looms, 'Gang Of Six' Seeks Compromise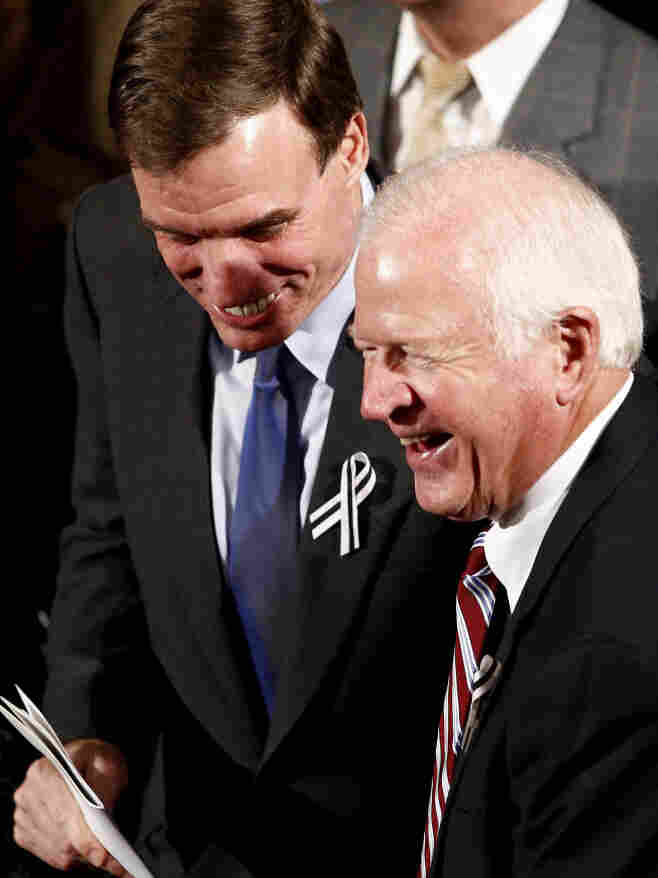 Most lawmakers in Washington are preoccupied these days with paying the government's bills for the next couple of weeks or the next six months. But the real problem is the much larger debt looming in the distance.
That's why a small, bipartisan group of senators, dubbed the "Gang of Six," has been meeting to focus on the longer term and how to deal with the government's mounting debt.
Two of those senators — Mark Warner (D-VA) and Saxby Chambliss (R-GA) — took their effort on the road Monday, addressing a Chamber of Commerce group in Richmond, Va.
'There Is No Silver Bullet'
The budget battle raging in Washington right now, with Republicans insisting on deep spending cuts and Democrats struggling to defend favored programs, is focused on just one small corner of the fiscal field.
Most of what's at stake is discretionary spending not tied to national security. Warner says that includes a lot of popular programs, from NASA to children's nutrition. But it's only about 12 percent of the federal government's budget.
"If you keep coming back to this 12 percent, and that's the only focus, then programs that have provided real value are going to potentially be fully eliminated or dramatically cut back," says Warner. "I think everybody recognizes that we've got to get our deficit under control, and that means you've got to broaden the debate to where the money's at."
That means looking at defense, entitlement programs like Medicare and Social Security, and a wide variety of tax incentives.
Chambliss says that to get a long-term handle on the government's budget, those are the areas Congress needs to look at.
"For a Republican to put revenues on the table is significant. For a Democrat to put entitlements on the table is significant," Chambliss says. "The only way we're going to solve this problem is to have a dialogue about all these issues, because there is no silver bullet."
That was also the conclusion reached by the president's deficit commission. And for the past few months, along with two Democrats and two Republicans who served on the commission, Chambliss and Warner have been quietly working to turn that blueprint into legislation.
Shared Sacrifice
Just as all parts of the budget have to be on the negotiating table, Warner says, both Republicans and Democrats have to come to the table.
"At the end of the day, it is about trust. It's about making sure that at some point you're going to have to link arms with someone and take a jump. This will not happen unless there's a grand enough bargain that everybody feels they've got some skin in the game."
The idea is that Republicans will be more willing to raise tax revenue, and Democrats more willing to tinker with Social Security if there's a sense that sacrifice is being shared.
The senators were questioned Monday about the shape of that sacrifice. They hinted that defense spending might be reduced — at some cost to Virginia's economy — and that some popular tax breaks on things like mortgage interest might be scaled back, though probably not eliminated.
Virginia banker David Addison said after the meeting that he's encouraged that Warner and Chambliss are working on a plan to curb the federal debt. But he wonders if their colleagues in Congress have the political will to move forward.
"I think we're moving in the right direction, but it's definitely going to require more cooperation and more realization that this is the issue," said Addison. "We have to deal with it now."
Warner admits that his fellow senators were initially skeptical of the debt-cutting effort. And he's still not sure many lawmakers are betting on the project. At least he and Chambliss are not being ignored, though.
Chambliss adds that lawmakers cannot afford to do nothing.
"If we don't do it, then those people who buy our bonds, i.e., the Chinese, are going to dictate to us exactly how we do it," he says. "And I don't think there's any American that wants to see that happen. And certainly there's no member of Congress who wants to see that happen."
'Gang Of Six' Embraces Spirit Of Cooperation
The bipartisan group, made up of three Democrats and three Republicans, spans the ideological spectrum. The idea is for both sides to come to the negotiating table willing to make sacrifices — including cutting defense spending, entitlement programs like Medicare and Social Security, and popular tax incentives — in order to reduce the federal deficit.
Related NPR Stories