In Florida, Budget Cuts Spark Rallies
In Tallahassee, Fla., hundreds of people representing labor unions, environmental groups and the Tea Party turned out on Tuesday for the opening of the state legislative session.
That's because over the next 60 days, Florida's House and Senate have to close a more than a $4 billion budget shortfall. The money is expected to come from education, Medicaid and the pensions of public employees.
Dozens of Tea Party members roamed the Capitol looking to buttonhole legislators on the budget. Pace Allen, who helped found Tallahassee's Tea Party, says many of the legislators he met seemed genuinely happy to see him. That's one more reason why he has high hopes for this legislative session.
"I think a lot will be accomplished. People will begin to understand that we can't keep expanding a lot of programs. We have to cut back because the money isn't there," Allen says.
That's an oft-repeated refrain in Tallahassee, one you hear from Republican Gov. Rick Scott and from the Republican leaders in both the House and Senate.
Senate President Mike Haridopolos tried to prepare Floridians for a session that's likely to bring big cuts to social services, education and environmental programs.
Compared with some state shortfalls, Florida's $3.6 billion budget gap — plus an additional $1 billion needed to replenish reserve funds — looks almost manageable. To close it, though, Republican leaders have ruled out any increase in taxes. In fact, Scott wants to cut corporate and property taxes further.
Haridopolos says the Legislature would balance the budget through cuts — starting with Medicaid. The joint federal-state health care program for the needy consumes nearly a third of Florida's budget.
"The increasing Medicaid population, rising health care cost and unfunded federal mandates have created a black hole that will swallow the state budget sooner than later if we do not act promptly," Haridopolos said.
Another top item on the Legislature's agenda will be overhauling the pension system for state employees. State workers may be asked to contribute 5 percent of their annual salaries to their pensions, a move that amounts to a 5 percent pay cut.
In the state House, Speaker Dean Cannon (R) warned the Legislature to get ready for the protests.
"Many of those protesters and interest groups will attempt to manipulate the emotions of our citizens in an effort to influence all of us. To those groups I say this: In this session in this House, we will not make decisions based on the politics of fear or of anger," Cannon said.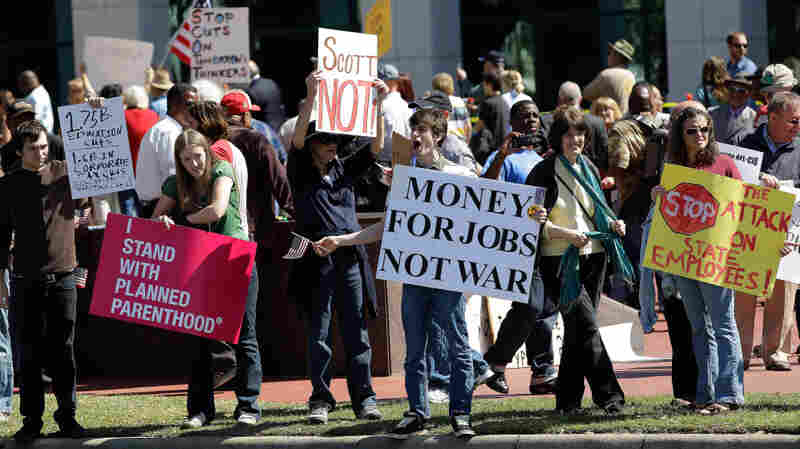 The governor has determined that instead of creating jobs, he will eliminate jobs.
Outside the Capitol several hundred demonstrators gathered at a rally organized to oppose the spending cuts.
Nancy Dowdy, a former city employee in Tallahassee, said saving money by targeting the benefits of teachers and other public employees makes no sense. "We already have the most efficient state government in all the 50 states. We have the lowest cost; we keep cutting taxes. And what we're doing is we're cutting the future for our children, especially in education," Dowdy says.
This rally — and more than 30 others held across the state on Tuesday — are called "Awake the State," a movement organized by unions, state employees and other traditionally Democratic groups. But at least for now, they're on the outside looking in. Florida's state government — and its budget — is firmly in Republican hands.