Wis. Assembly Cuts Public Worker Bargaining Rights
Scott Olson/Getty Images

Justin Sullivan/Getty Images

Scott Olson/Getty Images

Justin Sullivan/Getty Images

Justin Sullivan/Getty Images

Justin Sullivan/Getty Images

Justin Sullivan/Getty Images

Justin Sullivan/Getty Images

Justin Sullivan/Getty Images

Scott Olson/Getty Images

Scott Olson/Getty Images
Wisconsin lawmakers voted Thursday to strip nearly all collective bargaining rights from the state's public workers in one of the strongest blows to the power of unions in years.
The state's Assembly passed Republican Gov. Scott Walker's explosive proposal 53-42 Thursday. The state's Senate approved it the night before after using a procedural move to bypass its AWOL Democrats.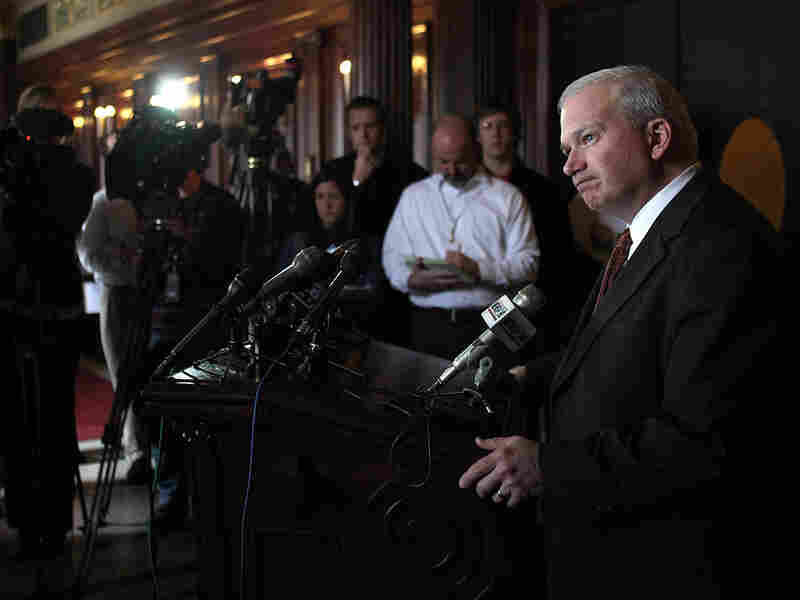 Walker says he'll sign the legislation as quickly as possible.
The vote brings a swift end to a standoff over union rights that has rocked Wisconsin and the nation. Tens of thousands of protesters have converged on the state's Capitol for weeks of demonstrations.
The implementation of Walker's proposal will be a key victory for Republicans who have targeted unions amid efforts to slash government spending.
Angry people packed the hallway leading to the Assembly on Thursday. At least 50 protesters were carried out by police, and the building was locked down briefly while officers did a security review.
"The whole world is watching!" protesters shouted outside the Assembly's entrance.
Democratic representatives pounded on the locked door of the chamber before the vote, scheduled for 11 a.m. local time. It wasn't unlocked until around 11:30 a.m.
"What more egregious, illegal, unethical step can be taken to prevent democracy in Wisconsin?" Rep. Donna Seidel (D-Wausau) said as she banged on the door along with her colleagues.
If the bill passes the Assembly as expected, it would head to Republican Gov. Scott Walker for his signature. At a news conference in Milwaukee, the governor said he'll sign the legislation "as quickly as I can legally."
Hours after Senate Republicans passed the bill Wednesday, a crowd of hundreds of protesters swelled to thousands in a rally as large as any seen inside the Capitol in three weeks of demonstrations. At one point, there were so many people pushing their way through the building's entrances that police just gave up trying to stop them.
Shawn Johnson of Wisconsin Public Radio told NPR that the protesters really didn't see it coming.
"They knew there was going to be a vote on this at some point, but the way that it happened was definitely extraordinary," he said.
The Senate's 14 Democrats had stymied the bill for weeks by leaving the state and preventing the chamber from having enough members present to pass it. Walker introduced the measure to plug a $137 million budget shortfall.
Republicans needed at least one Democrat present for a quorum of 20 in order to take up any measures that spend money. So GOP leaders essentially outmaneuvered the missing Democrats by stripping away pieces of the bill that triggered the rule so that they could vote on the collective bargaining elements.
Sen. Glenn Grothman, the assistant leader in the Wisconsin state Senate, told NPR's Robert Siegel on Thursday that Republicans were tired of waiting for Democrats to return.
"Quite frankly, the Democrats kept leading us on. They kept implying that maybe we'll be back tomorrow, maybe we'll be back tomorrow, if only we negotiate a little," Grothman said. "And finally Gov. Walker did negotiate with them and they rejected all his compromises and it became more and more apparent they were not sincere in coming back tomorrow.
"So finally we just said well if we can only go with half the bill, we'll only go with half the bill."
The entire process happened very quickly, Johnson said.
"At about 4 o'clock central time, Republican leaders said they were going to convene a special committee to consider this plan," he said. "Less than two hours later, that committee met and passed the bill, and just a few minutes after that, Republican senators met and voted 18-1 in favor of the plan without any debate and without a single Democrat in the room."
Spectators flooded the Senate gallery, screaming "You are cowards" at lawmakers as they voted. Republican Sen. Dale Schultz cast the lone no vote.
"I voted my conscience, which I feel reflects the core beliefs of the majority of voters who sent me here to represent them," Schultz said in a statement.
Walker said Democrats had three weeks to debate the bill and were offered repeated opportunities to come back, but refused.
"I applaud the Legislature's action today to stand up to the status quo and take a step in the right direction to balance the budget and reform government," Walker said in a statement.
Senate Democrats met late Wednesday night to discuss when they might return. They said they would not be back Thursday, but gave no indication when they might come home.
"We are going to watch and see how the Assembly unfolds," said Sen. Spencer Coggs. "There will be fireworks. There will be a lot of people at the Capitol, and so it will be hard to get in and out of the Capitol."
Thursday's vote is something of a foregone conclusion, Johnson said, given that Assembly lawmakers passed a similar version of the bill a few weeks ago. But he said the recent maneuverings at the Capitol make it worth watching.
Until Wednesday's Senate action, it appeared the standoff would persist until Democrats returned to Madison from their self-imposed exile in Illinois.
"In 30 minutes, 18 state senators undid 50 years of civil rights in Wisconsin. Their disrespect for the people of Wisconsin and their rights is an outrage that will never be forgotten," Democratic Senate Minority Leader Mark Miller said. "Tonight, 18 Senate Republicans conspired to take government away from the people."
Speaking by phone, Democratic Sen. Bob Jauch said the vote left people in shock.
"They did this in a hurry because they knew once the public would find out, they would be furious," Jauch said.
Republicans said this was their only option, because they were convinced Democrats were prepared to stay away from the Senate indefinitely, and that it followed the letter of the law.
Senate Majority Leader Scott Fitzgerald said he reviewed the plan with the Legislature's lawyers and budget specialists, and they advised him "that this proposal would not trigger the special quorum requirement."
But Democrats contended that it happened so fast that it violated Wisconsin law. Assembly Minority Leader Peter Barca, the lone Democrat present on the special committee that put the bill in position to pass the Senate, shouted that the meeting was a violation of the state's open meetings law.
"The jig is now up," Barca said. "The fraud on the people of Wisconsin is now clear."
The Senate's chief clerk said hours later that the meeting was properly held.
Sen. Chris Larson said that when he and fellow Democrats got wind of what was happening, they tried to rush back to Madison.
"Personally, I tried to drive as fast as I could to get up there," Larson said. "My colleagues tried to get ready in order to do the same, but there was no chance with the very short time frame. They knew what they were doing; they intended to deceive the people."
David Newby, past president of Wisconsin State AFL-CIO, said union members are not going to sit back and let it happen.
"I'm ashamed for our state, but it means that we've got a protracted fight ... that is not going to go away," he said. "Once they pass this bill, that's just the beginning of the fight."
Walker had repeatedly argued that collective bargaining is a budget issue, because his proposed changes would give local governments the flexibility to confront the budget cuts needed to close the state's $3.6 billion deficit. He has said that without the changes, he may have needed to lay off 1,500 state workers and make other cuts to balance the budget.
The measure forbids most government workers from collectively bargaining for wage increases beyond the rate of inflation unless approved by referendum. It also requires public workers to pay more toward their pensions and double their health insurance contributions, a combination equivalent to an 8 percent pay cut for the average worker. Police and firefighters are exempt.
Despite being outfoxed, Democrats see an upside to the battle over bargaining rights.
Johnson said Democrats think the level of public energy could translate to the ballot box.
"Already, there are recall petitions being circulated against eight of the Republicans who voted for this plan. I should also mention that there are recalls being organized against some of the Democratic senators who left town," Johnson said.
"But Democrats think that overall, this is an issue that energizes their base certainly more than it was energized in last year's election."
Material from The Associated Press was used in this report.