Tsunami Waves Hit West Coast, Hawaii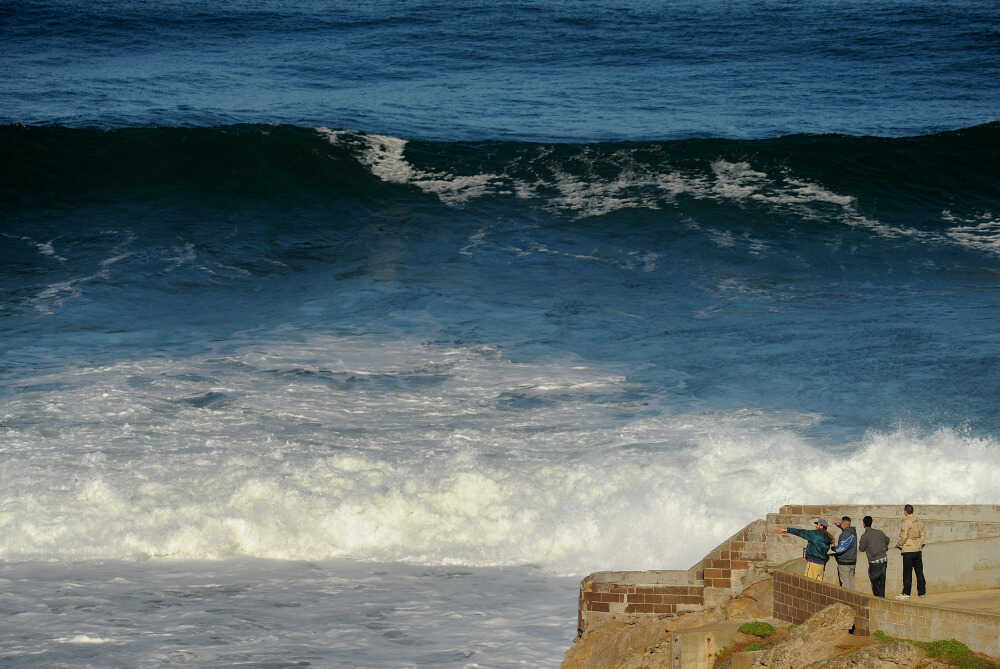 Tsunami waves swamped Hawaii beaches and severely damaged harbors in California after devastating Japan and sparking evacuations throughout the Pacific. At least one person was reported missing after he was swept out to sea.
The unidentified 25-year-old man was taking photos in Northern California when waves carried him off. Two people who jumped in to rescue him were able to get back to land. The U.S. Coast Guard suspended its search after crews in boats and helicopters covered more than 250 square miles.
Coast Guard helicopter pilot Todd Vorenkamp said it was dangerous to be near the water.
"The waters are dangerous on any given day," he said, "and it's just exponentially worse when there's tsunami activity."
About 25 miles north, four people were swept off a beach north of Brookings, Ore. Two got out of the water on their own and the others were rescued by law enforcement and fire officials.
In Hawaii, water rushed up on roadways and into hotel lobbies on the Big Island, and low-lying areas in Maui were flooded as 7-foot waves crashed ashore. Large waves also hit the U.S. west coast, shaking loose boats that weren't moved in time and tearing apart wooden docks in at least two California harbors.
"This is just devastating. I never thought I'd see this again," said Ted Scott, a retired millworker who lived in Crescent City when a 1964 tsunami killed more than 100 people on the west coast, including 11 in his town. "I watched the docks bust apart. It buckled like a graham cracker."
The waves didn't make it over a 20-foot break wall protecting the rest of the city, and no serious injuries or home damage was immediately reported.
Damage estimates in Crescent City were in the millions, and more boats and docks were hit in Santa Cruz on California's central coast.
Bill Steven, a commander with the Del Norte County Sheriff's Office, told NPR the area was expecting more surges.
"Part of the problem is that when this thing started for us at about 8 this morning, we were in a low tide, which really helps us out," he said. "We're crawling toward high tide now."
Steven said the area had been hit "nonstop" by tsunamis for the past five hours.
Nick Fountain, a freelance reporter in Santa Cruz, watched as the tsunami surged into the upper harbor, tearing apart docks and sinking boats.
"A cement block just ran into a boat, a red boat, it's falling over," he told NPR. "There are four or five boats piled on one another; ropes are snapping.
"Boat parts and dock parts are floating down the harbor," he said. "Several docks are breaking lose and hitting boats."
Fountain said about a third of the 400 or so slips at the marina were set aside for people who live aboard their boats, many of whom watched in anguish as the water surged in.
"Everybody is just waiting to see if their boats are OK," he said.
Hawaii Was 'Blessed'
Scientists warned that the first tsunami waves are not always the strongest, and officials said people in Hawaii and along the west coast should remain vigilant. Still, the tsunami warning was downgraded to an advisory in Hawaii, and Gov. Neil Abercrombie said the islands were "fortunate almost beyond words."
"All of us had that feeling that Hawaii was just the most blessed place on the face of the Earth today," he said.
"Scientists and some local emergency people say the worst may be over at this point," Bill Dorman, news director of Hawaii Public Radio, told NPR. "It looks like 'so far, so good,' and we'll move on."
The Pacific Tsunami Warning Center said Kauai was the first island hit early Friday by the tsunami. Water rushed ashore in Honolulu, swamping the beach in Waikiki and surging over the break wall in the world-famous resort but stopping short of the area's high-rise hotels.
Roadways and beaches were empty as the tsunami struck the state.
Chris Garsky, who lives in Kailua Kona on the Big Island, told NPR the damage to the ground floors of buildings within 30 feet of the shore was extensive.
"The water clearly came into the buildings, whipped out the sliding glass doors and lanais," he said. "[Water] drove the lawn furniture and lanai furniture into the plate-glass windows in a lot of cases."
Residents in coastal areas of Hawaii were sent to refuge areas at community centers and schools, while tourists in Waikiki were moved to higher floors of their high-rise hotels. People waited in long lines, stocking up on gas, bottled water, canned food and generators, and officials told residents to stock up on water and fill their cars with gas.
"We will have everyone evacuated safely as long as no one panics and people don't overreact," Maui County Mayor Alan Arakawa said.
Tsunami Warning Sent Out In Minutes
NPR's Richard Harris has been monitoring reports from wave-sensing buoys in the Pacific Ocean. "The waves are 1 to 3 feet in height, which don't sound like much, but if they hit the coast, they can amplify tremendously," he said.
"It's not a wave like a breaker on the beach; it is actually a surge that can last for five or 15 minutes," Harris noted.
Related NPR Stories
The tsunami, spawned by an 8.9 magnitude earthquake in Japan, killed hundreds as it slammed the eastern coast of Japan, sweeping away boats, cars, homes and people as widespread fires burned out of control. It raced across the Pacific at 500 mph — as fast as a jetliner — before hitting Hawaii and the west coast. Sirens sounded for hours on the islands and the west coast before dawn, and roadways and beaches were mostly empty as the tsunami struck.
President Obama directed the Federal Emergency Management Agency to be prepared to assist Hawaii or any Western state affected by the tsunami. He urged residents to be alert to what state and local officials were saying about precautions to take. Coast Guard cutter and aircraft crews were positioning themselves to be ready to conduct response and survey missions as soon as conditions allowed.
It is the second time in a little over a year that Hawaii and the U.S. west coast faced the threat of a massive tsunami. A magnitude 8.8 earthquake in Chile spawned warnings on Feb. 27, 2010, but the waves were much smaller than predicted and did little damage.
Scientists acknowledged at the time that they had overstated the threat but defended their actions, saying they took the proper steps and learned the lessons of the 2004 Indonesian tsunami that killed thousands of people who didn't get enough warning.
This time around, the warning went out within 10 minutes of the earthquake in Japan, said Gerard Fryer, a geophysicist for the Pacific Tsunami Warning Center in Honolulu.
"We called this right. This evacuation was necessary," Fryer said. "There's absolutely no question, this was the right thing to do."
The warnings issued by the tsunami center covered an area stretching the entire western coast of the United States and Canada from the Mexican border to Chignik Bay in Alaska.
Many islands in the Pacific were evacuated, but officials later told residents to go home because the waves weren't as bad as expected.
In Guam, the waves broke two U.S. Navy submarines from their moorings, but tugboats corralled the subs and brought them back to their pier. No damage was reported to Navy ships in Hawaii.
Officials in two coastal Washington counties used an automated phone alert system, phoning residents on the coast and in low-lying areas and asking them to move to higher ground.
"We certainly don't want to cry wolf," said Sheriff Scott Johnson of Washington's Pacific County. "We just have to hope we're doing the right thing based on our information. We don't want to be wrong and have people hurt or killed."
In Oregon, hotels were evacuated and shops stayed shuttered in the northwest tourist town of Seaside, where arcades, saltwater taffy shops and seafood restaurants line a beachfront boardwalk.
Large waves didn't materialize, and by noon coastal residents were expected to be able to return home.
"We weren't really worried about it," said Erik Bergman, whose roommate woke him early Friday.
Surfers in California who raced to the beach to catch the waves were undeterred by the surges. "The tides are right, the swell is good, the weather is good, the tsunami is there. We're going out," said William Hill, an off-duty California trooper.
The Honolulu International Airport remained open, but seven or eight jets bound for Hawaii turned around, including some originating from Japan, the state Department of Transportation said. All harbors were closed, and vessels were ordered to leave the harbor.
About 70 percent of Hawaii's 1.4 million population resides in Honolulu, and as many as 100,000 tourists are in the city on any given day.
A small 4.5 magnitude earthquake struck the Big Island just before 5 a.m. EST, but there were no reports of damages and the quake most likely wasn't related to the much larger one in Japan, the USGS said.
The worst big wave to strike the U.S. was a 1946 tsunami caused by a magnitude 8.1 earthquake near Unimak Islands, Alaska, that killed 165 people, mostly in Hawaii. In 1960, a magnitude 9.5 earthquake in southern Chile caused a tsunami that killed at least 1,716 people, including 61 people in Hilo. It also destroyed most of that city's downtown. On the U.S. mainland, a 1964 tsunami from a 9.2 magnitude earthquake in Prince William Sound, Alaska, struck Washington state, Oregon and California. It killed 128 people, including 11 in Crescent City.
Hawaii Public Radio and NPR's Richard Harris contributed to this report, which contains material from The Associated Press