In Japan, A City Left In Shambles By A 'Mighty Woosh'
In Japan, A City Left In Shambles By A 'Mighty Woosh'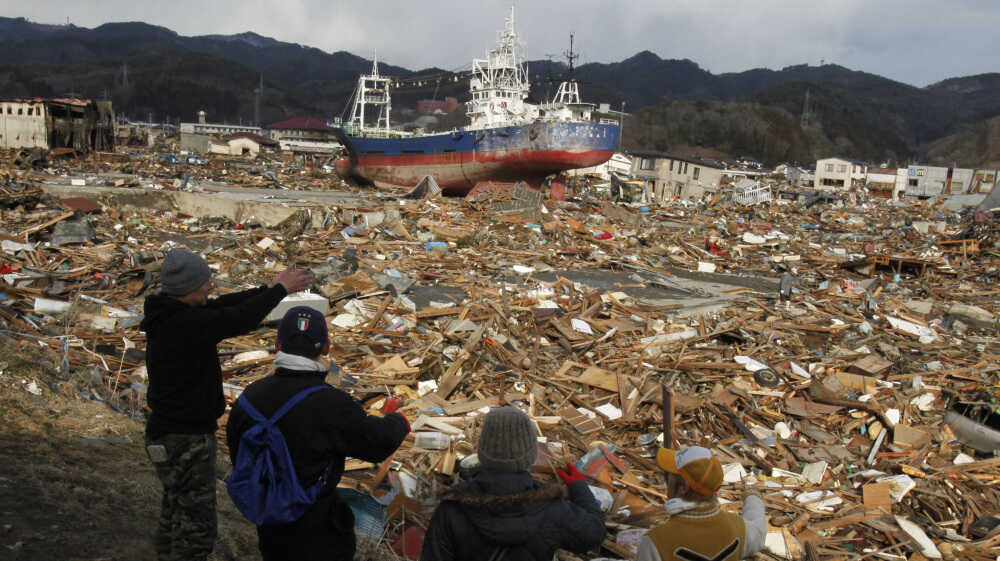 Nearly a full week after Japan was hit by a massive earthquake and tsunami, survivors struggle on in freezing temperatures, short of food, water, fuel and other essentials. The police have confirmed more than 5,000 deaths, and thousands remain missing. For many survivors in the northeastern city of Kesennuma, restoring normalcy to their shattered lives seems an unattainable goal.
A few things look out of place in this fishing port, where ships unload their cargo of bonito and mackerel pike. There's a ship several stories high sitting in the middle of the street. There are cars perched precariously on top of buildings. Buildings have been washed away and are sitting atop cars. Everything seems to sit at an unnatural angle, buried amid mud and debris.
At city hall, Katsuhida Honda and his wife are among the residents poring over lists and bulletin boards, searching for the names of survivors and victims.
"I'm looking for someone I know. This person is not on any list yet. Many of the victims who are found can't even be identified, so I'm worried," Honda says.
He recalls the sirens wailing just minutes before the tsunami hit. He can find no words to express his grief at the loss of friends and neighbors.
"This time, we're being severely tested. If we can just get through it," he says, wiping away his tears with a tissue. "We've got to show our Japanese spirit."
He and his wife hope to rebuild their family ceramics business, but they're afraid their regular customers won't come back.
"After all, it will take time for the economy to recover," Honda says. "My son is 30-something, but I don't think he'll get to see it. Perhaps by my grandson's generation."
The Hondas head downhill to see what's left of their shop. Cups and bowls lie helter-skelter. In the back, pictures of the Hondas' ancestors hang high on the wall, the tsunami's muddy waterline drying across their brows. Honda recalls the astonishing sight of his furniture rising up toward the roof.
"The tatami mat just went up and floated around," he says. "Everything just floated up!"
Back at city hall, residents wait in line to charge their cell phones. There are long lines for food and fuel everywhere.
Yasuji Chiba of Kesennuma's emergency management center is busy trying to account for each of the city's roughly 70,000 inhabitants.
"I don't know how many people were killed or injured — 343 people are still missing," Chiba says.
Among the missing are three members of his own family.
"I don't know if they are safe or not. I cannot reach them by phone," he says.
Kesennuma residents are hardly surprised at the occurrence of a tsunami. Locals can recount all of the big ones of the past: 1960, 1933, 1896.
Store owner Mikako Fujita has survived four tsunamis here, but none as destructive as the latest one. Last Friday, she watched from her rooftop as the 30-foot-high wall of water surged toward her.
"This time the speed was so different. It was much faster. It came with a mighty whoosh!" she says.
Nearby, Hideki Shimada is piecing his kimono shop back together. Things are bad here, he says, but he feels there's nowhere else to go.
"This could happen anywhere in Japan — Tokyo, Osaka," Shimada says. "An earthquake could strike any of these places. The whole island of Japan is a nest of earthquakes."
Earthquakes and tsunamis are a part of the scene here, just like the sardines and bonito. There's not much folks can do about it, except rebuild from this tsunami and begin preparing for the next one.