For Matadora, Bullfighting Is Her 'Absolute Truth'
For Matadora, Bullfighting Is Her 'Absolute Truth'
Katie Hayes Luke for NPR

Katie Hayes Luke for NPR

Katie Hayes Luke for NPR

Katie Hayes Luke for NPR

Katie Hayes Luke for NPR

Katie Hayes Luke for NPR

Katie Hayes Luke for NPR

Katie Hayes Luke for NPR

Katie Hayes Luke for NPR

Katie Hayes Luke for NPR

Katie Hayes Luke for NPR
Last Sunday, a 32-year-old bullfighter named Lupita Lopez appeared in Mexico City's Plaza Mexico — the largest bullring in the world — and was inducted into the tiny sorority of matadoras, or professional female bullfighters. Lopez, 32, has wanted to be a bullfighter since she was 11.
A month earlier, Lopez had traveled to south Texas, deep in the thornbrush country north of McAllen, to put on an exhibition fight at a bull ranch called La Querencia. The owner, Fred Renk, is a burly, 74-year-old former amateur bullfighter who swaggers about wearing his guayabera shirt open at the top, macho style. In the afternoons, you can find him in his cantina listening to Spanish guitar music, enjoying a beer buzz and talking up Mexico's hottest new lady bullfighter.
"She's gonna be great," Renk says, "She's got this quality and this desire to burn and create art. And you'll see it tomorrow."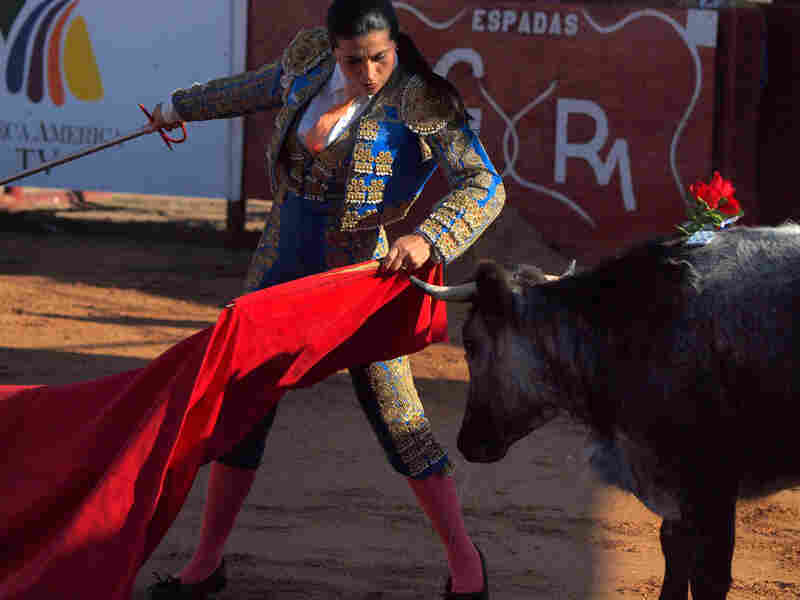 Renk is Lopez's patron in the style of benefactors who help aspiring boxers and opera singers get a start. He and his friends put up $10,000 for her sword, cape and intricately embroidered traje de luces, the "suit of lights" that bullfighters wear.
"We just took her on and we helped her. She fights and she fights well," he continues.
And she draws. Renk has promoted Lopez's appearance at his bullring as "the Mayan Princess."
Her appearance is striking: a cascade of dark hair; a fighter's arms; a dancer's body; and frank, disarming eyes.
During an interview, Lopez sits on a sofa in a guesthouse. She will not talk of animal cruelty. Bullfighting is a medieval entertainment, but it remains a cultural fixture in some Latin American and European countries as it is in her own family.
"I come from a family of bullfighters, from my great-grandfather, grandfather, father, uncle and cousins," she says. "And so coming from this family, obviously from the moment we wake up until we go to sleep, we talk about bulls."
Growing up in the city of Merida, on the Yucatan Peninsula of Mexico, Lopez decided she wanted to be a bullfighter when she was 11. During her long apprenticeship, she faced the challenges of a young woman entering the quintessentially male domain of bulls.
"When I'm traveling alone, there are men who think that a female bullfighter is an easy woman. And promoters who think because they put me on a bill, I have to sleep with them. I think being a woman is an obstacle," she says.
Her gender cuts both ways. Some impresarios won't allow her to fight in their plazas. But others actively promote female bullfighters as a novelty and pay them more.
Lopez is married to an Italian filmmaker who tolerates — but doesn't support — her bullfighting career. She's been gored three times, once seriously in the groin. At 32, she figures she has three or four years left in her career. She'd like to have children.
Why does she do it?
"In the duration of a bullfight," she says, "these are 20 minutes of absolute truth."
On a recent weekend at La Querencia ranch, Lopez will not conclude the fight by killing the toro bravo, the brave bull, with a sword, as is customary. It's against the law. She'll be fighting and testing vacas bravas, brave cows, to see if they have the valor to be returned to the pasture and bred with a fighting bull. Under the rules of "bloodless bullfights," she will pluck a plastic flower from the black hide of their backs.
The stands fill up with tourists in caps and sunglasses, most of whom know nothing of the precision and danger of what they're about to witness. Finally, Lopez strides into the bullring in her blue and gold suit, her magenta cape over her shoulder, a long braid falling down her back.
She fights the animals in the classic style: with feet planted, back arched, caping to the right, haughty and graceful. The spirited young cows charge and jab with their sharp horns, just like their brothers.
That happened a month ago.
Up until this point, as a novillera, an apprentice, she had been allowed only to fight young bulls. Last Sunday, in the Plaza Mexico, Lopez graduated. She confronted mature, 4-year-old bulls that weigh 1,000 pounds and more.
Now, she can be called matadora de toros. She becomes one of four professional female bullfighters who are active in the world.