Cider: A Winter Kitchen's Secret Weapon
Apples. From the moment their season starts, they're the Miss America of fruit, piled high in the supermarket, tucked into your kid's lunchbox, hanging heavy and low in the orchards like original sin itself. You may like them sweet and shiny, you may like them russet and tart, but at this time of year, you hardly need to choose. They're everywhere, so distractingly delicious that you may not even notice the plastic jug on the neighboring cooler shelf, with its homely brown elixir.
Cider has all the flavor of the apple and none of the looks. But then, looks were never really the point, at least at the outset. In the early days of the American colonies, the sweet, abundant fruit we think of as an apple was, for the most part, neither abundant nor all that sweet. The earliest apples came with European settlers, and they were cider apples — Roxbury russets, say, with their chewy thick skins, or the aggressively tart winesap.
From the start, cider was a way of drinking down an apple. Once collected and casked, cider was a way of storing an apple. And, as those weeks in storage took their inevitable fermenting course, cider was a way of getting drunk on an apple.
New England, people quickly discovered, was a lousy place to grow grapes, so that ruled out wine. It wasn't the best place in the world to grow grain, either, which made beer a proposition for a later, more civilized date. But apple trees took to the rocks and windswept hillsides as if they were a second home, and before long cider fizzed its way into our hearts. If syrup from the cold, snow-clenched trunk of a March maple was the first sweet taste of the year, December cider was the last.
About The Author
It was for the sake of cider, not apples, that John Chapman planted his nurseries, wending his barefoot way straight through to the heartland. It was from pomace, the discarded residue of cider mills — not discarded apple cores from the table — that he got the apple seeds that gave him his nickname. We may think of the apple as an all-American star, but its juice was in the lifeblood of this country, weaving through its mythic circulatory system like a brown river.
Cider, the alcoholic quaff of a young democracy, underwent a linguistic makeover after Prohibition. It became cider, the nonalcoholic juice of the pressed apple — fit for even children and temperate adults. (Even today, it's only Americans who call the unfermented, raw juice of the apple "cider." Everywhere else, "cider" still has a buzz.) Today, we think of cider primarily as something sweet to drink. We pack it on lunch outings. We drink it after school. We drink it hot and spiced after raking leaves. We even drink it after giving blood.
But the surprising thing is that cider isn't merely good by its own sweet self. Use it as a savory ingredient, and it lends character, subtlety and earthy sweetness to a wide variety of dishes. Although you might not have thought of it this way, cider has something in common with the juice of citrus fruits — lemons, limes, oranges: You can use it at all different dilutions to achieve different effects.
Water it down generously for a brine, and cider provides an aromatic bath for its traditional companion, pork. Or you can use it at full strength in a vinaigrette, allowing its natural tartness to brighten mixed greens. And if you set cider on the stove, and simmer it down to its essence, what do you have? Cider glaze, an appealing and lustrous finish for cold-weather vegetables and roasts.
In fact, you could with very little effort assemble a complete feast whose sweet and secret theme was apple cider. Unless you told them, there's a good chance your guests would never know, but nobody would complain. The only question, you might find yourself wondering, is: What to drink with it? The answer, I think you'll find, is hidden in plain sight.
Recipe: Apple Cider Brine For Pork
Elizabeth Karmel says this brine is good for soaking pork chops, pork loin, fresh ham, chicken and turkey. I haven't tried the others, but I can certainly vouch for the pork chops. Be sure you give the ice cubes a stir to help them cool down the hot solution before you pour it over the meat. The recipe is adapted from Elizabeth Karmel's Soaked, Slathered, and Seasoned (Wiley 2009).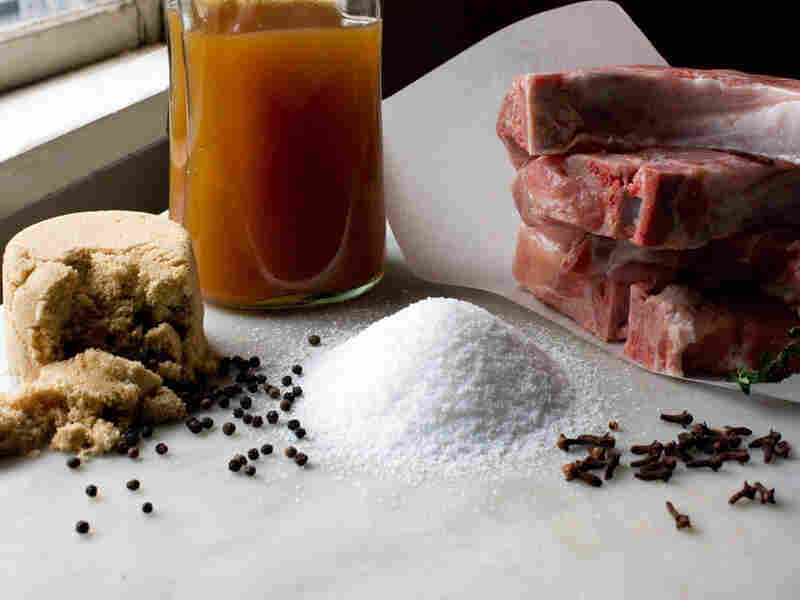 Makes 2 quarts, easily enough for 8 chops
2 cups cold water
1 cup kosher salt
1 cup packed light brown sugar
2 teaspoons dried thyme, or 2 sprigs fresh thyme
1 teaspoon whole black peppercorns
1 teaspoon whole cloves
4 cups unfiltered apple cider
2 cups ice cubes
In a large saucepan over medium-high heat, bring the water, salt, sugar, thyme, peppercorns and cloves to a boil. Cook for 2 to 3 minutes, stirring occasionally, or until the sugar and salt dissolve. Remove from the heat, add the apple cider and ice cubes, and stir well.
Put the meat in a nonreactive pan or extra-large resealable bag and cover with the cooled brine. Cover or tightly close the bag and refrigerate for 6 to 12 hours. If you are using a resealable bag, rotate the pork a few times to make sure all of the meat gets brined. Before roasting, remove the pork and pat dry with paper towels.
Recipe: Cider Vinaigrette
This recipe is adapted from Cooking with Shelburne Farms, by Melissa Pasanen with Rick Gencarelli (Viking Studio 2007). According to Gencarelli, you could reduce the cider to double its strength and intensify this dressing. I found it very good just as it was, without the extra step.
Makes 1 scant cup of dressing, enough for 4 to 6 salads
1/2 cup apple cider or natural apple juice
2 tablespoons cider vinegar
1 teaspoon pure maple syrup, grade B for strongest flavor
1 shallot, finely minced
1/2 teaspoon coarse kosher salt plus more to taste
1/4 cup olive oil
Freshly ground black pepper to taste
In a blender or mini food processor, blend together the cider, cider vinegar, maple syrup, shallot and salt.
Gradually add the olive oil and blend to emulsify. Adjust seasoning to taste.
Recipe: Roasted Fennel And Onion With Apple Cider Glaze
In Perfect Vegetables, by the editors of Cooks Illustrated (America's Test Kitchen 2003) it is recommended that you reduce the cider in a nonstick skillet. By all means do, if you have one. You may also find it helpful to strain out the particulate matter in the glaze as you pour it over the vegetables; some very fresh ciders can have quite a bit of solid matter. This recipe is adapted from Perfect Vegetables.
Makes 4 side-dish servings
3 small fennel bulbs (about 2 1/4 pounds)
1 small onion, cut into 1/2-inch wedges
1 teaspoon minced fresh thyme leaves
2 tablespoons extra-virgin olive oil
Salt and ground black pepper
1 cup cider
Adjust the oven rack to the lower-middle position and preheat the oven to 425 degrees.
Remove and discard the stems, fronds and any blemished portions from the fennel bulbs. Halve the bulbs through the base. Use a paring knife to remove the pyramid-shaped piece of core from each half — make sure you remove all of it, or the layers won't separate. With the cut-side down and the knife parallel to the work surface, slice each fennel half in half crosswise. Then, with the knife perpendicular to the work surface, cut each fennel half lengthwise into long, thin strips.  They'll be about 1/3-inch wide and 2 inches long.
Toss the fennel, onion, thyme and oil together in a large roasting pan. Season with salt and pepper to taste. Roast, turning the vegetables once after 20 minutes, until the fennel is tender, 35 to 40 minutes.
Meanwhile, place the cider in a small nonstick skillet over medium-high heat and bring to a simmer. Reduce the heat to medium-low and simmer gently until the cider has reduced to about 1/2 cup, 15 to 20 minutes.
Transfer the roasted vegetables to a platter and drizzle with the cider glaze. Serve immediately.