Books To Help You Remember The Great Elizabeth Taylor
Books Featured In This Story
Elizabeth Taylor
My Love Affair With Jewelry
Hardcover, 239 pages |
purchase
Buy Featured Book
Title

Elizabeth Taylor

Subtitle

My Love Affair With Jewelry

Author

Elizabeth Taylor, Ruth A. Peltason, et al
Your purchase helps support NPR programming. How?
How to Be a Movie Star
Elizabeth Taylor in Hollywood
Hardcover, 484 pages |
purchase
Buy Featured Book
Title

How to Be a Movie Star

Subtitle

Elizabeth Taylor in Hollywood

Author

William J. Mann
Your purchase helps support NPR programming. How?
Furious Love
Elizabeth Taylor, Richard Burton, and the Marriage of the Century
Hardcover, 500 pages |
purchase
Buy Featured Book
Title

Furious Love

Subtitle

Elizabeth Taylor, Richard Burton, and the Marriage of the Century

Author

Sam Kashner and Nancy Schoenberger
Your purchase helps support NPR programming. How?
We should have been more prepared for this moment — Elizabeth Taylor had been ill for some time (she even outlived the man who wrote her obituary in the New York Times, which the paper assigned over six years ago). But it is still shocking to lose a woman who, besides being outlandishly gorgeous, was the very template for American celebrity as we understand it today. There will be many ways to grieve this loss — you can cry, you can rage at the moon, you watch some of her best on-screen moments, like her cackling "Angry, Baby" monologue in Who's Afraid of Virginia Woolf from 1966. Or, if you're like me, you can turn to books.
There have been many books written about Taylor (she even wrote three herself), so I have sifted through them to find the three that I think are most worth reading if you want to remember her talent, beauty, and drive.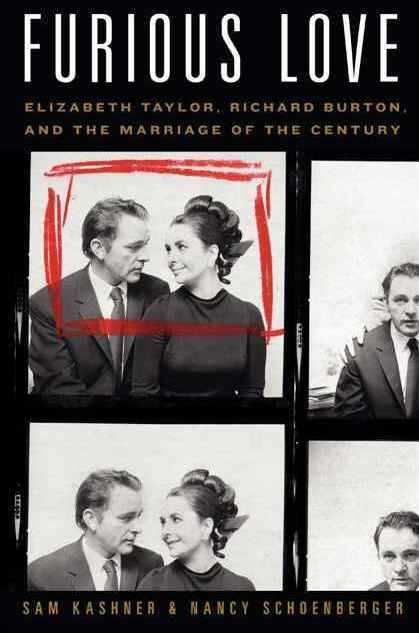 1) Furious Love: Elizabeth Taylor, Richard Burton, and the Marriage of the Century, by Sam Kashner and Nancy Schoenberger
This soapy, delicious and highly literary double biography, which came out in hardcover last year (and which I hear is now being rushed to paperback by May), was excerpted for a Vanity Fair cover story along with some of the most striking pictures I have ever seen of the couple at the height of their romance. Kashner and Schoenberger make the convincing argument that to understand the complete Elizabeth Taylor story, one must understand the Taylor-Burton story: the couple never truly fell out of love with each other, and continued to circle around each other like exotic birds until Burton's sudden death in 1984. Taylor kept the last letter that Burton ever gave her by her bedside until her own death, and it is so poignant to read pieces of it now (excerpted from the book) after she has passed: "We are such doomed fools. Unfortunately, we know it. So I have decided that, for a second or two, the precious potential of you in the next room is the only thing in the world worth living for. After your death there shall only be one other and that will be mine. Or I possibly think, vice versa. Ravaged love...Rich."
Furious Love is the kind of book that you want to read about Taylor right now — it packs in all the glamour of the apex of her career (Cleopatra, Cat on a Hot Tin Roof, Virginia Woolf), and traces the pair from country to country as they became the most famous lovers in the world. They were more than just the original Brangelina — they re-invented the very concept of Hollywood power couple and the way the media absorbed and devoured their every move. I think one of the book's most moving passages describes a poem that Burton had scrawled on the back of an iconic photograph of Taylor running towards him: "She is like the tide, she comes and she goes, she runs to me as in this stupendous photographic image. In my poor and tormented youth, I had always dreamed of this woman. And now when this dream occasionally returns, I extend my arm and she is here... by my side. If you have not met or known her, you have lost much in life."
2) How To Be A Movie Star: Elizabeth Taylor in Hollywood, by William Mann
Though her later years of activism and Michael Jackson friendship are fascinating, the Taylor that most people want to remember is the young ingenue who took Hollywood by storm and redefined the way stars were born in the 1950s and 60s — and Mann's book covers just that. As Publisher's Weekly wrote of the book when it came out in 2009, "Mann relishes depicting Taylor's larger-than-life appetites, whether for men, jewels or food, and marvels at her ability to arouse and sidestep scandal, as well as to demonstrate continually a singular devotion to her acting craft."
In fact, it was Taylor's devotion to her craft that really made her a movie star as opposed to just a headline, and Mann shows how fastidious she really was about her work. In an interview, Mann said that before he took on his project, he felt that no one had really examined the way that Taylor approached her celebrity status and carefully managed her own image: "Everyone from Madonna to Britney to Miley Cyrus is taking a page from her book," Mann argues, and in his book, he explains why.
3) My Love Affair With Jewelry, by Elizabeth Taylor
If you don't have Elizabeth Taylor's campy, frothy tribute to her bauble collection on your coffee table, you are really missing out. The book has become infamous among Taylor fans for its self-indulgent and rambling tone, and the fact that it is really more about men than it is about jewels. Taylor goes through her sparkly collection piece by piece, explaining the stories behind her earrings and rings and pendants. She includes the Belle Epoque diamond necklace, diamond girandole earrings, and a diamond tiara from her other great love, producer Mike Todd, and, of course, there is the famous 33-carat Krupp Diamond from Burton that made headlines when he gave it to her in 1968.
This is Elizabeth Taylor in her own words — and even though she may be more comfortable talking about her ornaments than herself, reading it gives one a real sense of what was important to her, in love and in life.