Official: Allies Discussing Ways To Arm Libyan Rebels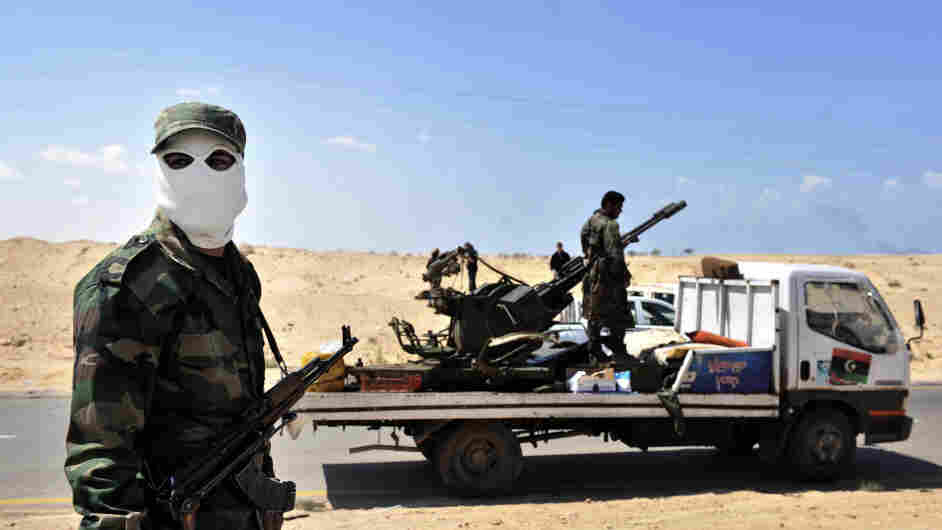 Aris Messinis/AFP/Getty Images
U.S. and coalition leaders are discussing ways to arm the Libyan rebels, a senior military official told NPR.
The official, speaking on condition of anonymity, said despite withering coalition airstrikes over the past week, Moammar Gadhafi's forces still have the advantage and continue to threaten civilians inside some cities.
Developments In Libya
Mahmud Turkia/AFP/Getty Images
U.S. and coalition leaders are discussing ways to arm the Libyan rebels, a senior military official told NPR.
French military officials say Libyan airspace is "under control" as Western airstrikes hit the North African country for a sixth day, hammering targets around the besieged city of Ajdabiya.
NATO was expected to announce a plan to assume command of the mission to protect civilians from attacks by Moammar Gadhafi's ground troops. On Thursday, NATO agreed to take control of enforcing the no-fly zone
Qatar became the first Arab member of the coalition to fly a mission enforcing the no-fly zone.
The United Arab Emirates said it will commit six F-16s to the no-fly operation, becoming the second Arab country after Qatar to join the anti-Gadhafi coalition.
Aid groups say the Gadhafi regime is blocking access to the wounded and suffering in violation of the laws of armed conflict.
The rebels have requested rocket-propelled grenades, which the official said could be used to counter Libyan armor.
When asked Friday about arming the rebels, White House spokesman Jay Carney was noncommittal.
"We are working with the opposition, consulting with the opposition, looking at ways we can assist them," he said, "and that work continues every day,"
Navy Vice Adm. William E. Gortney, director of the Pentagon's Joint Staff, said Friday there were reports Gadhafi is arming "volunteers."
"I'm not sure whether they truly are volunteers or not," he told reporters. "And I don't know how many of these recruits he's going to get, but I find it interesting that he may now feel it necessary to seek civilian reinforcements.
Coalition Strikes
Meanwhile, Qatar on Friday became the first Arab country to fly missions in support of the U.N. no-fly zone over Libya, as coalition warplanes struck at Gadhafi's forces around the besieged city of Ajdabiya in the east.
A Qatari fighter jet flew its first sortie alongside a French warplane, as another Persian Gulf nation, the United Arab Emirates, pledged 12 jet fighters to coalition forces.
The French and British strikes on an artillery battery and armored vehicles were intended to give a measure of relief to Ajdabiya, where residents have fled more than a week of shelling and fighting between rebels and government troops.
French military officials said a warplane destroyed an artillery battery Friday, while Britain said its Tornado GR4 aircraft launched a number of guided missiles at Libyan armored vehicles.
The U.S. is expected to soon deploy a tank-killing plane, the A-10 Warthog, to strike at Gadhafi's ground forces.
Planning For NATO Command
NATO's military staff is drawing up detailed plans to assume full control of the no-fly zone over Libya in coming days.
Heard On NPR
Conflict In Libya
NATO To Enforce No-Fly Zone Over Libya
NATO TO Enforce No-Fly Zone Over Libya
NATO envoys decided late Thursday to maintain the no-fly patrols as authorized by a U.N. Security Council resolution last week. They also instructed the military staff to draw up plans for replacing the coalition air force in carrying out airstrikes against Gadhafi's forces.
Related NPR Stories
An official who asked not to be identified because of NATO rules said the alliance was hoping to launch both operations simultaneously within the next couple of days. NATO's top decision-making body still has to approve the airstrike plans. It meets on Sunday.
The no-fly zone has been in effect for nearly a week, and the U.S. has been eager to turn over command. NPR's Tom Bowman said there are currently two missions: One is to prevent the Libyan air force from attacking civilians; the other is to protect civilians from regime ground troops and safeguard the rebel-held city of Benghazi.
NATO has taken over command of the first mission, but it's still not clear when the alliance will take over the second mission. U.S. Secretary of State Hillary Clinton said NATO is finalizing plans for that larger role, and American officials expect that to happen by the weekend.
"We are taking the next step. We have agreed along with our NATO allies to transition command and control for the no-fly zone over Libya to NATO," Clinton said. "All 28 allies have also now authorized military authorities to develop an operations plan for NATO to take on the broader civilian protection mission."
On Friday, Canada's Defense Minister Peter MacKay said that Canadian Lt. Gen. Charles Bouchard had been designated to lead "yet-to-be-fully defined NATO operations."
The Pentagon indicated U.S. warplanes will keep flying strike missions over Libya.
"Nearly all, some 75 percent, of the combat air patrol missions in support of the no-fly zone are now being executed by our coalition partners," Gortney told reporters at the Pentagon. He said other countries were handling fewer than 10 percent of such missions.
At a NATO meeting in Brussels, British Prime Minister David Cameron said he was in "absolute coordination" with the U.S. position that Gadhafi must go.
He warned that pro-Gadhafi forces and aides to the Libyan leader risked being prosecuted for war crimes if they remained by his side as civilian casualties mounted.
"Don't obey his orders; walk away from your tanks; leave the command and control that you are doing. Give up on his regime because it should be over for him and his henchmen," Cameron said.
Foreign Participation
The foreign minister of the United Arab Emirates said Friday the Gulf federation will deploy 12 planes to help enforce the mission to protect civilians in Libya.
The UAE is the second Arab country after Qatar to send planes to aid the military operation against Gadhafi's regime.
Sheik Abdullah bin Zayed Al Nahyan says the UAE committed six F-16s and six Mirage aircraft to "participate in the patrols" over Libya. His comments were published by the state-run WAM news agency on Friday.
No other members of the 22-member Arab League have publicly committed to taking an active role. The Arab League urged the U.N. Security Council to impose a no-fly zone over Libya.
International military support for the rebels is not open-ended: France set a time frame on the international action at days or weeks, not months.
The possibility of a looming deadline raises pressure on rebel forces, as does a U.N. arms embargo that keeps both Gadhafi and his outgunned opposition from getting more weapons. The rebels were so strapped Thursday that they handed out sneakers and not guns at one of their checkpoints.
"We are facing cannons, T-72 and T-92 tanks, so what do we need? We need anti-tank weapons, things like that," Col. Ahmed Omar Bani, a military spokesman, told reporters in Benghazi, the de facto rebel capital. "We are preparing our army now. Before there was no army, from now there is an idea to prepare a new army with new armaments and new morals."
"We've talked with our friends around the world and told them we need help," Bani said. "Not troops or advisers — airstrikes are enough. ...Our only foreign expert is Google Earth."
Opposition fighters said they've already appealed to some countries for weapons, NPR's Eric Westervelt reported from near Ajdabiya.
"They won't say what countries and they won't say when they'll arrive," he said. "But they are cautiously optimistic that in coming days some of this equipment may arrive."
The Gadhafi regime appeared equally hard-pressed, asking international forces to spare its broadcast and communications infrastructure.
"Communications, whether by phones or other uses, are civilian and for the good of the Libyan nation to help us provide information, knowledge and coordinate everyday life. If these civilian targets are hit, it will make life harder for millions of civilians around Libya," Moussa Ibrahim, a government spokesman, told reporters in Tripoli.
Amount Of Casualties Unknown
Libyan state television has broadcast images of blackened and mangled bodies that it said were victims of airstrikes in Tripoli. Rebels have accused Gadhafi's forces of taking bodies from the morgue and pretending they were civilian casualties.
A U.S. intelligence report on Monday, the day after coalition missiles attacked Gadhafi's Bab al-Aziziya compound in the capital, said that a senior Gadhafi aide was told to take bodies from a morgue and display them at the scene of the bomb damage for visiting journalists. A senior U.S. defense official revealed the contents of the intelligence report on condition of anonymity because it was classified secret.
U.S. Army Gen. Carter Ham said late Thursday that he couldn't be sure that no civilians have died as the result of coalition operations.
"What I can be sure of is that we have been very, very precise and discriminate in our targeting," he told reporters at a briefing at Sigonella air base in Sicily.
Of the regime's accusations, Ham said, "They don't talk about the thousands of Libyan citizens which they have killed, which we know it is very true."
British Foreign Secretary William Hague went further, declaring emphatically that "there are no confirmed civilian casualties so far from coalition airstrikes." He said civilian casualties are being caused solely by the Gadhafi regime.
Civilians Forced To Flee
In Ajdabiya, rebels were holding the city center but faced relentless shelling from government troops positioned on the outskirts. The city has been under siege for more than a week.
"Any attempts by Gadhafi forces to push farther north from Ajdabiya to [Benghazi] have been repelled by Western airstrikes and rebels on the ground," NPR's Westervelt said. "But fighting continues in and around Ajdabiya, and rebels have been unable to push Gadhafi forces out."
In a report released Friday, the United Nations High Commissioner for Refugees said hostilities continued in "several locations" around the country, including Ajdabiya, Misurata and Zintin.
It said the fighting had caused "over 350,000 people to leave the country, an unconfirmed number of civilian casualties and rendered the affected areas virtually unreachable to aid workers."
The International Committee of the Red Cross, Doctors Without Borders and other aid groups said the Libyan government has repeatedly denied requests for urgent access to deliver aid to the wounded and suffering in Misurata, Zawiya and Ajdabiya.
Simon Brooks, head of the ICRC's Libya mission, said the regime is blocking access in violation of the laws of armed conflict.
"We are told that there aren't these needs," he said. "We don't find that credible. And it's inconsistent with the facts. That access needs to happen, and it needs to happen today.
There were about 1,000 refugees living in the desert outside the largely deserted Ajdabiya, but Benghazi remained fairly secure, Westervelt said.
One woman who fled Ajdabiya with her family said that "soldiers cut electricity, the water, the lights." Houda Ali Abdullah told NPR that her family was one of the last to leave their neighborhood in the besieged city and was now trying to hitch a ride to Benghazi.
"We heard the artillery coming in. I don't know what it was, a rocket or a big bomb ... but I had to take my children and leave," she said.
Ali Abdullah also said one of her brothers was missing; another of her brothers was distraught over their missing sibling.
"Gadhafi is sending people here to kidnap, to disappear, people," he said. "My brother has been missing for 21 days. We have no idea where he is."
Road Map Or No Map
The African Union on Friday held talks that had been billed as bringing representatives of Gadhafi's regime and the rebels together for the first time. But it was unclear if any opposition representatives actually participated or whether they had any authority to do so.
At the talks, the Libyan delegation said it was ready to implement a "road map" envisioned by the African Union that would meet "the aspirations of the Libyan people in a peaceful and democratic manner."
But Mustafa Gheriani, a spokesman for the rebels, said from Benghazi that he had heard nothing of the meeting and that the opposition would not have sat down with Gadhafi's people.
"The position of the National Council has been clear from the beginning: no negotiations," he said.
To make peace, he said, all Gadhafi has to do is "stop bombing and leave the country."
With reporting from NPR's Eric Westervelt near Ajdabiya and Tom Bowman in Washington, D.C. Material from The Associated Press was used in this report.