World Jazz Picks From 'Global Village'
World Jazz Picks From 'Global Village'
Betto Arcos has been on Weekend All Things Considered before, spinning love songs on Valentine's Day, new music from Mexico and other favorites. Now Arcos joins host Guy Raz to share just a few of his favorite new jazz records, which he's been playing on his KPFK radio show in Los Angeles, Global Village.
World Jazz Picks From 'Global Village'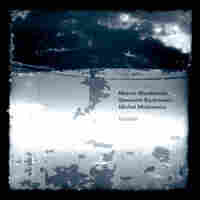 Night Train To You
from Faithful
by Marcin Wasilewski Trio
The Marcin Wasilewski Trio are the most well-known jazz band from Poland right now. These are musicians who are well-schooled in both jazz and classical music, and yet they give it their own unique perspective, which is distinctly European-sounding.
Tamazight
from Berber Taxi
by Malika Zarra
I'd never heard of Malika Zarra before I got her CD a few weeks ago, but it wasn't long before I was really taken with it. How different it sounds is exactly what attracted me to it — she's using Moroccan music with jazz.
Calle 7
from Lagrimas Mexicanas
by Bill Frisell, Vinicius Cantuaria
This album was inspired by Vinicius Cantunaria's upbringing in Brazil. He grew up listening to Mexican music and watching Mexican movies from the Golden Age. When he moved to New York, all the Latin American immigrants reminded him of his childhood. "Calle 7" is about 7th Avenue in Brooklyn, where Vinicius says you can hear all of these different accents from all over Latin America.
Entropy and Time
from Tirtha
by Vijay Iyer / Tirtha
When Vijay Iyer was invited to compose music for the anniversary of India's independence, he invited the guitarist Prasanna to play with him. (The composition heard here happens to be Prasanna's.) It's not a typical guitar sound — it draws from the Carnatic tradition of South India. Nitin Mitta plays the tabla, and is from the north — so south and north come together.