'Miral': For Schnabel, A Muse Run Amok In Israel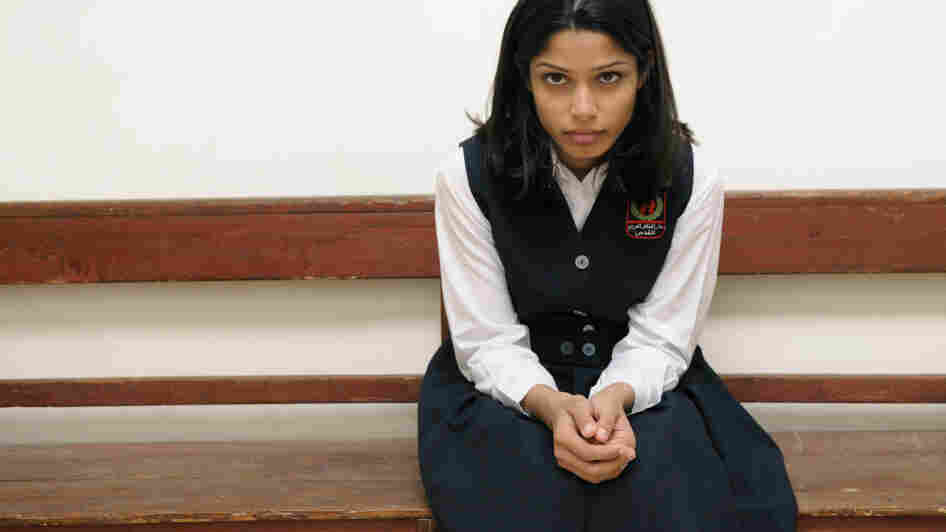 Miral
Director: Julian Schnabel
Genre: Drama
Running Time: 105 minutes
Rated PG-13 for violence and a sexual assault
With: Freida Pinto, Hiam Abbass, Alexander Siddig, Omar Metwally
Watch Clips
'We Are Here For Miral Shahin'
'We Are Here For Miral Shahin'
'Twenty-Two Percent'
'Twenty-Two Percent'
From 1996's Basquiat to 2007's The Diving Bell and the Butterfly, painter turned filmmaker Julian Schnabel has steadily advanced his skills. But his new Miral stumbles, both thematically and stylistically. The two things that undermine the director's balance? Peace and love.
Tracking three generations of Palestinian women, Miral is the Jewish director's clumsy bid for harmony in Israel and its occupied territories. The movie is also Schnabel's ode to his title character, a lightly fictionalized portrait of real-life paramour Rula Jebreal.
Based on her autobiographical novel, the Palestinian journalist's script focuses on a version of her teenage self. She's named Miral (after the writer's own daughter) and played by Slumdog Millionaire's Freida Pinto, who strongly resembles the younger Jebreal.
This personal approach would seem to suit Schnabel's methods. His three previous features have all been subjective accounts of artistes who exist outside mainstream society; the trend culminated in Butterfly's account of a paralyzed writer who lives entirely in his mind.
Yet Miral begins as though it's a historical epic, with a map of Palestine, sober violin music and a title card bearing an evocative date: Christmas 1947. A wealthy Palestinian Christian family is celebrating, joined by a few Western friends (distracting cameos by Vanessa Redgrave and Willem Dafoe). The center of attention is Hind (Hiam Abbass), whose name briefly fills the screen — as will, subsequently, the names of three other women.
The movie relapses periodically into period-drama mode, but the four women who rate their own chapters are not equal players. Hind is important because she collects some children whose parents vanish in the 1948 war, taking them to her family home. This becomes the orphanage where Miral will later live.
Jose Haro/The Weinstein Co.
The other two women are Nadia, Miral's mother, who passes through the story quickly on her way from traumatic childhood to early death, and Fatima, who meets Nadia in prison and encourages her marriage to her gentle, religious brother, Jamal (Alexander Siddig). After Nadia's death, Hind and Jamal strive to protect Miral, who endangers herself by falling in love at 17 with a Palestinian rebel (Omar Metwally).
Seemingly striving for balance, the director includes a sympathetic young Israeli (played by daughter Stella Schnabel) and depicts violence perpetrated by both sides. The actions of some of the film's Palestinians, which include bombing a cinema and killing one of their own for the sin of political moderation, are more overtly murderous — but the Israeli brutalities have more dramatic impact, because they're experienced directly by Miral. Emotionally if not actually, the movie's worst crime is an Israeli policewoman's flogging of the lovely young heroine.
Miral might work better if it were even more closely linked to its namesake. Photographed by the great Eric Gautier, the movie includes some virtuosic camera pirouettes and vivid point-of-view shots. But it's unclear whose viewpoint the camera is supposed to express, so these moves just seem like leftovers from Butterfly.
There's also a deftly edited sequence in the theater that's about to explode, where the actions of the audience members are interlocked with those in the movie they're watching: Roman Polanski's Repulsion. The cross-cutting is visually dynamic but narratively hollow; would a theater bombing be less horrendous if the film on-screen were less creepy?
Schnabel's movie, however well-intentioned, is undermined by such moments, which display more craft than sense. With its empty visual flourishes, and with music by such scenester pals as Laurie Anderson and Tom Waits, Miral plays like an art project that took a wrong turn somewhere between SoHo and Ramallah. It seems the Middle East is unstable ground not just for diplomats, but for aesthetes as well.