Madonna: Songs We Love
Hear Some Of The Singer's Greatest Hits, With Commentary From NPR Staffers
This feature originally ran Sept. 22, 2009.
Behind even the most jaded facade beats the heart of someone with powerful memories of Madonna. A pop icon with an undeniable gift for provocation and reinvention, the singer-writer-producer-actor has entered her 50s as a regal sort of musical stateswoman. But in the past 30 years, she's been virtually everything else: a superstar, a lightweight, an unapologetic sex object, a godzillionaire businesswoman, a movie star, an author (of sorts) and a dance-floor-filler of the highest order.
On Sept. 29, she looks back in a collection called Celebration, which attempts to sum up Madonna's remarkably successful career — spanning seven No. 1 albums and more than three dozen Top 10 singles — with 34 remastered hits and two new collaborations, one with DJ Paul Oakenfold and one with rapper Lil' Wayne. Celebration will be available in numerous forms (including a double-disc set, a single-disc distillation and a DVD of videos), but NPR Music has assembled some of its highlights here for the week leading up to its release.
Most of these songs will be instantly familiar to virtually anyone, so NPR Music has assembled a blue-ribbon panel of Madonna fans — culled from NPR's stable of music producers, pop-culture bloggers, arts reporters, newsmagazine hosts and justice correspondents — to offer memories, commentary and analysis of the compilation's highlights. Please feel free to join the discussion in the comments section below.
Linda Holmes, Monkey See Blogger
Song: Borderline
from Madonna [Original Version]
by Madonna
If you believe, as I do, that Madonna's Achilles' heel is self-serious bloviating, then you might logically favor the purest, the poppiest and the most unpretentious selections from her catalog. At the top of the list is "Borderline." The song is pure '80s dance-pop, with all the "ba-now-pow-pow" synthesizer noodling you might find on something far less engaging (like "Let's Hear It for the Boy," with which it shares a surprising chunk of DNA). But with its charmingly meaningless lyrics, delivered in the earliest and squeakiest incarnation of Madonna's voice, it still somehow sounds fantastic and danceable. Fantastic enough to make up for all the rolled-up baggy pants in the video? That's a close call.
Guy Raz, Weekend All Things Considered Host
Song: Into the Groove
from Crazy for You
by Madonna
I was too young to see Desperately Seeking Susan in 1985. My sisters went. I could only watch the video to this song on MTV; it was, of course, the signature tune in the film. There was Madonna smoking. There was Rosanna Arquette dressing like Madonna. At the time, I couldn't quite understand why the song was so appealing. More than 20 years on, I know it captured the essence of the 1980s: the tension and urgency and excess. Madonna, at her core, is a dancer, and Madonna personifies this song. "And you can dance," she exclaims in an echo at the beginning. "For inspiration. Come on... I'm waiting." I remember hearing "Hung Up" almost 20 years later and realizing that Madonna had just written the sequel to "Into the Groove," the best song of the 1980s.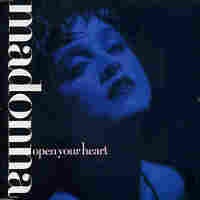 Lars Gotrich, NPR Music
Song: Open Your Heart
from True Blue
by Madonna
I was too young to experience Madonna entering the conical-bra phase of her career. In fact, I hardly call myself a child of the '80s. Cheap-sounding synths, obnoxiously big hair and emasculating pop music -- I hate to say this, but thank God for grunge. Madonna embodied every terrible '80s cliche (many of which she started), yet we still give her a pass for encouraging this cultural wasteland? Still, there's this part of me that acknowledges her Andy Warhol-esque brilliance, particularly the way she made songs like "Open Your Heart" an audio/visual dichotomy. It's a simple enough boy-meets-girl dance-pop love song, but she had the meaning reversed by its boy-meets-peep-show music video. The strap-on pylon princess took the dance-floor strut-beat and made it literal. It's a curious contradiction, though, as the song reveals Madonna the vulnerable ("Open your heart to me, baby / I hold the lock and you hold the key") and the video empowers Madonna the fun-loving dominatrix. As always, Madonna knows we want both. Fine, Madonna, you win.
Carrie Brownstein, Monitor Mix Blogger
Song: Papa Don't Preach
from True Blue
by Madonna
Madonna was my first-ever concert. I was in fifth grade, and her "Virgin Tour" opened in my hometown of Seattle. I went with my dad, who wouldn't let me wear lace gloves, as was the style of any true Madonna worshipper of the time. Nevertheless, the concert -- replete with four costume changes and more simulated romance than I'd ever witnessed -- was the highlight of my elementary-school life. When the song "Papa Don't Preach" was released a few years later, Madonna's spell over me had lessened only slightly. After all, she had taught me about materialism and virginity, and given me a pseudo-Spanish lesson via her song "La Isla Bonita"; why shouldn't I now turn to Madonna for all I needed to know about pregnancy and abortion? At my middle-school sleep-overs, all the girls would stay up late, dancing and singing, "I've made up my mind, I'm keeping my baby!" Fortunately for us, the only babies we were holding onto were our young selves.
Frannie Kelley, NPR Music
Song: Like a Prayer
from Like a Prayer
by Madonna
I grew up Catholic, so you'd better believe the video for "Like a Prayer" was not allowed in my house. Therefore, whenever my parents left, I would sneak in some MTV time. (The trick was to remember what channel it was on when they left and turn it back when I heard the car in the garage; I was like 8 at this point.) It wasn't just the burning crosses or the making out in church or the stigmata -- it was when the choir came in. Even then, I knew that was Madonna's smartest move on this track. She's singing right at her breaking point here; she can't even hit most of the notes in the verses. Her voice is plaintive and reedy and her diction oddly formal in places. God love her, that's Madonna trying to bring it. So when the choir comes in, it's a huge relief. The gospel opens up the sound, makes it so much meatier, and the song finally hits its groove. But the choir doesn't walk away with it: You can still hear Madonna being Madonna -- and see her bouncing around inappropriately up on the altar. "Like a Prayer" is a karaoke standby because the lead doesn't actually have to carry the song. You just have to keep up.
Stephen Thompson, NPR Music
Song: Express Yourself
from Like a Prayer
by Madonna
An endlessly catchy anthem highlighting Madonna's boundless capacity to impart mixed messages, "Express Yourself" drove me bonkers when it came out: "You don't need diamond rings or 18-karat gold," eh, Material Girl? Madonna is far better suited to encouraging self-confidence than lecturing us about materialism, but it's hard to argue with the "Express Yourself" video's compelling argument in favor of lingerie, black cats, monocles, chains, oiled dudes with headlamps, grinding gears, saxophones, pillow fights and bowls of milk poured alluringly over torsos. You have to admit, folks: She's got a point there.
Robin Hilton, All Songs Considered Producer
I spent my high-school years in the 1980s largely baffled by Madonna's popularity. Her music, to my young ears, was a painfully manufactured dose of everything I found horrid about the decade's ridiculous excesses. It was a wildly overproduced mix of shrill vocals, oppressive synth beats and empty pop sentiment. My opinion of Madonna changed suddenly and dramatically in the summer of 1990, when I heard "Vogue" on the radio. I was in my car, driving to my weekend board shift as a part-time newscaster for a local AM station, when the song began thumping from my speakers. Imagine how alien it felt to reach for the volume knob and turn up something by an artist I had loved to hate. Sure, it was still synth-pop, but it was curious, not corny. Madonna's voice was more mature. It was sexy, not screechy. The rhythms were more sophisticated, the synths more finessed. The Material Girl had grown up. Later, when I saw Madonna's incredible video for the song, I finally rolled over and gave in to the dark and glossy world she'd created. I've stuck with her through many incarnations in the years that followed, marveling at her ability to reinvent herself and wondering how long she can keep it going.
Keith Jenkins, NPR Multimedia Senior Producer
Song: Take a Bow
from Bedtime Stories
by Madonna
As a magazine photographer who came of age in the 1990s, I owe a debt of gratitude to Madonna. If Michael Jackson introduced us to the concept of music video as short film, then Madonna raised it to high visual art. Just as her music evolved into lush, ever-changing canvases for her various incarnations, the "pictures" of her metamorphoses were often re-created in her videos. They never left much to the imagination; rather, they became your imagination, with Madonna's vision for her songs drilling into your brain, unlocking your waking eye. Director Michael Haussman's 1994 "Take a Bow" does that for me; its rich, sensually framed sepia tones only partially obscure the song's meditations on love, sacrifice and death. Because of its Spanish, Catholic and bullfighting themes, many read it as Madonna's attempt to lock up the role of Eva Peron in the film version of Evita. I, however, think Carmen, as Madonna gives us a four-and-a-half-minute opera channeling Bizet's classic, at least in my eyes. "Take a Bow" is a slow, smoldering visual feast, and its music washes over you and gets your blood boiling. You may not walk on water after hearing it, but you may want to get your focus back by walking on broken glass.
Ari Shapiro, Reporter
Song: Ray of Light
from Ray of Light
by Madonna
In the summer of 2000, just after college, I moved to London and found a part-time job at a restaurant called Mildred's. Mildred's was on a side-street in Soho, right around the corner from the gay bars and the theater where Mamma Mia was live on stage. It was a sliver of a place, with such a tenuous hold on the electrical grid that if we used more than four appliances at the same time, the power would blow. When that happened, we'd shoo away the customers, close up shop and sit in the candlelit restaurant with bottles from the wine cellar. But when the power was on, "Ray of Light" was a constant on the restaurant's soundtrack. It made the ciabatta with marmite and the elderflower cordials seem ineffably fabulous. With "Ray of Light" on the stereo, London's 3:30 p.m. winter sunsets felt like the lights dimming for the start of a spectacular dance party.
Neda Ulaby, Reporter
Song: Beautiful Stranger
from Austin Powers: The Spy Who Shagged Me
by Original Soundtrack
The year was 1999. I was in Los Angeles doing research at the UCLA Film Archives for my never-to-be-finished dissertation. I also spent a fair amount of time in West Hollywood bars with my friend Jon. "Madonna's new song is really good," he informed me one day. I think I rolled my eyes. I distrusted his objectivity in matters Madonna. This single was for a freaking played-out Austin Powers movie. Madonna was tired. Her heyday was over. How good could it possibly be? From those first few swirly notes, she had me all over again. Sure, she or producer William Orbit probably stole some of those jolly, trancey, upbeat riffs from one of my all-time favorite artists, Arthur Lee and Love. (Listen to "She Comes in Colors" and tell me what you think.) Her baby voice sounded different -- burnished, ductile, knowing. The song is about a fascinating enigma who forces you to swallow your pride and give it up on the dance floor. It functions as a pop rebuke to those of us who had dismissed her from our consciousnesses. The beautiful stranger had returned. Yeah, baby.
Amy Schriefer, NPR Music
Song: Music
from Music [US Limited Edition]
by Madonna
I once had a coworker of a certain generation tell me that she was transformed by the revolutionary music of the 1960s, and that the "vapid, selfish" pop of Madonna would never compare. I didn't get it. To me and many of my friends, Madonna's music symbolizes a transformative revolution. She is the soundtrack to the nights when the club is so dark and the dancing so hard that all notions of identity are shattered (just try to determine who is male, female, gay, straight, black, white and so on), and the impetus for the idea that you can reconcile Saturday-night and Sunday-morning rituals. For the still skeptical, I offer her 2005 performance of "Music" at Live 8 in London: Who says a Rust Belt blonde with shirtless backup dancers can't inspire you with just the notion that "Music makes the people come together"?
Revolver
from Celebration [Deluxe Edition]
by Madonna
A collaboration with rapper Lil' Wayne, "Revolver" is one of the two new tracks on Celebration.
Celebration
from Celebration [Deluxe Edition]
by Madonna
A collaboration with DJ Paul Oakenfold, "Celebration" is one of the two new tracks on Celebration.