Robin Williams Brings Baghdad's 'Tiger' To Broadway
Robin Williams Brings Baghdad's 'Tiger' To Broadway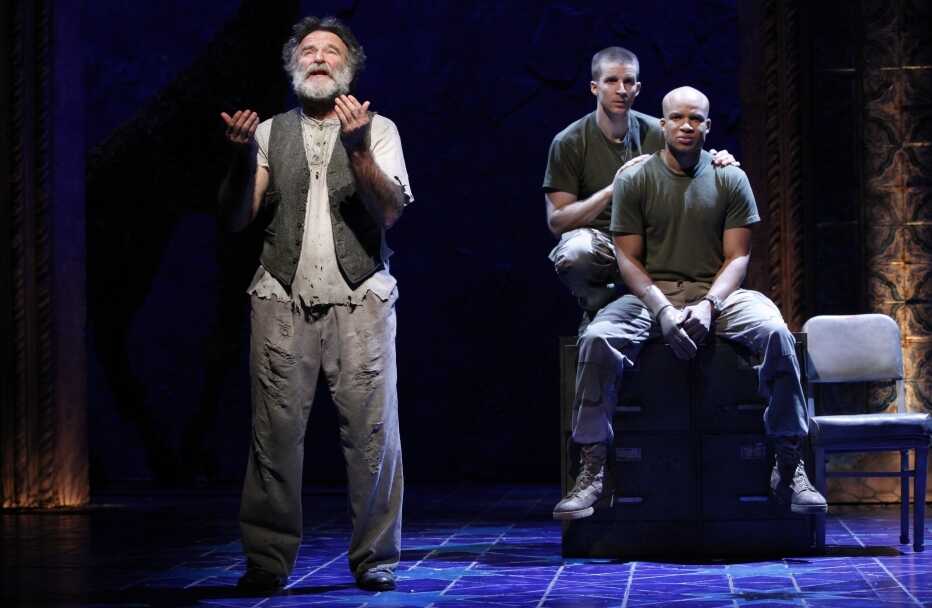 Rajiv Joseph, 36, may just be one of the busiest playwrights in the country. This season, his play Gruesome Playground Injuries was produced off-Broadway; a new work, The North Pool, is currently running in Palo Alto, Calif.; and another play, The Medusa Body, makes its debut in Houston this May. He's a staff writer for the cable series Nurse Jackie. And, if that weren't enough, Joseph is making his Broadway debut with Bengal Tiger at the Baghdad Zoo, starring Robin Williams.
Carol Rosegg/Sam Rudy Media Relations
The play, which is at the Richard Rodgers Theatre, takes place in Baghdad, shortly after "Shock and Awe." Director Moises Kaufman says the playwright may have come up with a theatrical equivalent, as he attempts to describe Bengal Tiger: "There is a tiger that talks, there is a ghost of the son of Saddam Hussein, there is the ghost of a young girl, there are two American soldiers, one of whom dies in the middle of the play and becomes a ghost." He concludes, "It's part ghost story, part war play, part satire, part theater of the absurd."
Watch Scenes
'When a Tiger Gets Hungry'
'When a Tiger Gets Hungry'
'A Tiger's Existential Quandary'
'A Tiger's Existential Quandary'
'Without Uday'
'Without Uday'
And all part of Rajiv Joseph's prodigious imagination. The play, which was produced by the Center Theatre Group in Los Angeles last season, was a Pulitzer Prize finalist. It started as a 10-minute sketch Joseph wrote in grad school, after he read a newspaper article. "It was just after the fall of Baghdad, when we were occupying Baghdad and some of the U.S. bombs had blown open part of the zoo," he says. "Animals had escaped, people were looting the zoo and there were these soldiers that were stationed there."
Joseph liked the short play so much, he expanded it. But the beginning has stayed the same for the past eight years. The Tiger — played by Robin Williams and dressed in simple, but grungy clothing — speaks directly to the audience about his plight, while two American soldiers stand guard and look over a golden pistol, plundered from Uday Hussein's palace. And — spoiler alert — within 10 minutes the hungry tiger takes a bite out of one of the soldiers, gets shot by that golden gun and dies.
"Yeah, I'm kind of like karmic relief," jokes Williams backstage after a matinee. "The first ghost and then, there's others who join me. And then, like I say at some point, 'it's lousy with ghosts.' "
The Tiger embarks on a spiritual journey, restlessly wandering the streets of Baghdad and haunting the young soldier who has killed him. He finds a ruined topiary garden, which he thinks might be heaven, and ponders:
All my life I've been plagued, as most tigers are, by this existential quandary: Why am I here? And now that I'm dead, I'm a ghost, it's why aren't I gone?
It's not just the Tiger who feels trapped. Whether in life or the afterlife, all Bengal Tiger's characters, American and Iraqi, find themselves caged in by circumstance. "Being able to experience, through this play a character such as the Tiger, or the soldiers, or this translator," says Joseph, "of people far from where they wanna be, out of their natural habitat, forced into situations that they need to fight to get out of. And, the war — any war — seems to put people and animals in those types of situations."
More With Rajiv Joseph
Uday Hussein's Golden Gun
Kaufman says the play poses some pretty basic questions. "At our core, what are we?" he asks. "Are we primal beings that will continue killing one another? Or are we really beings in search of a spiritual goal? And I think that dichotomy between those two selves is what plays itself out in this play."
And Williams thinks this ghost play, set in a specific time in a specific place, gives Broadway audiences a lot to chew on: "One of the most powerful lines in the play is, "You Americans, you think when something dies, it goes away." You know, the idea of that palpable feeling of they're still there is very interesting."