An Epic Spin-Off: Handel's 'Alcina'
Hear An Introduction To Alcina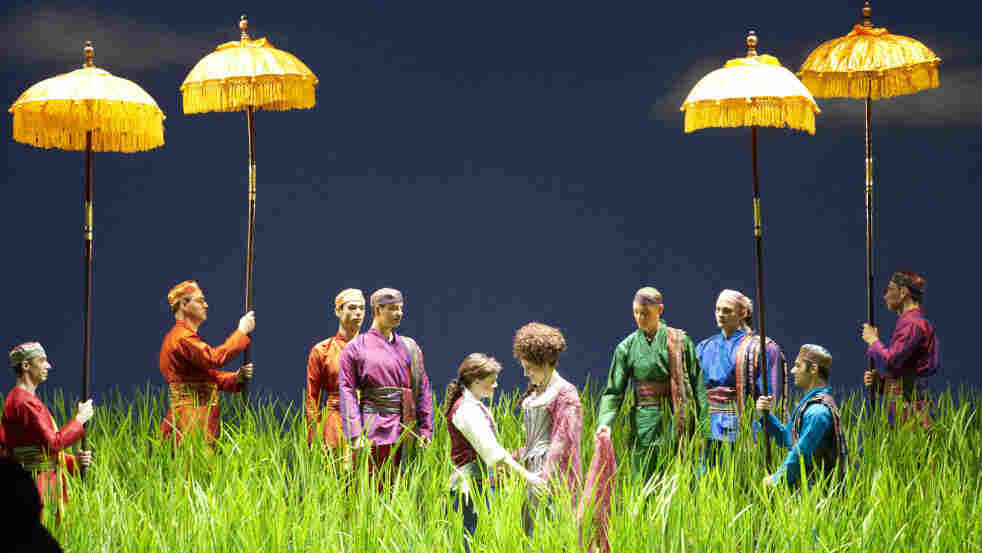 The Hit Single
Midway through Act Three, when Alcina (soprano Anja Harteros) realizes that Ruggiero intends to leave her, she reacts with the deeply expressive aria "Mi restano le lagrime" — "Only my tears remain."
The B Side
After reuniting with Bradamante, Ruggiero (mezzo-soprano Vesselina Kasarova) vows to abandon Alcina no matter what spells she might throw at him, and vents his defiance in the aria "Sta nell'ircana pietrosa tana" — "In her rocky lair."
In the entertainment world, a hit can be registered in any number of ways. There are chart-topping songs, television ratings leaders and top-grossing movies. There are also times when a hit song, TV series or film outgrows those usual measures of success and becomes something even bigger: a franchise.
For example, there's the TV show Law & Order. It ended a 20-year run just last year, but by that time it had become more than just a weekly drama series. There have been several spin-off series, including Law & Order: Special Victims Unit and Law & Order: Criminal Intent, which are still going strong. There was also a Law & Order TV movie, and there are Law & Order video games. The series has morphed into a franchise.
There are franchises at the movies as well—Star Wars and Indiana Jones come to mind. There are some that combine books and films, such as Harry Potter and Twilight. And there has also been at least one, great operatic franchise — rooted in a bestseller that's five centuries old.
Early in the 1500s, the Italian writer Ludovico Ariosto released an epic poem called Orlando Furioso, telling the story of a crusading knight who goes mad over a lost love, then travels the world trying to win her back. A century or so later, when opera was born, Ariosto's passionate characters and exotic settings quickly attracted any number of composers — creating what could be called an "Orlando franchise" in Europe's theaters.
Eventually, so many Orlando operas were written that scholars have never managed to catalogue them all. Vivaldi wrote two of them. Lully wrote one, and so did Haydn. And George Frideric Handel created an Orlando franchise all on his own.
George Frideric Handel realized that Orlando Furioso has plenty of characters — not just Orlando — that are worthy of their own operas. So, while Handel composed three operas based on Ariosto's epic, only one is called Orlando. Another is called Ariodante, after a different lovesick knight. And there's also the opera featured here this week. It's named for one of the epic's most colorful characters, the passionate sorceress Alcina.
On World of Opera, host Lisa Simeone presents Handel's Alcina in a brilliant new production from the Vienna State Opera. Soprano Anja Harteros sings the title role, with mezzo-soprano Vesselina Kasarova as Ruggiero, a warrior who falls under Alcina's deadly spell, and mezzo-soprano Kristina Hammarström as Bradamante, a former-lover who braves Alcina's magic to win Ruggiero back.
See the previous edition of World of Opera or the full archive.
The Story Of 'Alcina'
Who's Who
WHO'S WHO
Anja Harteros ..................... Alcina
Vesselina Kasarova .......... Ruggiero
Kristina Hammarström ... Bradamante
Veronica Cangemi ............ Morgana
Benjamin Bruns ................ Oronte
Adam Plachetka ............... Melisso
Shintaro Nakajima ............. Oberto
All three acts of Handel's opera are set on Alcina's enchanted island, where her favorite pastime is seducing vulnerable men — taking advantage of her great beauty, and adding a magic spell or two. But when it comes to love, Alcina has a short attention span. When her current lover starts to bore her, she simply turns him into something else and finds somebody new. By the time the opera starts, she's got a whole collection of former boyfriends who are now trees, boulders and wild animals.
In ACT ONE, we meet Alcina in the company of her latest love interest, Ruggiero, who is completely under her spell. Ruggiero's fiancée Bradamante is on her way, hoping to win him back, but it won't be easy. Simply to gain access to the island, Bradamante must disguise herself as her own brother, Ricciardo.
When Bradamante arrives, accompanied by Ruggiero's former tutor Melisso, she first encounters Morgana, Alcina's sister. When Morgana sees Bradamante — disguised as Ricciardo — she's immediately smitten. This annoys Oronte, Alcina's general, who wants Morgana himself. So he spreads a rumor that Alcina has fallen for this new "guy," Ricciardo, and Ruggiero falls for it.
Meanwhile, Alcina also has to deal with Oberto, a young boy searching for his father, whom Alcina seduced and then turned into a lion.
Amidst the complications, Bradamante goes to Ruggiero, drops her disguise, and reveals herself as his fiancée, but he sees her as Ricciardo — and as a rival for Alcina's love. Then Bradamante runs into Morgana again. Still thinking Bradamante is a guy — and a good-looking guy, at that — Morgana openly declares her love.
As ACT TWO begins, Ruggiero remains devoted to Alcina, despite Bradamante's efforts. So Melisso comes up with a mystical trick of his own, presenting Ruggiero with a magic ring to ward off Alcina's spells. Ruggiero then recognizes Bradamante, but refuses to believe his own eyes, thinking it must be another of Alcina's enchantments.
As for Alcina, she still thinks that Bradamante is a man called Ricciardo. And, thanks to the rumors Oronte has been spreading, Ruggiero is becoming more and more jealous. To ease Ruggiero's mind, Alcina decides to turn "Ricciardo" into a wild animal. Morgana objects and Ruggiero's continued loyalty persuades Alcina to cease and desist.
Eventually, Melisso's magic ring finally has its desired effect, and Ruggiero recognizes Bradamante. Together again, they decide to leave the island. To stop them, Alcina calls on demons and spirits, but her powers are beginning to fail her.
In ACT THREE, when Ruggiero and Alcina meet by accident, Ruggiero admits that he plans to abandon her — and that he's back in love with Bradamante. Alcina both pleads with him and threatens him, but Ruggiero is determined.
Melisso then reports that Alcina has surrounded the island with warriors and wild beasts, and leaving might be a problem. Ruggiero is defiant and wants to fight it out. But Bradamante insists that before anyone can live happily ever after, all of Alcina's spells must be broken.
The key to Alcina's magic is a mysterious urn — a receptacle for all her powers. So, with Bradamante and Oronte urging him on, and Alcina objecting ineffectively, Ruggiero breaks the urn — and the island's enchantments are also broken. All of Alcina's ex-lovers are released from their spells, and everyone is free as the opera ends.