Japan's Public Broadcaster Responds, Reports Crisis
Of all the Japanese institutions that respond to emergencies, few are so crucial in saving lives as the broadcasters who warn ordinary citizens of the impending calamity.
Much of that task falls to NHK, the nation's public broadcaster.
Every night, NHK journalists rehearse emergency broadcasts so that they respond to disasters instinctively. It's a key part of NHK's journalistic mission, but what happened at 2:46 p.m. on March 11 was no drill.
Within seconds of a warning from meteorological authorities, NHK interrupted a live broadcast from Japan's Parliament.
"This is an emergency earthquake announcement," an announcer read, following an alarm sound to indicate an earthquake warning.
Nervous lawmakers looked up as the quake began and chandeliers in the room began swaying and clinking.
A minute and a half after that initial warning, NHK's News Department Director Noriyuki Oogi pressed a button sending NHK into emergency broadcast mode and marshaling all of the organization's resources.
"When the quake hit, each person knew just what to do," Oogi recalls in an interview amid the bustle of NHK's newsroom. "So in that sense, all the drills paid off. But what we didn't expect was that emotionally, this was the most devastating thing any of us had experienced, even in Tokyo. And to be watching the live footage from the helicopter of the tsunami washing over the villages and farms was something none of us had experienced before."
Keeping Calm

An NHK announcer described the scene as cameras showed Tokyo shaking violently for five minutes. In the background, listeners could hear studio equipment rattling around, as directors shouted out orders to switch back and forth between NHK's hundreds of remote cameras in Tokyo and Japan's northeast coast.
Minutes later, another alarm sounded and tsunami alerts flashed across NHK's screens, predicting how big the tsunami would be and what time it would reach different localities. Residents in many areas had less than 15 minutes to flee.
Oogi says that no matter how disturbing the images being broadcast may be, NHK policy specifies that its announcers and reporters must keep their calm.
"Our main purpose is to deliver the information accurately," he says. "And we believe the best way to do that is in a calm manner because if our anchor is shouting and saying 'get out now,' that would be fearmongering."
Within minutes of the quake, a young NHK cameraman took off from Sendai in a helicopter, not long before the tsunami flooded the airport. His images captured the tsunami's cataclysmic power and were seen around the world.
"A black wave is now engulfing the houses and the farmland," NHK senior announcer Shinichi Taketa said, narrating the scenes of devastation.
Taketa anchors NHK's main evening newscast, and he's well known to millions of Japanese. As he prepares for his show, Taketa says he expected to see the tsunami rushing inland.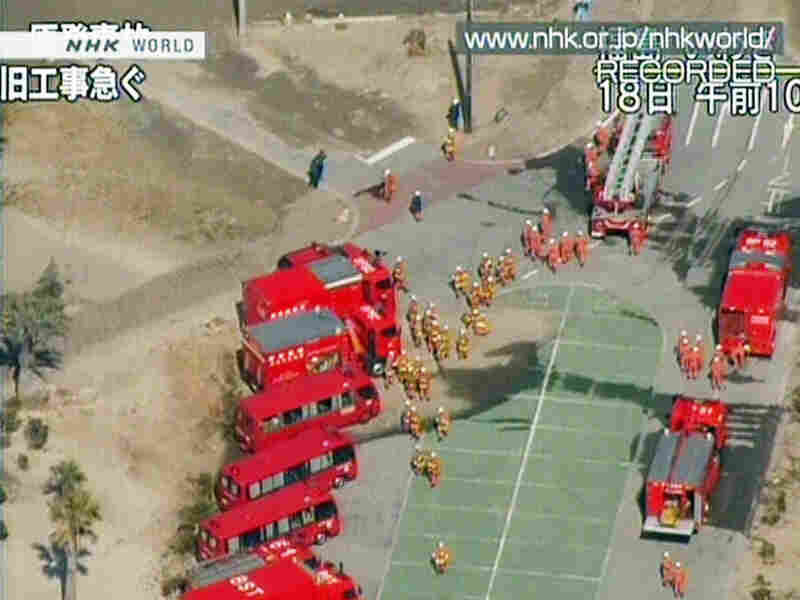 "What I didn't expect was for the tsunami to completely engulf the fields, and then the houses, and then you can see it coming up to a road, and there was a car and people just standing there," he says. "To see this before my eyes was incredibly difficult."
Taketa says he's covered earthquakes and tsunamis before but nothing like this.
"When I was watching that footage, I was almost at a loss for words," he says. "All I could do then was to describe what I was seeing. I felt like I couldn't even tell people what they should do, or I didn't know what information to give them. Maybe I sounded calm, but emotionally, I was not very calm."
Vested Interests?
Takesato Watanabe, a media scholar at Doshisha University in Kyoto, praises both NHK and Japan's commercial media for their job in reporting on the earthquake and tsunami.
"But about the nuke accident," he comments, "I think NHK do know the facts, what's happening, but they are not reporting well, and private broadcasters, they don't have any staff who understand the nuke accidents scientifically."
Watanabe argues that Japanese media have not been critical enough because they themselves are part of the network of vested interests that includes power companies and government regulators.
He says that for decades, NHK and other Japanese media have conveyed the nuclear lobby's message that nuclear power is necessary for Japan and nuclear accidents are unlikely. He points out that NHK's funding must be approved by Japan's Diet, or Parliament.
"To get NHK's budget passed in the Diet," he notes, NHK "must follow the ideas of the ruling party, or economic circles' ideas, represented by the power stations."
Oogi denies that his network is obstructed in reporting the politics of the nuclear accident or that it is selective about releasing information. But he says coverage could still be improved.
"This quake has been one beyond Japan's imagination," he says, "and by the same token, there are some things which were beyond NHK's imagination, including the nuclear accident. NHK must rethink its use of resources and preparation in order to broadcast information that will help save more lives and protect more property."