'Montpensier': A Bauble With A Mind Of Her Own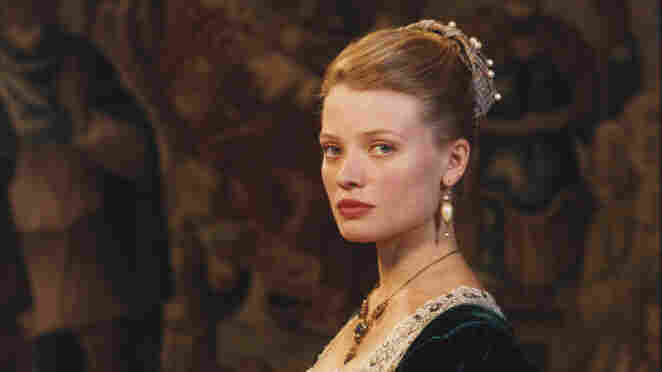 The Princess Of Montpensier
Director: Bertrand Tavernier
Genre: Historical romance
Running Time: 139 minutes
Not rated
With: Melanie Thierry, Lambert Wilson, Gaspard Ulliel, Raphael Personnaz

In French with English subtitles

Watch Clips
'A Moment Alone'
'A Moment Alone'
'You'll Marry!'
'You'll Marry!'
'Sword Fight'
'Sword Fight'
Bodices are tight and morals are loose in The Princess of Montpensier, a lusty romance that begins on one battlefield and continues on another. But though it's set against the backdrop of the French wars of religion — that 16th-century smackdown between Catholics and Protestants, whose representatives keep popping up at intervals to batter one another to bloody pulp — Bertrand Tavernier's 25th feature cares little for war and even less for religion. The only battle on its mind is the one between the sexes.
To that end, Tavernier and co-screenwriter Jean Cosmos (gleefully adapting Madame de La Fayette's 1662 novella) immerse themselves in a simmering love quadrangle bristling with swords, corsets, male entitlement and female obedience. At its center is pretty, pouty Marie (Melanie Thierry), a teenage heiress whose blooming body and wads of cash are catnip to a trio of variously flawed aristocrats.
There's the rakish Duc d'Anjou (Raphael Personnaz), whose likes include chasing skirts and giving orders. (Dislikes: commitment and not getting his own way.) Then there's Henri, Duc de Guise (Gaspard Ulliel), an arrogant stallion who has already won Marie's heart, if not her eminently pinchable thighs.
Poor Marie, however, doesn't get a vote. Married off to Prince Philippe de Montpensier (Gregoire Leprince-Ringuet), a shy 20-year-old who keeps running off to battle whenever his new wife needs to talk, Marie struggles to replace tingling remembrances of her true love with submission to marital duty. Helping her learn her place and her letters is the more mature Comte de Chabannes (Lambert Wilson), Philippe's former tutor and a recent deserter from the Protestant army. Sickened by the excesses of both religions, Chabannes has chosen neutrality, which leaves him in need of diversion. You can see where this is going.
Long on temptation and larded with violence, Princess gazes on its reckless heroine with avuncular fondness. Like any sheltered, willful teenager, Marie fights for agency even when she knows her choices are dangerous. But her fate is just the frame for Tavernier's sly re-creation of a time when men were men and women mere chattels, prizes to be won and then subdued or ignored. "I will if you order me to," responds Marie tartly when her husband asks if she will ever love him — and as Anjou prepares to snatch Poland from its weak ruler, his plan to snag Marie from her husband is conducted with equal openness and droit du seigneur.
Paralleling the campaign for Marie's affection with the fight for her country's religious soul, Princess seems outwardly like more-conventional Tavernier. Yet despite the Merchant-Ivory setting and lush cinematography (courtesy of Bruno de Keyzer), the film digs deep into a society clogged with a chauvinism that's both sexual and national. Using de Chabannes as the film's conscience and moral fulcrum, Tavernier — just as he did in his 1996 film Captain Conan — exposes the shame of a meaningless war and the psychological damage borne by those fighting it.
But that's all subtext. In plain sight is a society where privacy is rare, nudity is commonplace and a wedding night is a family affair. As Anjou and a gaggle of male friends prepare for bed after a party, their boisterous communal disrobing has an unselfconscious naturalness that's tremendously appealing. Somewhere, Calvin Klein is probably taking notes.