Redford's 'Conspirator' Begins As Lincoln's Life Ends
Redford's 'Conspirator' Begins As Lincoln's Life Ends
Alberto E. Rodriguez/Getty Images
On April 10, Robert Redford visited Washington, D.C.'s famous Ford's Theater to premier his latest film. It's called The Conspirator, and it opens in 1865 with Confederate sympathizer John Wilkes Booth shooting President Abraham Lincoln, then leaping onto the Ford's Theater stage and delivering the dramatic line, "Sic semper tyrannis — the South is avenged," Latin for, "Thus always to tyrants."
The end of Lincoln's life drives the rest of Redford's film, which follows the trial of Mary Surratt, the woman accused of being part of the assassination plot.
"Mary Surratt was a woman who ran a boarding house where the conspirators met, including her son," Redford tells Morning Edition's Steve Inskeep. "There was no evidence that she conspired with them to kill the president, but there was no evidence she didn't."
In the film, Surratt is taken before a military tribunal instead of a civilian court. Her lawyer argues that because Surratt is a civilian, a military trial would be unconstitutional, but he is ultimately overruled.
Read A Review:
"At the heart of this [is] the guilt or innocence of a person who was rushed to judgment by a military tribunal of union officers, over a woman who was a Southern woman," Redford says. "And when you have the story of the defense lawyer — a person who was a Union soldier — having to defend a woman he didn't think was innocent ... to me that tension and the arc of those two characters as they battle it out was where the real story was."
The Conspirator, which Redford directed, is certainly not lacking in tension — especially when it comes to the interactions between Surratt and her attorney. Throughout the entire film, you're never sure which side Surratt is on because she never gives herself away.
"It made the story more interesting to me, what she would not give away," Redford says. "[It] leaves it up to you."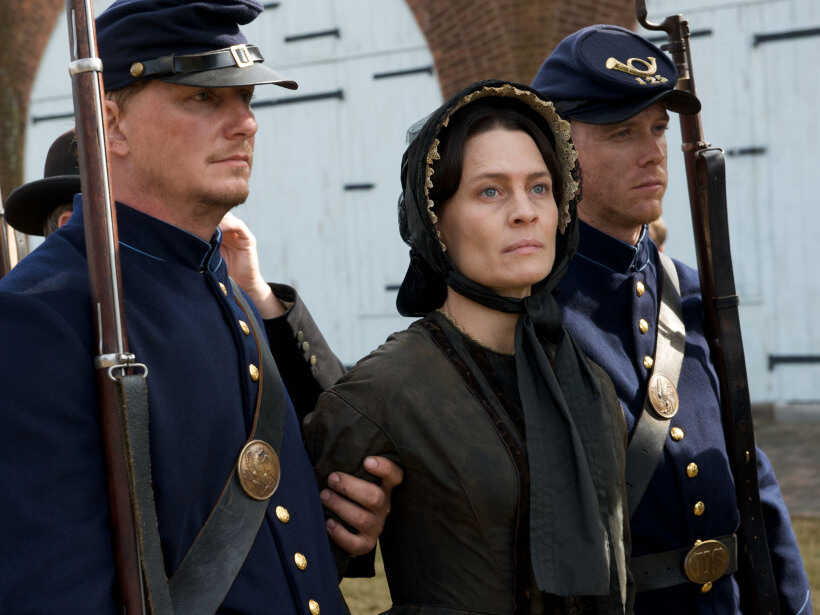 The 'Very Clever' Mary Surratt
Audiences aren't the only ones left wondering about Surratt's true alliance. Historians have spent a lot of time thinking about the woman who was, in fact, on the Southern side during the Civil War and did know all of the conspirators.
James L. Swanson, author of two books about the assassination and its aftermath, says Surratt had taken part in an earlier plot to kidnap the president, so she certainly had something to hide.
"If you read the transcripts of Mary Surratt's interrogation by military authorities after her arrest, you can see she knows more," Swanson says. "It comes off the page. She's very clever; she's deceitful."
Swanson says Surratt had even met privately with John Wilkes Booth.
"When Booth went to Mary Surratt's boarding house on the afternoon of April 14, he had already decided he would attempt to kill Lincoln that night," Swanson says. "We have no idea what they discussed."
Swanson thinks they likely discussed the assassination plot, but that sliver of ambiguity has always made people wonder.
Watch Clips From 'The Conspirator':
'Abandoning The Constitution Is Not The Answer'
Showing Both Sides Of American History
Surratt was tried and convicted by military tribunal after the Civil War, at a time of great national distress. She was hanged despite protests against executing a woman. As such, it's hard not to see the film as a commentary on present-day military trials in the war on terror, but Redford says that wasn't his intention. He simply wanted to show both sides of the equation.
Take, for example, a scene in the film between then-Secretary of War Edwin Stanton and the lawyer Reverdy Johnson. In the film, Stanton wants to try Surratt by military tribunal because, he argues, "This trial will do more to keep the peace than any paper treaty could."
Stanton says it would deter the South from ever again conspiring against the North, and deter the North from seeking revenge. Meanwhile, Johnson argues for the rule of law.
"Had Stanton only been seen as the villain who did some horrible things — including seeing a woman hung by a military trial that should have been a civic trial — that would have been too much like a mustache-twirling villain from the old days," Redford says. "I feel the complexity of this country is best shown if you have two different points of view, arguing it out."
Redford says that complexity and perspective is what ultimately drives his filmmaking, especially when it comes to American stories.
"I remember the slogan when I was a kid ... 'It doesn't matter whether you win or lose, it's how you play the game that matters,' " he says. "Well, I found that was a lie. There's another side to this country that sits underneath the story we're being told. So I guess that led me to want to make these films, and I probably always will."
Related NPR Stories