Prosecution A Fate Better Than Death For Tyrants?
For deposed dictators, the old promise of a comfortable exile spent in a foreign capital or some tropical country is no longer a likely end.
Instead, many face the threat of prosecution for perpetrating violence against their own people.
Not everyone is convinced that's an entirely good thing. The prospect of an international trial, some argue, can convince a tyrant he should hold on to power longer, leading to more violence in forcing his ouster.
"If they think they're going to lose everything, they won't leave," says Danielle Pletka, vice president for foreign and defense policy studies at the American Enterprise Institute, a conservative think tank. "It will be holding on to power or death."
Such arguments are raised nearly every time an autocrat nears his end. Many Egyptians celebrated Tuesday with the announcement that ousted President Hosni Mubarak and his sons would be detained and questioned about corruption and the alleged order to shoot protesters.
Trying Tyrants
Ongoing: Former Argentine dictators Jorge Videla and Reynaldo Bignone are on trial in that country for alleged crimes including stealing babies in the 1970s and 1980s.
April 7: Three Kenyan leaders appeared before the International Criminal Court to face charges related to post-election violence that left 1,200 people dead in 2007.
March 11: Arguments ended in the three-year trial of former Liberian President Charles Taylor at a U.N.-sponsored court in Sierra Leone. A verdict in the war crimes case may take months.
2010: A U.N.-backed Cambodian war crimes tribunal sentenced Kaing Guek Eav, a commander in the Khmer Rouge regime, to 35 years for war crimes.
2009: The ICC indicted its first sitting head of state, Sudanese President Omar al-Bashir, for war crimes. The ICC also opened its first trial, of Congolese warlord Thomas Lubanga, who was accused of using child soldiers.
2006: The genocide trial of former Serbian leader Slobodan Milosevic, held by the U.N.'s International Criminal Tribunal for the former Yugoslavia, ended after four years with his death in a prison cell.
2003: The U.N.-sponsored Special Court for Sierra Leone began trials of those accused of atrocities during that country's civil war.
But in other African countries, the prospect of prosecution has been received differently. Some observers believe that Libyan leader Moammar Gadhafi and Ivory Coast's Laurent Gbagbo might have been more willing to surrender power if offered a comfortable exile, rather than the promise of prosecution.
The fact, however, that deposed leaders have surrendered and gone on to face trial before venues such as the International Criminal Court in The Hague disproves the notion that fear of criminal charges means they will fight to the last soldier, says John Norris of the Center for American Progress, a progressive think tank.
"It has rarely played out that way," says Norris, who directs the center's peace-building initiative.
'Era Of Remembrance'
War criminals have faced the prospect of prosecution at least since the Nuremberg trials that followed World War II. But the threat for sovereigns has stepped up in recent years.
The International Criminal Court was established by a treaty that went into effect in 2002. And the idea of bringing deposed leaders to justice is in keeping with the current "era of remembrance," as University of Virginia historian Alon Confino describes it.
Stable countries sometimes apologize for historic crimes such as slavery and genocide against indigenous peoples, while nations emerging from periods of violence now routinely establish truth and reconciliation commissions to create official records of human-rights abuses perpetrated by former governments.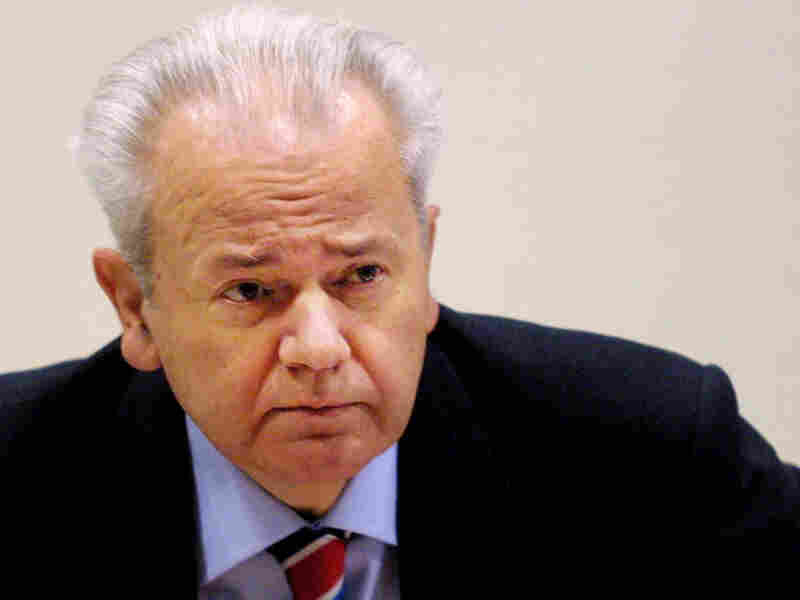 Trials of war criminals can be "one of several tools" the international community or an individual state can use, says Richard Dicker, director of the Human Rights Watch international justice program, including truth commissions and the release of secret documents.
But trials, Dicker says, not only hold individuals to account but help establish that atrocities such as mass slaughter of civilians or rape are held unacceptable.
"Trials and criminal justice are an important statement of values," he says. "Bringing those people to trial is a way of honoring the victims of these crimes, as well as inserting the rule of law in what are undoubtedly some of the worst circumstances."
Justice Transcending Boundaries
Dicker says that one aspect of a society re-establishing itself after a period of upheaval is the attempt to weed out the worst actors, whether it's keeping a former president from playing a disruptive role during the transition or removing individuals from the military or security forces who are associated with serious abuses.
Comfortable Exile
Not every deposed dictator is brought to trial. Many flee to comfortable exiles, often being accused of raiding the nation's treasury as a final act.
Former President Zine El Abidine Ben Ali, who fled Tunisia in January, has been living in a palace in Saudi Arabia — following the trail of ousted leaders Nawaz Sharif of Pakistan and Idi Amin of Uganda.
Haitian President Jean-Claude "Baby Doc" Duvalier fled for exile along the French Riviera in 1986. Upon his return to Haiti in January, he was quickly brought up on corruption charges.
And when Ferdinand Marcos died in exile in Hawaii, after being ousted from the Philippines, President George H.W. Bush released a statement saying that by leaving when he did, Marcos "permitted the peaceful transition to popular, democratic rule."
"The militia guys are more conscious than ever of the ICC, of the fact that they may end up facing repercussions for their actions on the ground," says Norris, the former executive director of the Enough Project, an advocacy group that works against genocide and war crimes. "If you look back over the past 20 years, we've had a profound change in how the international community views international justice, and the fact that sovereigns can't do just anything to their people because of international borders."
But critics still worry that it becomes harder to ease someone from power peacefully when he is threatened with criminal charges.
"People want justice and closure, but on the other hand they're willing to trade that to get rid of the guy now," says AEI's Pletka.
Gbagbo might have been more likely to surrender had the ICC not been publicly talking about its plans for prosecuting him for weeks before his capture Monday in a bunker, says John Campbell, a senior fellow for Africa policy studies at the Council on Foreign Relations. Those weeks were filled with political violence and the murder of hundreds of Ivorians.
"Once the question of prosecution came up, the notion of a posh retirement on the Riviera goes out the window," Campbell says.
Dicker, the Human Rights Watch attorney, says that it's difficult to know the factors that lead some dictators decide to leave their capitals, while others fight to the bitter end. He notes that Charles Taylor, Liberia's former president, may have found his recently concluded trial uncomfortable but ultimately a more agreeable fate than the violent killing of Samuel Doe, his predecessor.
"I don't think there's a record to really show, my gosh, criminal charges only stiffens the spines of these rulers," Dicker says, "and binds them to fighting to the death."